« An Energy Loan to Panama with Environmental Components / Un préstamo al sector energético panameño con componentes ambientales | Home | Paraná Looks at Generating Employment from Waste »
By Keith R | March 19, 2009
Topics: Waste & Recycling | No Comments »
Peru's most famous living author, Mario Vargas Llosa, has been named "Ambassador of Recycling" by the "Recíclame, cumple TU papel" campaign. That's him in the photo here and the video below, wearing a special white suit designed for him by Peruvian fashion designer Lucia Cuba Oroza and made from recycled paper.  [Temas Observation: Seeing Vargas Llosa in that white suit, I can't help but think of another famous writer who favored white suits (and what he said about people who wore such suits), Samuel Clemens a.k.a. Mark Twain!]
The campaign was started in January by the Paper and Board Manufacturers Committee of the National Society of Industries (Sociedad Nacional de Industrias – SNI), with the support of the Environment Ministry (Minam), to promote recycling of paper and cardboard.
Every month they pick a prominent Peruvian as "Recycling Ambassador," wearing an outfit made of recycled paper designed by a different Peruvian designer, to carry a pro-recycling message to the media and the public.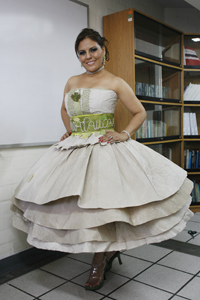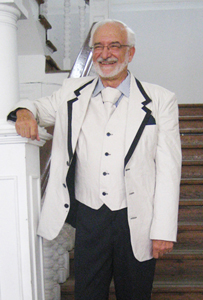 The first was Environment Minister Antonio Brack himself, followed by folkloric singer Dina Paucar, and now Peru's best known living novelist.
The public is being urged to drop off their paper at collection bins provided at the stores of Metro, Plaza Vea, Vivanda and Wong supermarket and hypermarket chains.  As for companies with large volumes, they can call 0800-00404 and their paper and board will be picked up.
To give people extra incentive to contribute their paper and board to the effort (beyond the touted benefit to the environment), the campaign donates a full scholarship (beca) to either the Foundation for Development (Fundación para el Desarrollo Solidario – Fundades) or SOS Aldeas Infantiles to help children for every 1.6 metric tons collected.  [A similar paper recycling effort was conducted previously by Kimberly-Clark, which chairs the aforementioned Paper and Board Manufacturers Committee, also benefited Fundades and worked in alliance with the Metro and Wong chains.]
It's hard not to like this campaign.  It promotes recycling, gets famous people, designers, the media and supermarket chains involved in promoting recycling, and it helps children's charities.  The campaign has flair, media savvy and a clever title: "Recycle me, Play Your Role" ("papel" in Spanish means both "paper" and "role").  The organizers also say that it will help take Peru's waste pickers, segregadores, out of informal work into better employment, although they are a bit vague about how that is being accomplished.
________________
Desde Reciclame, Cumple TU Papel:
Mario Vargas Llosa es el nuevo embajador de la campaña "Recíclame, cumple TU papel"

El reconocido escritor en el ámbito mundial se presentó con un fino traje de papel, creación de distinguida diseñadora peruana.
El escritor es el representante por el mes de marzo.

Siempre comprometido con causas sociales e inspirado en el uso del papel, el reconocido escritor peruano, Mario Vargas Llosa, decidió dejar a un lado sus siempre impecables ternos para cambiarlos por un fino traje confeccionado íntegramente en papel reciclado, el mismo que ha sido fruto de la creación de Lucía Cuba, importante diseñadora peruana.

Y es que Mario Vargas Llosa anunció hoy su participación como tercer embajador de la campaña "Recíclame, cumple TU papel", iniciativa que fuera lanzada en el mes de enero por el Ministro del Ambiente, doctor Antonio Brack en conjunto con el Comité de Papeles y Cartones de la Sociedad Nacional de Industrias.

El escritor indicó que se sentía muy complacido de poder participar en esta gran campaña y recordó la importancia social de la campaña que es el apoyo a los niños de escasos recursos de la Fundación para el Desarrollo Solidario – Fundades y a los de Aldeas Infantiles SOS.

Juan Carlos Belaúnde, Presidente del Comité de Papeles y Cartones de la Sociedad Nacional de Industrias expresó su agradecimiento por poder contar con un personaje de la calidad de Mario Vargas Llosa. "Nos sentimos muy honrados de tener a Mario como nuestro embajador. Es un ejemplo como persona y es, quizá, el mayor escritor de habla hispana", comentó.

En su tercer mes, la campaña "Recíclame, cumple TU papel", ha logrado consolidarse como una exitosa iniciativa, logrando captar el interés de importantes personajes de la talla del Ministro Antonio Brack, la cantante Dina Páucar y ahora el reconocido escritor Mario Vargas Llosa. ¿Quién será el próximo embajador de esta gran campaña?

Cabe mencionar que esta iniciativa es la primera de esta magnitud en toda América Latina.

Para conocer más acerca de esta campaña, visite el blog en Internet: www.reciclame.net o llame a la línea telefónica gratuita 080-000-404.

Impecable creación en papel reciclado

Interesante y llamativo lució Mario Vargas Llosa vestido con un impecable terno confeccionado en papel reciclado. El creador de innumerables éxitos entre los que figuran: "Conversación en la Catedral", "La fiesta del Chivo", "Travesuras de la niña mala", entre otras, lució un impresionante terno especialmente ideado y diseñado para la ocasión.

El traje fue confeccionado por Lucía Cuba, distinguida diseñadora peruana, egresada del Centro de Altos Estudios de la Moda en Lima. Ha participado en importantes eventos como el Flashmode 2006, destacando en la categoría "Creatividad" y en el PERUMODA del año pasado que la llevó a estudiar en París y a realizar trabajos para la casa de modas Kenzo.

"Diseñar el traje de Mario fue todo un reto. Nos inspiramos en el tradicional "look" del personaje y hemos intentado captar la personalidad del artista. Lo más impresionante fue el poder trabajar en papel y descubrir su versatilidad y resistencia", indicó la diseñadora.
Tags: cardboard, Lucía Cuba, Mario Vargas Llosa, Minam, papel, papel reciclado, paper, Peru, reciclaje, recycled paper, recycling, SNI
Subscribe to My Comments Feed
Leave a Reply