« Trash Photos XV: Clothes and Accessories from Trash | Home | What the Other Guy Blogs About: Wind Energy in Central America »
By Keith R | January 18, 2009
Topics: Waste & Recycling | No Comments »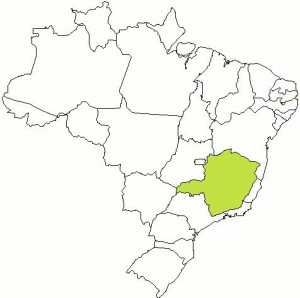 Last week the governor of Minas Gerais (MG) signed the State Solid Waste Policy Law.  The Law's 57 articles establish the principles, guidelines, goals and instruments for the correct management of waste, and defines the obligations of different waste generators and the users of urban sanitation services.
Minas is not the first Brazilian state to adopt a comprehensive state solid waste policy law — it joins the ranks of Ceará, Goiás, Mato Grosso, Paraná, Pernambuco, Rio de Janeiro, Rio Grande do Sul, Rondônia, Roraima, Santa Catarina, São Paulo and Sergipe.  MG's law shares many of the same principles and elements of the state laws that precede it, but breaks new ground on at least one key point: it explicitly enshrines the principle of "reverse logistics" — the term Brazilians use to refer to take-back. This is important not only in the example it sets for other states still working on their own waste policy laws, but also for the national waste policy bill under debate in the federal Chamber of Deputies.  The national bill also includes a similar section on reverse logistics that some in industry are fighting hard to get removed.  But now that Brazil's second most populous state, representing around 10% of Brazil's GDP, has made it a central part of its waste law, that may be hard to do.
Two-Way Flows
Section IV on Reverse Logistics calls on affected manufacturers and importers to:
recover waste in the form of new raw materials or new products in its cycle or other production cycles;
develop and implement technologies that absorb returned solid wastes or eliminate their production;
maintain collection posts available to resellers, dealers and distributors and provide "environmentally appropriate" final destination for the collected wastes;
ensure, in conjunction with their marketing networks, the return flow of "reverse solid wastes" [i.e., their end-of-life (EOL) products];
disseminate information about their collection points and conduct educational campaigns against improper disposal of their products.
The Section also calls on product resellers, merchants and distributors to receive, handle and temporarily store returned EOL products, maintain the collection points and inform the consumer about their role in the take-back system.
Which wastes are subject to "reverse logistics"?  Well, that is not entirely clear in the Law.  It has a definition for "reverse solid wastes," but it sheds little light (essentially, wastes subject to reverse logistics that can be treated and reused as inputs to new products). The Law does call for the State and municipalities to adopt regulations fleshing out the Law's obligations on "reverse wastes," "respecting regional, local, economic and logistical diversities."
Special Wastes
The chapter on obligations and responsibilities calls for manufacturers and importers to
collect special solid wastes, in articulation with its sales network and with the municipal public power,  with the implementation of the necessary structure to guarantee the return flow of these wastes and to give them an environmentally adequate final destination, under the penalty of civil and criminal response, under the terms of environmental legislation.
The Law does not specify which waste streams qualify as "special."  Presumably this will be fleshed out in the implementing regulation.  If Minas follows the practice in most states, it will include nonreturnable packaging, scrap tires, lamps, batteries, pesticide packaging, used lubricants and expired medicines.  A few states have also added to that list electrical and electronic equipment (EEE), construction and demolition (C&D) wastes, end-of-life vehicles (ELVs) and water treatment sludge.
Other Notable Provisions
Recycling: The Law calls on the State and municipalities to adopt measures to (1) regulate the recycling market; (2) create new markets for recycled and recyclable products; (3) provide a major role for waste picker (catador) cooperatives.
Selective Collection: The Law clearly states that for urban solid wastes preference must be given to selective collection.
Industrial and Mining Wastes. The Law places cradle-to-grave responsibility for these wastes
Municipal Waste Management Plans. MG municipalities must prepare and implement a Plan for Integrated Management of Urban Solid Waste.  The deadlines for finalizing a municipal plan will be set by the State Environmental Policy Council (COPAM), but in any case must be done within five years.  The plan must cover generation, segregation, collection, handling, packaging, transport, storage, treatment and final destination of solid wastes.
Green Purchasing. The Law calls for public administrations to give preference in their procurement to products "of reduced environmental impact, that are recyclable or recycled and non-hazardous."
Incentives. In order to gain access to state funds to help them, municipalities must include in their waste management plans "economic-financial incentives that stimulate the participation of generators, merchants, service providers and consumers in sorting, collection, handling and final disposition of solid wastes."
Technology to Reduce Wastes: The Law obliges manufacturers and importers to adopt technologies that permit reducing, reusing or recycling of special solid wastes;
Labeling: The Law obliges manufacturers and importers to include on their products' packaging information, in a visible and prominent spot, on the possibility of reuse and treatment of the waste the product becomes.
Tags: aterros sanitários, batteries, Brasil, Brazil, C&D wastes, catadores, coleta seletiva, compras verdes, COPAM, cradle-to-grave, e-waste, embalagens, embalagens de agrotóxicos, entulhos, environment, EOL products, expired medicines, FEAM, green procurement, industrial wastes, lâmpadas, lamps, landfills, life-cycle analysis, lixo, logística reversa, meio ambiente, Minas Gerais, mining waste, nonreturnable packaging, pilhas, pneus, reciclagem, recycled content, recycling, residuos, resíduos sólidos urbanos, reuse, reuso, reverse logistics, selective collection, take-back, tires, tyres, urban solid waste, used oil, waste policy, WEEE
Subscribe to My Comments Feed
Leave a Reply