« Satellite Monitoring of Climate Change Impacts for 3 LAC Nations | Home | UNEP/CARICOM: Drastic Climate Change Consequences for Insular Caribbean / PNUMA/CARICOM: drásticas consecuencias por cambio climático en el Caribe Insular »
By Keith R | December 27, 2008
Topics: Waste & Recycling | No Comments »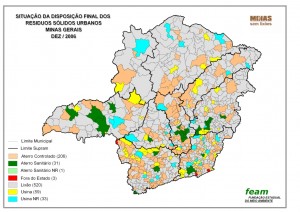 Minas Gerais, Brazil's second most populous state and one of its mining, metals and agriculture powerhouses, is pretty proud of its recent accomplishments in waste policy and management. I've chronicled here a couple of their steps, such as the modernized inspection/enforcement regime and the creation of the Waste Reference Center (CMRR). But that only touches the tip of the iceberg.
Recently the State Environment Foundation (Fundação Estadual do Meio Ambiente – FEAM) issued its own summary on the state's recent work and direction ahead regarding the implementation of the state's Solid Waste Structural Project (Projeto Estruturador).
Municipal Waste Disposal
The headline FEAM uses is that Minas now ensures that 45.9% of its urban population now has its waste adequately treated and disposed — that is, that it is either recycled, composted or sent to a sanitary landfill.  [Minas currently has 19 sanitary fills serving 32 municipalities, 207 "controlled" landfills, and 70 composting or recycling facilities.]  That may not seem to North Americans, Japanese or Europeans like something to boast about, but for Minas it represents a notable advance.  Just eight years ago, when the last national inventory of waste disposal was undertaken, that figure was 37.6%.  Minas is looking to pass 50% in 2009 and reach 60% by 2011.
Minas is working hard to eradicate all 519 waste dumps in the state, with an official goal of eliminating 80% of them by 2011 — much more ambitious than Rio de Janeiro's goal, in a state with ten times the territory and nine times as many municipalities as RJ state.
Minas has just toughen environmental licensing norms for waste disposal sites in the state, held a series of seminars bringing municipal authorities up to speed on what is required of them under the new rules, and is cracking down on noncompliance in the waste sector.
Selective Collection
Earlier this month the 51 MG municipalities signed a "terms of adhesion" agreement with FEAM in which they commit to implementing city-wide selective collection programs to sort wastes.  To aid the process, the CMRR has produced technical guides for six common waste streams: used cooking oil, plastics, construction and demolition (C&D) wastes, electrical and electronic equipment ("WEEE" or "e-waste" or "e-scrap"), batteries and piles (common portable batteries), and lamps.  FEAM is insisting that the municipal selective collection programs include a role for waste pickers (catadores) where they exist.
Environmental Education About Waste Recovery/Reduction
The government has been working to get all public institutions and buildings in the state involved in recycling their wastes and reducing their waste generation: eight institutions and 28 state-owned buildings in the capital, Belo Horizonte (BH), adopted programs during 2008.
In addition, more than 50 presentations have been made to communities, school cafeterias and public offices in the peripherary of BH about how they can set up such programs.  These entities now can go to a software program on the government's website which will help them identify areas for reducing their waste generation and tracking progress toward their reduction goals.
Other Actions
In January 2008 FEAM released a list of areas suspected of being contaminated (and thus may be subject to future clean-up orders), which was followed up during the year by the adoption by the State Environment Council (Copam) of a new norm (DN No. 116) on the identification of such areas.
Copam also issued two other norms relevant to the waste field.  The first (DN No. 127) on the closure (whether permanent or temporary) of mining operations, which among things requires rehabilitation of the lands on which the mine is located.  The second (DN No. 124) involves the legal papers that must be filed attesting to the stability of containment barriers for waste reservoirs (ponds) commonly used by industry and mines.  A few years back the barrier on such a pond broke, badly contaminating a waterway used for drinking water by municipalities.  FEAM says that in 2008 safety audits show the number of containment barriers certified as stable as now to 83% of the reservoirs registered with the Foundation.
A New State Waste Law
On 16 December the state legislature approved a State Solid Waste Policy Law and the bill now awaits the governor's signature (there is every indication he will sign).  Thus while the National Congress enters its 18th year debating a national waste policy law, Minas will soon join Ceará, Goiás, Mato Grosso, Paraná, Pernambuco, Rio de Janeiro, Rio Grande do Sul, Rondônia, Roraima, Santa Catarina, Sergipe and São Paulo (see the Temas download list for waste and recycling for copies of these laws) in taking matters into their own hands.
Once the bill becomes law, it will, among other things, ban open-air dumps and catadores operating in landfills, require municipalities to draw up waste plans and give preference to selective collection, require the progressive charging for waste collection (yes, some municipalities still do not charge separately for this service), provide fiscal incentives for recycling, and involve the public in formulating waste policy.  The law will also require take-back of certain wastes by manufacturers and importers. 
The Temas Blog will do a separate post analyzing the new law once the governor signs it.
What's Ahead in 2009
The budget for the Solid Waste P.E. will increase 50% next year, up to R$12 million. While the State Environment Secretariat (SEMAD) and Copam work on issuing implementing regulations for the new law, FEAM will evaluate and act on studies involving the eradication of 100 waste dumps.  FEAM also plans on issuing "Soil Quality Guidance Values," reference values which will guide mineiro policy regarding the prevention and control of the presence of potentially toxic chemicals in soil and groundwater.  FEAM also plans to develop and issue environmental indicators for identifying model "clean production" companies.
_________________
Desde a Fundação Estadual do Meio Ambiente (FEAM):
Minas atinge marca de 45,9% da população urbana com disposição adequada de lixo

Minas Gerais atingiu em dezembro de 2008 a marca de 45,90% da população urbana beneficiada com tratamento e disposição adequada de resíduos sólidos urbanos. Isso significa que mais de 7,5 milhões de pessoas têm seu lixo disposto em aterros sanitários e usinas de triagem e compostagem, sistemas ambientalmente adequados para a disposição dos resíduos. Com a marca, a Fundação Estadual do Meio Ambiente (Feam) cumpre a meta prevista no Projeto Estruturador do Governo de Minas "Resíduos Sólidos" e inicia 2009 com objetivo de atingir 50% da população atendida no fim do ano.

Além da evolução da população beneficiada por disposição adequada, o Projeto Estruturador avançou em diversas linhas de ação. Na área da mineração, foi elaborada a Deliberação Normativa (DN) No 127, que regulamenta o fechamento de empreendimentos minerários. "Esta DN considera o fechamento de mina de forma definitiva e também temporária. Além da reabilitação da área ocupada pelo empreendimento, prevê-se ainda um plano de sustentabilidade para ações futuras", esclarece a diretora de Gestão e Qualidade Ambiental da Feam, Zuleika Torquetti.

Outra DN elaborada este ano foi a No 116, que dispõe sobre a identificação de áreas suspeitas de contaminação e contaminadas em Minas. A norma foi precedida pela divulgação, em janeiro, da 1ª Lista de Áreas Contaminadas do Estado. "A 1ª lista marca o início das ações da Feam para o gerenciamento das áreas contaminadas no Estado de Minas Gerais", pontua a gerente de Gestão da Qualidade do Solo da Feam, Rosângela Gurgel. A gerente informa que a lista será atualizada sistematicamente à medida que novas áreas forem diagnosticadas.

Na área de barragens, foi publicada a DN No 124, que define novo prazo para envio da Declaração de Condições de Estabilidade das Barragens de Contenção de Rejeitos de Indústrias e Mineração. A DN fortalece o trabalho de gestão de barragens realizada pela Fundação. Em 2008, aumentou o número de barragens consideradas estáveis pela auditoria de segurança, representando, agora, 83% dos reservatórios cadastrados na Feam.

"Os proprietários dos empreendimentos são responsáveis pela manutenção das condições de segurança da barragem, com a co-responsabilidade do auditor. Cabe à Feam efetuar as fiscalizações nos empreendimentos para verificar o cumprimento das recomendações apontadas pelo auditor, de forma a manter as barragens operando em nível de segurança adequado", explica Zuleika Torquetti.

Minas sem Lixões

No âmbito do programa Minas sem Lixões foram publicadas novas Deliberações Normativas (DNs Nos 118, 119 e 126) que atualizaram as exigências ambientais para depósitos de lixo urbano e os prazos para o licenciamento. Para apoiar as prefeituras no cumprimento das novas exigências, a equipe do programa realizou 13 seminários com os gestores municipais responsáveis pelos depósitos, com objetivo de repassar informações teóricas e práticas para operação desses sistemas.

Outra ação do programa foi a definição de procedimentos para recuperação de áreas degradadas por resíduos sólidos, ferramenta que irá subsidiar o investimento na recuperação dessas áreas. Já foi também definido o projeto conceitual e realizada a identificação dos parceiros para aproveitamento energético do gás metano produzido em aterros sanitários, iniciativa que não só minimiza um efeito negativo sobre o clima global como promove o desenvolvimento de novos paradigmas econômicos.

Coleta Seletiva

Outro avanço importante foi na implantação da coleta seletiva, reaproveitamento e reciclagem, ações que também são foco do P.E Resíduos Sólidos. Em 5 de dezembro, 59 prefeituras assinaram termos de adesão com a Feam para implantação e aprimoramento de programas de coleta seletiva nesses municípios.

Para apoiar teoricamente os municípios, foram produzidas seis publicações técnicas com informações detalhadas sobre a gestão de vários resíduos usuais no dia-a-dia da sociedade: óleo de cozinha, plásticos, resíduos da construção civil, equipamentos eletroeletrônicos e pilhas, baterias e lâmpadas.

De acordo com o presidente da Feam, José Cláudio Junqueira, a implantação da coleta seletiva é um processo contínuo e que toda a sociedade deve se envolver, melhorando assim a qualidade de vida e a proteção ao meio ambiente. "A implantação da coleta deve ser feita com a participação dos catadores dos municípios envolvidos. A inclusão social é fundamental para o desenvolvimento sustentável", declarou.

Educação ambiental nas instituições públicas

No âmbito do Programa Ambientação, que promove o consumo consciente nas instituições públicas do Estado, a meta prevista no P.E Resíduos Sólidos foi ultrapassada. Quatorze instituições e 28 prédios públicos implantaram o programa em 2008. Além disso, foram realizadas mais de 50 oficinas sobre aproveitamento de resíduos para a comunidade da periferia de BH, cantineiras de escolas públicas e funcionários públicos.

Segundo a coordenadora do Programa, Miriam Dias Baggio, 2008 foi também um ano marcado por avanços nas ferramentas de gestão. "Destaco a criação do portal Ambientação e do Sistema Informatizado de Avaliação (Siga), software desenvolvido para unir os dados das organizações parcerias do Programa e que permite o acompanhamento online dos indicadores de redução de consumo, verificando a evolução do programa em seu conjunto", ressaltou.

Lei Estadual de Resíduos Sólidos

Aprovado em 2º turno, na última terça-feira (16), pelo plenário da Assembléia Legislativa, o Projeto de Lei (PL) 1.269/2007 que propõe a Política Estadual de Resíduos Sólidos. O texto prevê a participação da sociedade na elaboração e acompanhamento de políticas públicas de gestão de resíduos sólidos e a responsabilidade compartilhada entre cidadãos, poder público, comerciantes e grandes poluidores (como indústrias e mineradoras). Pelo PL, a coleta do lixo urbano se dará de forma preferencialmente seletiva, e o Estado e as prefeituras deverão incentivar a parceria com as associações de catadores.

O Projeto prevê, ainda, a recuperação de áreas degradadas pela deposição inadequada de resíduos, a cobrança progressiva pela coleta de lixo e adoção de incentivos fiscais para unidades recicladoras. Com a aprovação do projeto, será proibido lançar lixo in natura a céu aberto, assim como catar materiais nas áreas de destinação final de resíduos. Cada município deverá elaborar um plano de gestão integrada de resíduos sólidos e contará com o apoio do Estado para sua execução.

2009

Em 2009 o P.E Resíduos Sólidos terá um acréscimo de cerca de 50% em seu orçamento, que chegará a R$ 12 milhões, e a Feam continuará a atuar nas diversas linhas de ação do Projeto. Serão avaliados estudos para a erradicação de cerca de 100 lixões. Outra ação importante é determinação dos "Valores Orientadores da Qualidade do Solo", estudo que tornará Minas o segundo Estado brasileiro a apontar valores de referência de qualidade próprios para orientação sobre a condição de qualidade do solo, que serão utilizados na prevenção e controle da presença de substâncias químicas potencialmente tóxicas em solos e águas subterrâneas.

No campo da produção mais limpa, já está sendo desenvolvido projeto que irá definir indicadores ambientais para identificar empresas que são modelo na produção e não agridem o meio ambiente. A partir disso, a Feam irá promover convênios e divulgar para a sociedade os princípios do desenvolvimento sustentável.
Tags: águas subterrâneas, aterros sanitários, baterias, batteries, Brasil, Brazil, C&D wastes, catadores, clean production, coleta seletiva, compostagem, composting, COPAM, e-lixo, e-scrap, e-waste, educação ambiental, environment, Environmental Education, equipamentos eletroeletrônicos e pilhas, FEAM, fiscal incentives, groundwater, lâmpadas, lamps, landfills, lixo tecnologico, meio ambiente, Minas Gerais, Minas Sem Lixões, mineração, mining, óleo de cozinha, pilhas, plásticos, plastics, produção mais limpa, qualidade do solo, RAEE, reciclagem, recolección selectiva, recycling, residuos, resíduos da construção civil, selective collection, SEMAD, soil quality, substâncias químicas, toxic chemicals, used cooking oil, waste, waste ponds, WEEE
Subscribe to My Comments Feed
Leave a Reply