« Malaria in the Americas: Still Formidible / Malaria en las Américas: formidable todavia | Home | Alcohol Consumption in Brazil I: Overview of Adult Drinking »
By Keith R | October 10, 2007
Topics: Waste & Recycling | No Comments »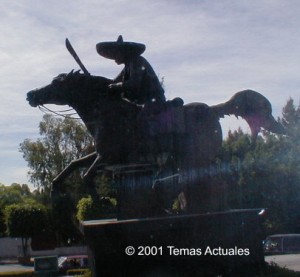 The central Mexican state of Morelos (home of Revolutionary leader Emiliano Zapata) just adopted its own comprehensive state solid waste law.
Since Mexico adopted its federal General Law for the Prevention and Integrated Management of Wastes in 2003, the Federal District (DF) and many states have adopted their own general waste laws, or else amended their general environment laws to add new detailed waste chapters.  Morelos now join the ranks of Baja California, Chihuahua, Coahuila, Colima, Guanajuato, Jalisco, Puebla, Querétaro, Quintana Roo, Tabasco and Veracruz in doing so.   You can find all these laws on the Mexico and waste/recycling Temas download pages.
Morelos often does things in environmental law and policy a bit differently than its fellow states, however, and this new law is no exception.  Morelos' waste law has less an emphasis on spelling out procedures, greater stress on economic instruments, education and social participation, source separation, composting and actions regarding packaging.  It is also the only Mexican state waste law I know of (so far) that includes a specific provision on batteries.
As with other state measures on waste, Morelos' new Law pays homage to waste minimization and reduction, valorization, sorting and recycling, and it sets general principles to be followed in implementing state policy.  Among other things, it calls upon the State Commission on Water and the Environment (Comisión Estatal del Agua y Medio Ambiente – CEAMA) to issue a number of subsidiary instruments, including state norms on solid waste reduction, management, treatment, reuse and disposal.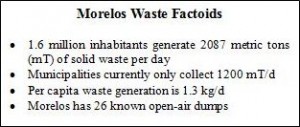 Also as in other state measures on waste, Morelos' new Law requires generators of "special management wastes" to file waste management plans with CEAMA and implement them.  Unlike the other states, however, Morelos does not define in the law what constitutes a special waste.  Presumably this will be defined in an implementing regulation or norm, or perhaps Morelos plans on simply replying on the list in the federal General Law.
Morelos' Law also requires submission of waste management plans from "producers, importers, exporters and distributors of products that, upon discard, become wastes subject to management plans in conformity with environmental law."   This provision on end-of-life products is a bit vague — which environmental law?  At what level — federal?  state?  municipal?
The Law contains a robust section (V) on economic instruments which calls on authorities to "create favorable conditions that directly or indirectly generate an economic benefit" helping persons or entities that develop waste minimization, source separation of recoverable materials, or investment in technology, methods, practices and processes aiding the improvement of solid waste management.  The section calls for priority tax stimulus for such things as waste valorization, source separation, community participation in waste minimization, and fomenting markets for selling recovered materials.
The Law contains a number of unusual measures regarding packaging:
it defines several key terms — including "product," "urban solid waste" and "hazardous waste" — to include their packaging and wrapping;
it calls for the government to promote (including with economic incentives) the creation of "markets for sub-products" that will get consumers involved in the recovery of packaging;
it includes a provision calling for consumption habits that minimize packaging and/or wraps, as well as degradable and/or returnable articles;
it calls on authorities to promote retailers, department stores and shopping centers to provide space for the return of inorganic wastes such as glass, plastic and aluminum packaging.
it calls on organizers of public events — fairs, carnivals, political rallies, sport and cultural events — to promote the use of reusable and recyclable packaging.
Tags: aluminum packaging, Baja California, baterias, batteries, centros comerciales, Chihuahua, Coahuila, Colima, compostaje, composteo, composting, department stores, desechos, Distrito Federal, economic instruments, educación ambiental, embalaje, end-of-life products, envase, envase retornable, envases de aluminio, envases plásticos, Environmental Education, Federal District, Guanajuato, hazardous waste, incentivos fiscales, instrumentos economicos, Jalisco, materiales reaprovechables, mayoristas, Mexico, Morelos, packaging waste, pilas, plastic packaging, Puebla, Querétaro, Quintana Roo, reciclaje, recycling, residuos, residuos de envase, residuos inorgánicos, retailers, separación en la fuente, shopping centers, special wastes, Tabasco, tax breaks, tiendas de departamento, urban solid waste, Veracruz, waste, waste minimization, waste policy, waste recovery, waste separation, wrapping
Subscribe to My Comments Feed
Leave a Reply