« World No-Tobacco Day 2008 in LAC: PAHO Honors Those Making a Difference | Home | The Eco-Provision Tucked Into a Steel Loan »
By Keith R | June 7, 2008
Topics: Waste & Recycling | No Comments »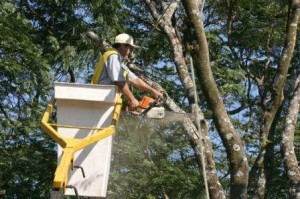 The Municipality of São Paulo (pop. 11 million) has adopted a law that creates the Program for the Use of Wood from Tree Pruning (Programa de Aproveitamento de Madeiras de Podas de Árvores – PAMPA).  According to the Law's author, Councilman Gilberto Natalini (Brazilian Social Democratic Party – PSDB), once fully operational PAMPA will divert about 45,000 metric tons of wood currently hauled off to the City's landfills.
The Law provides for the collection and use of wood from tree pruning (such as that which the utility companies do for power lines and cables, and the city does for street lighting, traffic signals and signage) to generate economic and environmental benefits, in the process reducing deforestation and contributing to longer useful life for the City's landfills.
Some of the wood waste will be transformed into fuel and firewood for use in furnaces, ceramics kilns, pizzarias, bakeries and fireplaces, and in the manufacture of tool handles and utensils.  That which cannot be profitably transformed will be sent to a composting unit instead of the landfill.
The law calls for the City executive to study the designation of PAMPA areas ("poles") to process the collected wood (current plans are to create five poles across São Paulo).  It also calls for the City to conclude agreements with NGOs and schools for the development of the project.  It establishes a deadline of 60 days (i.e., the latter half of July) to issue an implementing decree for the Law.
As often happens in Brazil, the new idea has quickly found advocates in other legislatures — most notably the state assembly of Rio de Janeiro, where a bill calls for all cities to set up similar programs.
Tags: arboles, árvores, aterros, bakeries, deforestation, desmatamento, ferramentos, firewood, fornos de cerâmicas, landfills, lenha, madeira, madera, PAMPA, pizzerias, poda, PSDB, resíduos de madeira, residuos de madera, Rio de Janeiro, São Paulo, tree pruning, trees, wood, wood waste
Subscribe to My Comments Feed
Leave a Reply