« Trends in Clean Energy Investment | Home | The Most Sustainable Bank in Emerging Markets? »
By Keith R | June 5, 2009
Topics: Waste & Recycling | No Comments »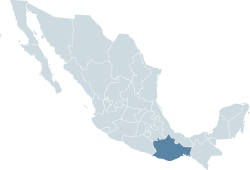 The legislature of the Mexican state of Oaxaca (OX) just sent the governor a gift for World Environment Day: a comprehensive state solid waste law.
Since Mexico adopted its federal General Law for the Prevention and Integrated Management of Wastes in 2003, the Federal District (DF) and many states have adopted their own general waste laws, or else amended their general environment laws to add new detailed waste chapters.  Morelos now join the ranks of Baja California, Chihuahua, Coahuila, Colima, Guanajuato, Jalisco, Morelos, Puebla, Querétaro, Quintana Roo, Tabasco and Veracruz in doing so.   You can find all these laws on the Mexico and waste/recycling Temas download pages.
State Program for Integrated Waste Management
The OX Law calls for the State Ecology Institute to prepare a basic diagnostic of the waste situation in thet state, including an inventory of special management wastes (see below).  The diagnostic will then be included as the core of a State Program for Integrated Waste Management, which at a minum must include:
goals for the prevent and management of waste requiring special management, as well as strategies and deadlines for meeting the goals;
financing instruments necessary to realize the actions contemplated in the Program;
mechanisms for encouraging links with municipal programs;
technical assistance;
local policy on urban solid waste and special management wastes.
Waste Management Plans
The Law calls on producers, importers, exporters and distributors of certain urban solid wastes (according to the Law's definitions, such wastes include their packaging) that the Institute will designate, plus generators of "products that upon being discarded become wastes requiring special management wastes," to submit to the Institute detailed waste management plans for such wastes. [Temas Observation: Three odd things about this.  First, Mexican state laws usually do not require waste management plans from the private sector for regular urban solid wastes (most have government authorities or waste management entities produce them).  Second, it the language appears to allow the Institute to pick and choose — it sounds almost like an opening for the state to require special plans for items such as certain types of packaging or packaging materials.  Third, it limits plan preparation to generators of special management wastes, whereas most state laws imposed the obligation on producers, importers and distributors.  I wonder if this was a drafting error that will be "clarified" in the implementing decree…]
What are considered to be "wastes requiring special management"?  Oaxaca differs from some of the state laws in that it considers any large generator of ordinary urban solid waste to be a generator of special management wastes.  As with most other state laws, it also includes a list of specific wastes that it automatically considers special management wastes.  The OX list differs a bit from others — it includes:
rock waste or the products of their composition that can only be utilized as construction material;
health service wastes;
wastes generated by agricultural, fishing, forestry and livestock activities, including inputs such as fertilizer and pesticides unless they are classified as hazardous under federal law;
transport service wastes linked to transport terminals;
nonhazardous cosmetics;
expired food generated by commercial, service or industrial establishments;
sludge resulting from wastewater treatment;
wastes from department stores and shopping centers generated in high volumes;
construction and demolition (C&D) wastes;
"technological wastes" resulting from the informatics industry, electronics production and automobiles, and others that once at their end of life, by their characteristics, require special handling, including nonhazardous batteries;
scrap tires, furniture, household appliances used in high volumes, plastic packaging and other slow-degrading materials;
wastes from industrial, chemical, biological, production and research laboratories, except those classified by federal law as hazardous;
whatever else is agreed between the Institute and municipalities and/or SEMARNAT to be classified as such in order to facilitate their integrated management.
Like Morelos, Oaxaca has chosen to include batteries in the list, and like the DF, has included plastic packaging.
Packaging
The Law calls for the State to emit norms regarding "the manufacture and use of packaging for all types of products, whose materials permit reducing the generation of urban solid wastes."  It also calls on municipalities to favor packaging that can be vaolirzed either through reuse or recycling.
Tags: agriculture, aguas residuales, alimentos caducados, batteries, C&D wastes, centros comerciales, cosméticos, cosmetics, department stores, desechos, e-scrap, e-waste, embalajes, empaques, enseres domésticos, envases plásticos, fertilizer, fishing, food, forestry, furniture, household appliances, informática, informatics, livestock, llantas, lodos, Mexico, muebles, neumáticos usados, Oaxaca, pesticides, pilas, plastic packaging, productos electrónicos, RAEE, reciclaje, recycling, residuos, residuos especiales, resíduos sólidos urbanos, residuos tecnologicos, reuse, reuso, scrap tires, SEMARNAT, servicios de transport, shopping centers, sludge, special wastes, technological wastes, tiendas departamentales, transport services, tyres, vehículos, waste, wastewater treatment, WEEE
Subscribe to My Comments Feed
Leave a Reply