« Fuel Efficiency Labels Hit Brazilian Market | Home | Rio Adopts Environmental Registry and Inspection Tax »
By Keith R | April 18, 2009
Topics: Electronic/Electrical Equipment, Hazardous Substances, Waste & Recycling | No Comments »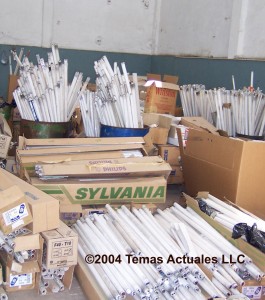 Earlier this month the governor of the southern Brazilian state of Paraná (PR) signed a brief law that would require the take-back of fluorescent lamps, piles, cell phone batteries "and other artefacts" that contain metallic mercury.
Who Collects?
The law requires resellers of such products in the state to provide suitable collection bins on their premises for consumers to drop off those items at the end of their product life. The collection bins must be in a visible spot along with along with an indication that this is the drop-off for mercury-containing products.
The new law says nothing about:
whether vendors must take back all brands and types of piles, fluorescent lamps and cell phone batteries containing metallic mercury, or merely the ones they sell;
what constitutes "other artefacts" containing metallic mercury (does this include thermometers? sphygmomanometers, thermostats, manometers, barometers, float values, mercury switches?);
whether the fact that sales establishments must label their collection bins as receptacles for products containing heavy metals means that they must actually accept any product containing mercury, lead or cadmium [

Temas Observation

: I suspect that this is actually a case of bad drafting by the legislature, but it is a point regulators should consider clarifying in implementing legislation]; and
whether the take-back service is free to consumers.
Presumably these details will be covered in the implementing decree — commercial establishments selling cell phone batteries, piles and lamps probably will insist that it does. My guess is that is on point #4, PR authorities will clarify that the service is to be gratis for consumers.  On point #2, I suspect that PR officials may seek to explicitly capture more mercury-containing products in the collection scheme, since they have intended to deal with such wastes for quite awhile. 
The law also specifies that collected products should be maintained intact in order to avoid spills of toxic substances.  This provision is aimed primarily at end-of-life (EOL) lamps, which can easily break and release mercury.  It will require either special bins or packaging for the lamps in order for the requirement to be met, but these are available already in the Brazilian market.
Post-Collection
The new law bans the items it covers from disposal with household and commercial trash.  Also banned are incineration and deposit in public landfills. [Temas Observation: I find it interesting that they only ban deposit in public landfills, but saying nothing about private landfills.  Brazil does have a few secure landfills (those designed and authorized to handle hazardous wastes) operated by private (usually chemical) firms.]  
Manufacturers of such products, and their commercial representatives in PR state, are responsible for adopting adequate mechanisms for the recycling or final disposal of their discarded EOL products, "without harming the environment."  This provision will certainly help PR officials in their campaign to get lamp manufacturers to take charge of EOL fluorescent lamps, and should also assist in their efforts to get battery manufacturers to do more in that state in implementing the dictates of the new National Environment Council (CONAMA) regulation on batteries and piles.
I suspect this will not be the last such state law in Brazil. I've seen nearly identical bills moving through other state assemblies.
Tags: barometers, barômetros, batteries, Brasil, Brazil, CONAMA, disjuntores de mercúrio, environment, esfigmomanômetros, float values, fluorescent lamps, incineração, incineration, lâmpadas fluorescentes, landfills, manometers, manómetros, meio ambiente, mercurio, mercury switches, metallic mercury, Paraná, pilhas, reciclagem, recycling, residuos, sphygmomanometers, termómetros, termostatos, thermometers, thermostats, waste
Subscribe to My Comments Feed
Leave a Reply