« Brazil Proposes Energy Labels for Buildings | Home | More TB Deaths »
By Keith R | March 24, 2009
Topics: Packaging, Waste & Recycling | No Comments »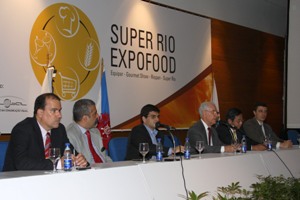 The President of Rio de Janeiro's State Environment Institute (INEA) just signed a "letter of intent" with the Association of Supermarkets of Rio de Janeiro State (ASSERJ) and the Federation of Cooperatives of Recyclable Material Collectors (Febracom) to install selective collection centers in all the state's supermarkets. The centers will allow consumers to return plastic packaging at stores, with the collected packaging to be hauled off by catadores.  The accord is the latest step in the state's campaign to get retailers to comply with their obligations under the state's Plastic Packaging Law.
_________________
Desde o Instituto Estadual do Ambiente (INEA):
Parceria quer estabelecer coleta seletiva nos supermercados

O presidente do Instituto Estadual do Ambiente, órgão da Secretaria de Estado do Ambiente, Luiz Firmino Pereira, assinou nesta segunda-feira (23/03), junto ao presidente da Associação dos Supermercados do Estado do Rio de Janeiro (Asserj), Aylton Fornari, e diretor da Federação das Cooperativas de Catadores de Materiais Recicláveis (Febracom), Cleber da Cruz Pereira, o Protocolo de Intenção para a instalação de coleta seletiva de lixo nos supermercados do Estado. A assinatura da carta foi realizada durante a abertura da 21ª Rio Expofood, no Riocentro, em Jacarepaguá.

Segundo Furnari, a intenção do acordo é promover a conscientização da população sobre a importância da separação e reciclagem do lixo. "Hoje, os empresários também estão envolvidos na preocupação com o destino do lixo e com a questão ambiental", afirmou.

Adison Gil, superintendente do Ibama no Rio, afirma que o protocolo visa, justamente, viabilizar a intenção do setor produtivo de reduzir os resíduos gerados e minimizar os impactos causados. "Tudo o que se produz tem uma vertente social e ambiental e os órgãos competentes cobrarão, cada vez mais, que os empresários tenham consciência disso", defendeu.

Em 2008, a Asserj firmou convênio com o Governo do Estado para que as empresas do segmento se comprometessem a apoiar em infra-estrutura e maquinário as cooperativas de catadores que atuam nas ecobarreiras. A medida visa ao cumprimento da lei estadual 3369/2000 (Lei do PET), que estabelece a recompra, pelos mercados que comercializam sacolas plásticas e garrafas pet, de, no mínimo, 25% do total vendido ou distribuído.
Tags: ASSERJ, Brasil, Brazil, catadores, coleta seletiva, embalagem plástica, Febracom, garrafas PET, INEA, materiais recicláveis, packaging, PET bottles, Rio de Janeiro, selective collection, supermarkets, supermercados
Subscribe to My Comments Feed
Leave a Reply