« Public Ministry Opens Inquiry into Marketing of Breakfast Cereals | Home | Eco-certification for Tourism: Blue Flag Comes to Brazil »
By Keith R | February 13, 2009
Topics: Waste & Recycling | No Comments »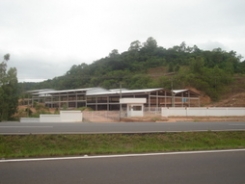 The government of the southern Brazilian state of Rio Grande do Sul (RS) just signed a letter of intent with Rio de Janeiro-based Mundo Limpo ("Clean World") to install ten unusual municipal solid waste treatment plants.  The two parties say that the pact should involve R$300 million in investments that generate about 10,000 direct jobs. The first plant will be installed in the municipality of Parobé, costing R$30 million and generating about 300 direct jobs, and is projected to start operations in June 2009.
The plants will utilize an "aerobic thermal treatment" technology that Mundo Limpo has been developing for 12 years and which it claims is "wholly national." Municipal waste initially is subjected to controlled aerobic thermal treatment at temperatures up to 250°C for 20 minutes to dehydrate the waste, then moved to a conveyor belt system for manual removal of recyclables (paper, board, plastic, metals, glass) to be sent to recyclers.  The sorted waste is then run through electromagnets (to remove batteries and remaining ferrous material) before being ground and subjected to a second round of drying, this time for 10 minutes.

The resulting "stabilized biomass," once compacted, can be either used as fuel instead of wood or charcoal in industrial kilns, or as raw material for making bricks, or as a partial substitute for wood for the state's furniture industry, or as substrate for organic fertilizers.
The combustion gases generated during the process will be used to run turbines to generate electricity. The company's first plant in Parobé, will power up to 5 megawatts (MW).
Besides keeping waste from landfills, sorting out recyclables, producing a reusable product or input, and generating electric power, Mundo Limpo's President, Roberto de Carvalho, makes an additional (and novel) argument for utilizing his company's technology: by getting municipal waste out of landfills, it will help protect the Guarani Aquifer, the world's second largest, which unlies much of RS.  When it decomposes, landfilled municipal waste can produce a leachate that, if it leaks from the landfill, can contaminate surrounding water springs and aquifers.
____________________
Desde a Secretaria do Meio Ambiente (SEMA):
Governo assina protocolo para instalação de usinas de tratamento de lixo urbano

O Governo do Estado e a empresa Mundo Limpo firmaram, na quinta-feira (12), protocolo de intenções para a instalação de dez usinas de compactação e tratamento de lixo urbano. Devem ser gerados cerca de 10 mil empregos diretos em investimentos que somam R$ 300 milhões. A primeira usina será instalada no município de Parobé, gerando cerca de 300 empregos diretos, com investimento total de R$ 30 milhões, com previsão de início de funcionamento para junho de 2009. O ato foi assinado no Centro Administrativo Fernando Ferrari (Caff).

Com tecnologia totalmente nacional, o processamento feito pela Mundo Limpo recicla em até 80% o lixo urbano arrecadado. Logo após, o excedente residual (matéria orgânica) produz um gás combustível, que é utilizado para gerar energia elétrica. A primeira usina da empresa, em Parobé, terá potência de até 5 megawatts (MW). A técnica é resultado de 12 anos de pesquisa, que dá destino final à totalidade dos resíduos sólidos domiciliares. Depois de tratados, os resíduos também podem servir de matéria-prima para confecção de tijolos ou para queima aplicada em fornos, substituindo a lenha e evitando desmatamento.

O secretário do Desenvolvimento e dos Assuntos Internacionais, Márcio Biolchi, disse que a assinatura do protocolo surpreende pela inovação. "Estamos semeando expectativas. Ainda há um longo caminho a percorrer e, se houver êxito, poderá entrar para a história de sucessos do nosso Estado", avaliou.

De acordo com o presidente da Mundo Limpo, Roberto de Carvalho, o empreendimento também é uma ferramenta para que seja preservado o Aquífero Guarani, o segundo maior do planeta. Quando acumulado, o lixo sanitário entra em decomposição e produz uma substância poluente chamada chorume, que pode vir a contaminar mananciais de águas e aquíferos.

Representando o Governo do Estado, assinaram o protocolo, além de Biolchi, os secretários de Infraestrutura e Logística, Daniel Andrade, e do Meio Ambiente em exercício, Francisco Simões Pires, e a presidente da CaixaRS, Susana Kakuta.
Tags: aerobic thermal treatment, Brasil, Brazil, environment, lixo urbano, meio ambiente, Mundo Limpo, municipal solid waste, Parobé, residuos, resíduos sólidos urbanos, Rio Grande do Sul, SEMA, usinas de compactação, waste, waste treatment
Subscribe to My Comments Feed
Leave a Reply