« Supreme Court: Producers Decide Which Third-Party Organizations Will Handle Their Waste Obligations | Home | 30% of Cancers in Brazil Preventable »
By Keith R | February 26, 2009
Topics: Waste & Recycling | No Comments »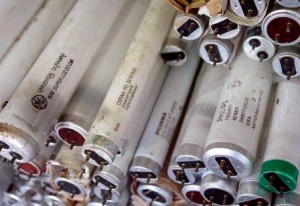 The Environment Minister for Rio de Janeiro (RJ) State, Marilene Ramos, has sent to governor Sérgio Cabral for his signature a draft decree to implement a 2007 law requiring the take-back of end-of-life fluorescent lamps.
The law required manufacturers, importers, distributors, resellers and vendors of fluorescent lamps to provide consumers with containers for the collection of such lamps at the end of their product life.  According to the law, all such collection points must visibly and explicitly advise consumers on the importance and necessity of proper discard of such lamps, and warn about the health and environmental risks of not doing so.
The draft implementing decree would require all commercial establishments selling fluorescent lamps to provide such collection bins on their premises.
It is estimated that 27% of Brazilian households now use fluorescent lamps, reducing energy consumption and helping combat global climate change.  According to the Ministry of Energy and Mines' (MME) National Program on Energy Conservation (Procel), Brazil is the tenth largest consumer of fluorescent lamps in the world.  The Brazilian Association of Engineering and Mechanical Sciences (ABCM) says that of the 100 million fluorescent lamps Brazil consumes annually, currently only about 6% are recycled.
________________
Desde a Secretaria Estadual do Ambiente (SEA):
Lojas farão descarte de lâmpadas fluorescentes

Estabelecimentos comerciais que vendem lâmpadas fluorescentes serão obrigados a ter recipientes para sua coleta, quando descartadas ou inutilizadas. Minuta de decreto com esse objetivo foi enviada pela secretária estadual do Ambiente, Marilene Ramos, ao governador Sérgio Cabral. O documento regulamenta a Lei nº 5.131 de 14 de novembro de 2007 que estabelece normas para o descarte desse produto.

Presente em 27% dos lares brasileiros, o uso das lâmpadas fluorescentes reduz cerca de 80% no consumo de energia e auxilia no combate ao aquecimento global. Segundo o Procel (Programa Nacional de Conservação de Energia Elétrica, do Ministério das Minas e Energia) em sua última pesquisa de Avaliação do Mercado de Eficiência Energética, o país é o 10º maior consumidor mundial do insumo.

Porém, o descarte inadequado das lâmpadas fluorescentes é altamente nocivo para o meio ambiente e para a saúde do ser humano. É considerado resíduo perigoso porque em sua composição, há presença do metal pesado mercúrio, o que exige adequada destinação final. Uma lâmpada é basicamente composta por vidro, pó de fósforo e metais pesados como cádmio, mercúrio e chumbo.

Segundo pesquisa da Associação Brasileira de Engenharia e Ciências Mecânicas (ABCM), embora uma lâmpada quebrada libere pequena quantidade de mercúrio, o problema ambiental pode ser gerado pelo efeito acumulativo e persistente do metal pesado proveniente de muitas lâmpadas.

Ao ser rompida, a lâmpada fluorescente emite vapores de mercúrio que são absorvidos por organismos vivos. Além disso, o descarte em aterros faz com que estes resíduos contaminem o solo e mais tarde os cursos d'água.

O Brasil consome 100 milhões de lâmpadas fluorescentes por ano e apenas 6% passam por algum processo de reciclagem. Os dados são da Associação Brasileira de Engenharia e Ciências Mecânicas (ABCM).
Tags: ABCM, Brasil, Brazil, environment, fluorescent lamps, glass, heavy metals, lâmpadas fluorescentes, meio ambiente, mercurio, mercury, metais pesados, pó de fósforo, Procel, reciclagem, recycling, residuos, resíduos perigosos, Rio de Janeiro, SEA, vidro, waste
Subscribe to My Comments Feed
Leave a Reply