« Trends in Adult Smoking in Mexico | Home | Ecomoto Comes to Colombia »
By Keith R | September 25, 2007
Topics: Waste & Recycling | No Comments »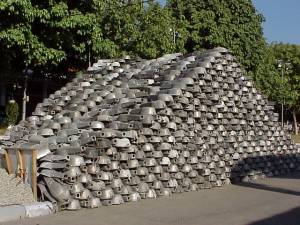 Rioluz, the company linked to Rio de Janeiro's municipal administration that is responsible for the some 390,000 public lights in the city, tries to reuse/recycle everything. It claims that in the process it saves the city about R$4 million (around US$2.14 million at current exchange rates) every year.
The reuse/recycling referred to here is the recovery of materials and equipment from streets and public places that have been damaged by vandalism, vehicle crashes, natural phenomena, etc., that cannot be repaired in-place, and finding uses for as much of those materials and equipment as possible.
In the January-July 2007 period alone, Rioluz recovered 4,066 lamps, 5,303 photoelectric relays, 387 lighting control boxes, and 1,978 reactors. It even recovered fiberglass used for the "buckets" used in company repair trucks to lift men up to work on the lightpoles. All in all, about 10,000 pieces of equipment and materials reused or recycled.
Rioluz maintains a special facility for this work, called Management of Recovered Materials (GRM), in Marechal Hermes in the city's North Zone. GRM comprises several specialized offices manned by 56 employees, interns and apprentices.
One of the GRM offices conducts triage on incoming loads, separating out the street lamps that can be repaired and sent back out with maintenance crews. A second office does the aforementioned repair, fixing some 700 lamps a month. Another focuses on photoelectric relays, recovering about 900 a month for re-use in other light fixtures.
A fourth focuses on using recovered fiberglass to repair maintenance truck lift "buckets," as well as create new light control boxes and even tool boxes.
Another deals with general mechanical services. Among other things, when the concrete base on which a public light is damaged, they strip out the rebar and forge them into grates and gates used by city maintenance crews throughout Rio. This office also utilizes recovered metal to create the grating and metal cages used to protect spotlights installed in the city's public plazas.
Let's see — avoided material waste, less material consumption, savings for the municipal budget, employment for dozens, on-the-job training in mechanical and electrical repair and fabrication for interns and apprentices…Is there a downside to this?
I wonder how many other municipal lighting services these days — whether we're discussing Latin America and the Caribbean (LAC) or elsewhere — so strongly stress reusing/recycling every possible piece of material or equipment accumulated in repairs/replacement of public lighting. Is the Rioluz example commonplace, or the exception to the general rule? I don't know the the answer to that yet, but I'd like to find out.
_____________________________________
Desde a Prefeitura de Rio de Janeiro:
Rioluz economiza R$ 4 milhões por ano com recuperação de materiais

A recuperação de materiais e equipamentos utilizados na iluminação pública do Rio, feita na Gerência de Recuperação de Materiais (GRM) da Rioluz, empresa vinculada à Secretaria de Qualidade de Vida, gera uma economia anual de aproximadamente R$ 4 milhões para os cofres do Município.

Instalada em Marechal Hermes, Zona Norte da Cidade, a GRM reúne um conjunto de dez oficinas, onde trabalham atualmente 56 pessoas, entre servidores da Rioluz, estagiários e menores aprendizes. Uma equipe altamente produtiva, como os números comprovam.

De janeiro a julho deste ano, foram recuperadas 4.066 luminárias, 5.303 relés-fotoelétricos, 387 comandos de iluminação, 1.978 reatores aéreos, além de caçambas de fibra de vidro para caminhões, utilizadas na manutenção da rede de iluminação. O total parcial de 2007 já atinge 10 mil equipamentos e materiais reaproveitados.

Em um galpão instalado junto ao terreno da 3ª Gerência Regional da Rioluz, funcionam as oficinas de triagem e recuperação de luminárias, refrigeração, comandos, reatores, fibra de vidro, pintura, carpintaria, relé fotoelétrico e de serralheria e solda.

As luminárias e outros componentes que as equipes das sete Gerências Regionais da Rioluz substituem, na rotina de manutenção dos 390 mil pontos de luz da Cidade, são enviadas às oficinas de Marechal Hermes. Uma triagem inicial avalia o que pode ser reaproveitado.

Além do equipamento de iluminação, a GRM recupera os aparelhos de ar-condicionado e bebedouros utilizados nas dez unidades administrativas da Rioluz. E também fabrica grades, divisórias, portões e chumbadores, aproveitando vergalhões de postes de concreto, para as gerências da empresa ou acabamento de obras de urbanização de praças e vias públicas da cidade.

Equipe se orgulha do trabalho em benefício da Cidade

O orgulho pelo que fazem motiva os que trabalham nas oficinas da GRM. Do aprendiz que se capacita para ingressar no mercado profissional aos chefes de oficinas, todos sabem que estão economizando recursos valiosos para a Prefeitura e ajudando a preservar o meio ambiente, com a reciclagem de materiais.

Um dos novatos da equipe é o estagiário Rodrigo Gomes, 16 anos. Há quatro meses no grupo, ele já tem a responsabilidade de orientar dois aprendizes na reposição dos equipamentos que acionam automaticamente as lâmpadas dos logradouros públicos. "O serviço que faço aqui beneficia toda a população", diz o jovem, que cursa eletrotécnica em uma escola de Nova Iguaçu, município da Baixada Fluminense.

Funcionário da Rioluz desde 1992, José de Santana, 48 anos, ainda conserva o entusiasmo de iniciante. Ele tem a função de recuperar caixas de comando dos circuitos da rede. Tarefa que considera de grande importância, porque "se as ruas e avenidas estão iluminadas, as pessoas se sentem mais seguras".

O gerente da GRM, Átila Tenório da Silva, atribui os resultados alcançados ao espírito profissional existente nas oficinas de Marechal Hermes, que ele assim resume: "Todos aqui conhecem a importância do trabalho em equipe e se unem em torno de um objetivo que vai além da realização de uma atividade remunerada. É muito gratificante, é um exemplo a ser seguido por outros servidores públicos".
Tags: comandos de iluminação, fiberglass, fibra de vidro, gates, grates, lamps, materiais reaproveitados, photoelectric relays, reactors, reatores aéreos, rebar, reciclagem, reciclaje, recuperação de materiais, recycled materials, recycling, relés-fotoelétricos, Rio de Janeiro, Rioluz, tool boxes
Subscribe to My Comments Feed
Leave a Reply