« Poll on Brazilian Attitudes Regarding Sustainable Consumption | Home | IDB Targets $3bn for Biofuels / BID apoyará proyectos de biocombustibles con US$3.000 millones / BID apóia projetos de biocombustíveis com US$3 bilhões »
By Keith R | April 2, 2007
Topics: Waste & Recycling | No Comments »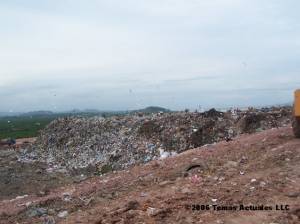 Synopsis in English: The State Secretary for the Environment (SEA) of Rio de Janeiro (RJ) state, Carlos Minc, has announced a new program aimed at ending once and for all the era of uncontrolled municipal trash dumps in that state. The program would form regional consortia of municipalities that would a shared sanitary landfill constructed with concessionary loans by the National Bank for Economic and Social Development (BNDES) and managed by a private contractor. Half of the state's 92 municipalities have already formed four consortia, one of which alone groups 11 municipalities. Minc says the step is necessary because the elimination of municipal dumps is mandated by state law 4191 (which he authored while still a deputy in the State Assembly) and because 70 RJ municipalities had not yet complied despite R$154 million in funding from various sources, including the state environment fund (FECAM), the national environment agency (IBAMA) and the Ministry of Cities.
Desde a Secretária Estadual do Ambiente (SEA) do Estado de Rio de Janeiro:
SECRETARIA DO AMBIENTE FORNECE NÚMEROS DO DESPERDÍCIO E ANUNCIA PROGRAMA PARA ACABAR COM LIXÕES

O secretário estadual do Ambiente, Carlos Minc, anunciou hoje (19/3) um novo modelo de programa de resíduos sólidos que, com recursos do BNDES e a participação da iniciativa privada, deverá acabar com os lixões no Estado do Rio de Janeiro em até quatro anos.

Minc fez também um balanço do desperdício do dinheiro público ao longo de 15 anos. Segundo levantamento atualizado da Secretaria de Estado do Ambiente, de um total de R$ 154 milhões aplicados desde então por municípios para se acabar com os lixões, cerca de 70 prefeituras não conseguiram construir seus aterros sanitários.

Para resolver esse problema ambiental, o secretário anunciou um plano que está sendo formatado com diversos municípios do Rio de Janeiro, que se reunirão em consórcios, por região, para obter os recursos do BNDES para a construção de aterros sanitários.

Ou seja: em média, de dez a quinze municípios se reunirão para, com a participação da iniciativa privada, construir e gerenciar um aterro sanitário que atenda a toda a região do entorno.

Como as prefeituras já atingiram o limite de endividamento, não poderão receber recursos do BNDES. Assim, os municípios consorciados terão que promover licitação para que empresas passem a gerenciar os aterros sanitários a serem construídos. O financiamento, portanto, será concedido para a empresa vencedora em cada licitação.

Empréstimos vantajosos

Segundo Minc, serão empréstimos "de pai para filho", com 30 meses de carência e 9% de juros ao ano. Até agora, metade dos 92 municípios do estado já se agrupou em quatro consórcios, dentre eles um que agrega 11 municípios da Região dos Lagos. O BNDES deverá anunciar os modelos de financiamento em 30 de março.

Segundo Minc, ao longo de 15 anos foram aplicados R$ 154 milhões para resolver o tratamento do lixo em municípios fluminenses, de fontes financeiras diversas, como do Fecam, do Ibama e do Ministério das Cidades. No entanto, mais de 70 municípios ainda não implementaram os aterros sanitários, permanecendo com lixões a céu aberto.

Minc admitiu ter havido em alguns casos "má gestão e desperdícios", mas que sua intenção não era "criminalizar ninguém", mas sim analisar o que deu errado no antigo programa e anunciar um novo modelo de gestão que possa acabar com os lixões no estado.

Tomando como base o aterro sanitário construído em Piraí, que atende a seis municípios, Minc calculou que com esses mesmos R$ 154 milhões poderiam ser construídos – se as verbas tivessem sido bem gerenciadas – cerca de 500 aterros sanitários equivalentes em todo o estado.

Minc apresentou, durante coletiva à imprensa, na sede da secretaria, a lista dos municípios beneficiados e aqueles que literalmente jogaram fora a verba. A nova metodologia passará a funcionar agora para garantir a criação dos consórcios municipais, ajudar a formatar novas licitações ou desbloquear as que já estão formatadas.

Participaram da coletiva à imprensa, entre outros, o secretário-executivo da Anamma-RJ (Associação Nacional de Órgãos Municipais de Meio Ambiente), Luiz Eduardo Soraggi, e representantes da Apremerj (Associação dos Prefeitos do Estado do Rio de Janeiro) e da Secretaria do Ambiente.

O projeto da secretaria visa ao cumprimento da Lei 4191, de Política Estadual de Resíduos Sólidos, de autoria do deputado Carlos Minc, que garante o acondicionamento, armazenamento, coleta, transporte, tratamento e destinação final dos resíduos sólidos no Estado do Rio de Janeiro, para o controle da poluição, da contaminação e a minimização de seus impactos ambientais.
Tags: aterros sanitários, basura, BNDES, Brasil, Brazil, Carlos Minc, desechos, FECAM, IBAMA, lixões, Ministry of Cities, residuos, Rio de Janeiro, rubbish, trash, trash dumps, waste
Subscribe to My Comments Feed
Leave a Reply