« A New Way to Fund Life-Saving Vaccines | Home | Caymans to Get Environment Clause in the Constitution »
By Keith R | April 3, 2009
Topics: Packaging, Waste & Recycling | No Comments »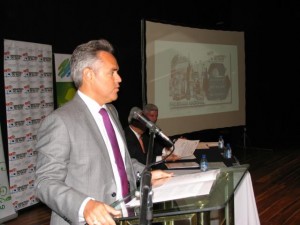 El Salvador's Environment Ministry (MARN) and Health Ministry (MSPAS) just recognized the efforts of a local industry initiative known as Reciplast, which in 2008 recovered 2,178.3 metric tons (mT) of plastic waste.
What is Reciplast?
It owes its existence in part to MARN and MSPAS. In 2001 MARN and MSPAS launched a National Program for the Recovery of Plastic Waste, followed in 2002 by MARN/MSPAS covenant with the packaging industry to create a Recovery and Recycling Program for Plastic Packaging to work together toward "viable solutions" to "the solid waste problem" posed by plastic packaging, initially focused on PET used in beverage packaging.
In 2004 MARN and MSPAS met with packaging manufacturers, distributors and major users in the food and beverage industries (such as Pepsi) to seek to expand the effort to other plastics. The meetings resulted in the creation by industry participants of the Reciplast Foundation — the same entity, now counting 50 industry members, responsible for the 2008 plastic harvest.
The 2178 mT collected included not just PET, but also high-density (HDPE) and low-density (LDPE) polyethylene and polypropylene (PP).
________________
Desde el Ministerio de Medio Ambiente y Recursos Naturales (MARN):
Reciplastic recupera 2,178.30 toneladas de plástico en 2008

Un merecido reconocimiento entregaron las autoridades del Ministerio de Medio Ambiente y Recursos Naturales y Ministerio de Salud a un grupo de 50 empresarios por recolectar 2, 178.30 toneladas de plástico en el 2008.

El reconocimiento se otorgó en el marco del Programa Nacional de Recuperación de Desechos Plásticos MARN-MSPAS, un proyecto vigente desde el 2001.

Este programa tiene como objetivo facilitar y orientar la participación organizada de empresas envasadoras en procesos alternativos de solución a la problemática de los envases y bolsas plásticas generados postconsumo.

El material recolectado por las empresas son plástico Pet, Polietileno de baja y alta densidad y polipropileno.

Es importante mencionar que el plástico es uno de los materiales que tarda más en biodegradarse o descomponerse. Según estimaciones científicas tarda alrededor de 300 años aproximadamente, a pesar de que su fabricación es a partir de un recurso natural no renovable.

El Viceministro de Medio Ambiente, Ing. Roberto Escalante, explicó que "dado el consumismo actual de la población lo genera de forma acelerada en un 9.42% a nivel nacional, se hace necesario ampliar y consolidar los mecanismos de coordinación entre el sector empresarial y gubernamental, para promover la recolección y comercialización de estos".

La recolección y posterior reutilización reducirá los volúmenes de desechos plásticos que van a los sitios de disposición final.

Adicional a este programa, el Ministerio de Medio Ambiente ha impulsado el tema de reciclaje en escuelas, instituciones de Gobierno y sector privado, con el objetivo de reducir los desechos sólidos en general y dar un uso amigable con el medio ambiente.
Tags: bolsas plásticas, desechos, desechos plásticos, El Salvador, envases plásticos, HDPE, high density polyethylene, LDPE, low density polyethylene, MARN, MSPAS, PEAD, PEBD, PET, plastic packaging, plastic waste, plásticos, polietileno, polipropileno, polypropylene, post-consumer PET, reciclaje, recycling, residuos, waste
Subscribe to My Comments Feed
Leave a Reply