« Colombia Finally Joins the POPs Convention / Por fin Colombia es Estado Parte del Convenio sobre los COPs | Home | Gates Foundation Funds WHO/UNICEF Research on Children's Medicines »
By Keith R | January 20, 2009
Topics: Waste & Recycling | No Comments »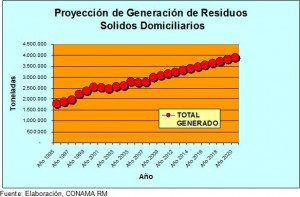 A working group co-chaired by the National Environment Commission's directorate for the Metropolitan Region (CONAMA-RM), the mayor's office and the nongovernmental organization Casa de La Paz ("Peace House") — aided by the steel firm Gerdau AZA and the German technical cooperation agency GTZ — has hammered out an action plan to have the RM — the capital Santiago plus its suburbs — recycle 25% of its wastes by the year 2020.  The largest contingent of the working group consisted of representatives from industry and business (40 in all).
The plan notes that as pf 2007 the RM has been generating 2.8 million metric tons per year (mT/y) of urban solid wastes (RSU in its Spanish acronym), growing about 2.2% per year and representing a RSU per capita generation of 1.1 kilogram (km) — among Latin America's highest per capita rate.  Left unchecked, this could reach 4 million mT/y by 2020 (see chart — click on image to enlarge).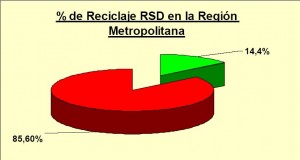 The composition of the RM's RSU has also changed in recent decades.  Whereas in the 1970s around 60% of RSU generated was organic material (mostly food and yard wastes), which could be composted or could decompose rather quickly in waste disposal sites under the right conditions.  Now that percentage is down to around 40%, while segments such as plastics and glass have grown significantly.
The working group was told that estimates put the 2007 rate of RSU recycling in the RM at around 14.4%.  Of the amount recycled, 53.1% is paper and board, 33% metal scrap, 6% organics, 4% glass, 3.5% plastics, 0.3% metal cans and 0.1% aseptic packaging.
Beyond setting the overall 25% recycling target, what does the action plan contemplate?  Among the elements recommended:
pilot programs on waste separation at the source in five RM municipalities;
create a registry of recyclers, with a goal of registering 1,000 recyclers in the RM overall and at least 20 per RM comuna (neighborhood);
neighborhood (comuna) based recycling plans;
development of a "recycling leaders" school to train others in proper recycling, and an accreditation program for recyclers meeting minimum quality standards;
create an internet-based recycling portal for the RM to provide up-to-date information on recycling in the region, including how to find recyclers, who's buying what (waste exchange), etc.;
create a regional norm on waste and recycling;
create environmental education campaigns about recycling in schools and adopt massive publicity campaigns promoting waste sorting and recycling.
The detailed outline agreed to by the working group will be put into formal language and presented to Chile's President, Michelle Bachelet, on Earth Day (March 15).
____________________
Desde CONAMA – Región Metropolitana de Santiago:
Director Regional de Conama presentó Plan de Acción de la Mesa Intersectorial "Santiago Recicla"

El proyecto es el resultado del trabajo de casi un centenar de representantes del sector privado, servicios público, municipios, recolectores independientes, ONGs, entre otros; quienes participaron en la elaboración de un documento consensuado.

El reciclaje, una de las iniciativas ambientales más promovidas por Conama Metropolitana, ya cuenta con su Plan de Acción. Luego de un mes de trabajo –a cargo de Fundación Casa de La Paz, Intendencia de Santiago y Conama RM– hoy se presentó en el Salón de Honor de la Intendencia Metropolitana, el "Plan de Acción de la mesa intersectorial Santiago Recicla", cuyo principal desafío es reciclar un 25% de los residuos sólidos asimilables a domiciliarios al año 2020.

El documento fue presentado por el director de la Conama RM, Alejandro Smythe, y es fruto del trabajo efectuado en tres comisiones, las cuales abordaron los siguientes temas: "Cadena de reciclaje", "Educación y difusión", e "Institucionalidad y normativa". Cada sesión contó con la participación de más de 25 representantes provenientes del sector público, privado, ONGs, fundaciones, y recolectores independientes, quienes elaboraron un Plan de Acción consensuado por los diversos sectores.

El paso siguiente es reunir observaciones, sugerencias y comentarios de los miembros de las distintas comisiones, hasta el día 15 de marzo. Luego, el Plan de Acción será presentado a la presidenta de la República, Michelle Bachelet.
Tags: aseptic packaging, board, bolsa de residuos, cartón, Casa de la Paz, chatarra, Chile, CONAMA-RM, drink cans, educación ambiental, Environmental Education, Gerdau, glass, GTZ, latas, metal scrap, Metropolitan Region, packaging waste, papel, paper, plastic, plásticos, reciclage, recycling, Región Metropolitana, residuos, residuos de envase, resíduos sólidos urbanos, Santiago, waste, waste exchange
Subscribe to My Comments Feed
Leave a Reply