« An Online Database of Marine Protected Areas / Un base de datos online sobre las áreas marinas protegidas | Home | The Largest Basin Clean-up Loan in Latin America »
By Keith R | June 9, 2009
Topics: Electronic/Electrical Equipment, Waste & Recycling | No Comments »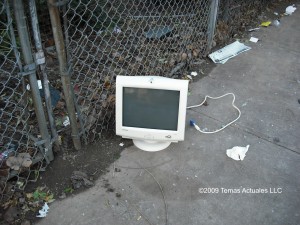 The state assembly of the state of São Paulo (SP) today passed a law on "technological trash" (lixo tecnológico) that is likely to have a significant impact on the electrical and electronic equipment (EEE) product and component business in Brazil. SP is Brazil's biggest EEE market and home to much of its EEE industry, and its example likely will be studied and copied by other states, and perhaps by federal legislators as well. Governor José Serra is expected to sign the bill into law shortly.
What will be covered by the law? "Technological trash" is defined as household appliances and EEE for household, commercial, industrial or service sector use that are in disuse or subject to final disposition (ready to be discarded). The law specific mentions computer components and peripherals, monitors and televisions, energy accumulators (batteries and piles), and magnetized products. [The list is illustrative, not definitive.]
Extended Responsibility
The new law will make producers, importers and those who commercialize EEE products and components in SP jointly responsible for ensuring an "environmentally adequate" final disposition for their end-of-life (EOL) products and components. An "environmentally adequate" final disposition is defined as either recycling, reuse or neutralization and disposal appropriate for chemical wastes. For any components or equipment containing heavy metals, any intended disposition must obtain an environmnental license from the state's Environment Secretariat (SMA), which can demand a special environmental impact studies before issuing the license.
Producers, importers and commercializers are also required to maintain collection points to receive EOL products and components from consumers. Interestingly enough, the law does not specify that these collection points can limit what they accept to only the brands and models they sell in SP (or for that matter, in Brazil). It is also silent on whether or not these collection points can charge consumers for accepting their e-scrap. Presumably those sort of details are being left to the implementing decree, which the law says the executive branch must issue within 180 days.
Labeling
The new law will also require EEE components and products sold in SP to prominently include on their packaging or labels the following information:
warning that the item should not be disposed of with common trash;
orientation on collection points for technological trash;
the contact address and phone number of those responsible for taking EOL material;
an alert over the presence of heavy metals or toxic substances among product components.
Tags: acumuladores de energia, aparelhos eletrodomésticos, appliances, baterias, batteries, Brasil, Brazil, componentes eletroeletrônicos, computadores, computers, e-lixo, e-scrap, e-waste, environment, heavy metals, labeling, lixo tecnologico, magnetized products, meio ambiente, metais pesados, monitors, periféricos, peripherals, pilhas, produtos eletroeletrônicos, produtos magnetizados, RAEE, reciclagem, recycling, residuos, reuse, reutilização, rotulagem, rótulo, São Paulo, substâncias tóxicas, technological wastes, toxic substances, waste, WEEE
Subscribe to My Comments Feed
Leave a Reply