« R$101 mil. for Small Hydro in Bahia / R$101 milhões para PCH em Bahia | Home | Improving Water and Sanitation in Paraguay / Mejorar servicios de agua y saneamiento en Paraguay »
By Keith R | April 14, 2009
Topics: Packaging, Waste & Recycling | No Comments »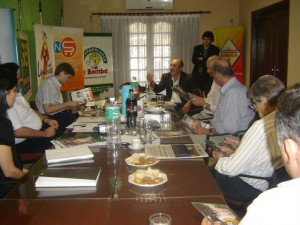 Paraguay's Environment Minister José Luis Casaccia met with representatives of the Paraguayan Chamber of Supermarkets (CAPASU) to push for all supermarkets in the country to
promote the use of reusable cloth bags for carrying away the products they buy, rather than polyethylene bags, which the Environment Secretariat (SEAM) considers a major sort of litter in the country;
provide all clients red and green colored bags that they can use to put inorganic and organic waste (respectively) for recycling.
CAPASU agreed to seriously consider the proposal.
_______________
Desde la Secretaría del Ambiente (SEAM):
MINISTRO PRESENTA PROPUESTA A SUPERMERCADITAS PARA MEJORAMIENTO DEL MANEJO DE RESIDUOS SÓLIDOS

El Ministro del Ambiente Abog. José Luís Casaccia, se reunió en la tarde de hoy con representantes de la Cámara Paraguaya de Supermercados (CAPASU), con el fin de presentarles una propuesta en beneficio del ambiente. La misma consiste en que los empresarios implementen en todos sus locales comerciales la entrega de dos bolsas para el reciclado de las basuras orgánicas e inorgánicas (verde y roja respectivamente), al ciudadano que diariamente acude a comprar, como así también el incentivar el uso de bolsas de tela reutilizables a fin de evitar la grave contaminación que producen las bolsas de polietilenos que se entregan en los supermercados de nuestro país.

"La contaminación que generan las bolsas de polietileno aparte de ensuciar todo la nación, generan una terrible contaminación, ya que es un material que por su composición tarda entre 100 y 200 años en desintegrarse. A simple vista podemos ver bolsas de plástico por todos lados, en los ríos, en los arroyos en los desagües, en la calle y hasta en la veredas de las casas", indicó Casaccia a los empresarios.

Ante esta situación el Ministro explicó a los dueños de supermercados la importancia de revertir la situación y exhortó que disminuyendo este material se podrá generar el mejoramiento del manejo de residuos sólidos urbanos en todo el país.

Si bien es un proyecto de gran envergadura por ser una campaña de concientización a nivel país, es un gran paso promover la propuesta que tanta falta le hace al Paraguay cada vez más contaminado.

Los empresarios coincidieron con el Ministro en llevar a cabo una nueva reunión el próximo martes, con el objetivo de diseñar el proyecto con las ideas tratadas el día de hoy.

Con este emprendimiento se logrará reducir gran cantidad de basura en nuestro territorio, y se generará conciencia sobre la importancia de reciclar para conservar el planeta.
Tags: bolsas reutilizables, CAPASU, inorganic waste, organic waste, Paraguay, plastic bags, polietileno, polyethylene, residuos, SEAM, supermarkets, supermercados, urban solid waste, waste
Subscribe to My Comments Feed
Leave a Reply