« Tienda Inglesa Helps Uruguay Eliminate Mercury Thermometers | Home | Rio to Require Take-Back of Fluorescent Lamps »
By Keith R | February 25, 2009
Topics: Chemicals, Packaging, Waste & Recycling | No Comments »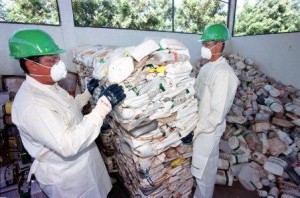 Brazil's Superior Court just issued an important ruling regarding producer responsibility.  The case involved a challenge to the exclusive right of a third party organization to control the implementation of a producer responsibility waste recovery obligation imposed under Brazilian environmental legislation.
The firm Santos e Paccini Ltda. – Fineplast contested a denial of an environmental license to handle the recovery and recycling of pesticide packaging.  Recovery of such packaging is required under National Environment Council's (CONAMA) binding resolution 334/2003.  One of the requirements of the Resolution for the award of an environmental license for a collection center for empty pesticide packaging is an agreement signed with either the producer or a representative entity guaranteeing the proper recovery, transport and final disposition of the packaging.  Neither every pesticide producer operating in Brazil has authorized the National Institute for Processing Empty Packaging (Instituto Nacional de Processamento de Embalagens Vazias – InpEV) to take on that task on their behalf.
InpEV's program has been a big success, and Fineplast wanted in on the recycling stream InpEV has built up.  Its lawsuit alleged that Resolution 334 in effect conditioned environmental licenses on an agreement with InpEV, and in doing so conferred on a private entity the decision on which enterprises can participate in the recovery operations.  They argued that this contravenes the contitutional principles of legality, free enterprise and competition, as well as the exclusive policing power of the Executive Branch.
The author of the Court's decision, Minister Denise Arruda, said that the exclusive responsibility for guaranteeing a proper final disposition of the end-of-life pesticide packaging was placed by the CONAMA Resolution on the producers, or in cases where the pesticide was not produced in Brazil, on the importers.  InpEV represents 99% of Brazilian pesticide manufacturers and the seven principal pesticide producers.  As such, she said, it is possible to say that InpEV acts as the true trustee of the parties solely responsible for empty pesticide packaging.  "If these companies are to be held liable for any damages to the environment resulting from the recycling of empty pesticide containers, it is fair that they have the perogative to establish partnerships in accord with their convenience."
___________________
Desde o Superior Tribunal de Justiça (STJ):
STJ nega recurso à empresa que pretendia atuar no ramo de reciclagem de agrotóxico

A Primeira Turma do Superior Tribunal de Justiça (STJ) não acolheu o recurso da empresa Santos e Paccini Ltda. – Fineplast que pretendia atuar na atividade de reciclagem de embalagens vazias de agrotóxicos. A empresa recorreu de decisão que considerou estar a concessão de licença ambiental legalmente condicionada à celebração de termo de compromisso com o Instituto Nacional de Processamento de Embalagens Vazias (Inpev).

No STJ, a Fineplast alegou que a Resolução Conama 334/2003, ao exigir o termo de compromisso com o Inpev para o licenciamento ambiental, inovou o ordenamento jurídico e conferiu a uma entidade privada o poder de decidir quais empresas poderiam atuar na atividade em questão. Além disso, sustentou que a exigência atenta contra os princípios constitucionais da legalidade, da livre iniciativa, da concorrência e do poder de polícia exclusivo da Administração.

Ao decidir, a relatora, ministra Denise Arruda, ressaltou que o responsável pelo destino final das embalagens vazias de agrotóxicos é o seu fabricante ou, quando o produto não for fabricado no país, o importador.

No exercício dessa obrigação, disse a ministra, as empresas produtoras e comercializadoras de agrotóxicos são representadas, atualmente, pelo Inpev, que possui, em seu rol de associados, 99% das empresas fabricantes de defensivos agrícolas do Brasil e as sete principais entidades do setor.

"Diante desse contexto, é possível afirmar que o Inpev atua como verdadeiro mandatário das empresas produtoras e comercializadoras de agrotóxicos, que são as únicas responsáveis pela destinação final das embalagens vazias. Assim, se essas empresas serão responsabilizadas por eventual dano ao meio ambiente decorrente da reciclagem de embalagens vazias de agrotóxicos, é justo que elas tenham a prerrogativa de firmar parcerias de acordo com suas conveniências", assinalou.
Tags: agrochemicals, agrotoxicos, Brasil, Brazil, CONAMA, defensivos agrícolas, embalagem, embalagens de agrotóxicos, environmental licensing, Fineplast, inpEV, licenciamento ambiental, pesticide packaging, reciclagem, recycling, residuos, Santos e Paccini Ltda., STJ, third party organizations
Subscribe to My Comments Feed
Leave a Reply