« Vehicle Pollution in São Paulo Quadruples Risk of Death | Home | A Moratorium on Constructing Mega-Resorts? »
By Keith R | March 9, 2009
Topics: Electronic/Electrical Equipment, Waste & Recycling | No Comments »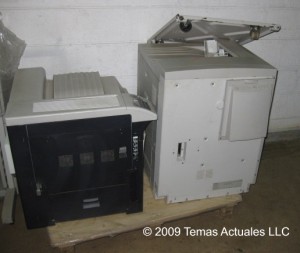 The government of Brazil's Minas Gerais state wants to regulate waste electronic and electrical equipment (WEEE, or "e-waste" or "e-scrap"), and with their new state waste policy law, they have ample authority to do so. There's just one problem: they are not sure of the full extent and nature of the e-waste problem in their state.
That's where the Swiss come in.  The Swiss Federal Institute of Materials Science and Technology (EMPA) has signed an agreement with the state's environmental technical body, the State Environment Foundation (FEAM), to provide FEAM's 3RsPCs (3 R's – reduce, reuse, recycle, PCs – personal computers) project with an e-waste diagnostic by 19 April that will serve as the basis for state regulations and poilicy on e-waste.  The diagnostic is to pay particular attention to televisions, computers and cellular telephones.
Why does it matter what Minas does on this issue, you ask?  Minas is Brazil's second most populous state (after São Paulo), and one of the most affluent states in the country.  Unless SP beats it to the punch, how Minas chooses to regulate e-waste is likely to be emulated by many other states, if not national authorities.
The EMPA name might ring a bell with long-time Temas Blog readers.  It is the same outfit which in 2007 signed an agreement with Colombia to perform a similar diagnostic and to flesh out a plan of action to create an integrated e-waste management system in that country.
Desde a Fundação Estadual do Meio Ambiente (FEAM):
Cooperação entre Minas e Suíça irá possibilitar diagnóstico sobre a geração de resíduo eletrônico

O acordo firmado entre as entidades sela a cooperação para a realização do levantamento dos resíduos eletro-eletrônicos gerados em Minas Gerais. Segundo Susane Portugal, coordenadora do projeto 3RsPCs Resíduos Eletro-eletrônicos da Feam, atualmente não se sabe quanto lixo eletrônico é produzido no Estado. "Será feito um diagnóstico que vai nos subsidiar, preliminarmente, com dados referentes a televisões, computadores e celulares que se tornarão resíduo em breve", explica. "Esse é um projeto que pretende resolver um problema que, apesar de ser relativamente novo, é crescente", completa.

Para fazer esse diagnóstico a Empa contratou um consultor indicado pela Feam e está oferecendo treinamento ao pessoal envolvido no trabalho. "O alemão residente na Suiça Martin Streicher veio nos explicar a metodologia para realização do diagnóstico e nos falar sobre o trabalhos já desenvolvidos em países como China, Índia e Colômbia", afirma Susane.

A coordenadora ressalta que o diagnóstico ficará pronto no dia 19 de abril deste ano e servirá como base para criação de legislações e políticas públicas em geral, bem como para subsidiar um sistema de gestão desses resíduos. "Hoje, esses equipamentos vão parar nos aterros, no lixo urbano comum ou são jogados na natureza, o que representa um risco", alerta.

Ela explica que o resíduo eletro-eletrônico contém, além de metais preciosos, que poderiam ser recuperados, metais pesados que podem contaminar o solo e as águas. "O ideal é tentar recuperar esses materiais ampliando sua vida útil. Quando não tiver mais utilidade, poderá ser reciclado. 90% dos materiais que compõem um computador, por exemplo, podem ser reciclados", destaca Susane.

3RsPCs

Lançado em agosto de 2008 pela Feam o projeto visa colocar em prática ações para a destinação social e ambientalmente correta dos resíduos eletroeletrônicos, dentro dos princípios da redução, reutilização e reciclagem.

De acordo com o Programa das Nações Unidas para o Meio Ambiente (Pnuma), são produzidos, anualmente, no mundo de 20 milhões a 50 milhões de toneladas métricas de lixo tecnológico. Grande parte desses resíduos é lançada na natureza de forma inadequada, contaminando o meio ambiente devido à presença de metais pesados. Outro problema é a proliferação de lixões tecnológicos, onde os equipamentos ficam dispostos ao ar livre sem nenhum tipo de controle.
Tags: 3RsPCs, Brasil, Brazil, computadores, e-lixo, electronic scrap, EMPA, environment, FEAM, heavy metals, lixo tecnologico, meio ambiente, metais pesados, Minas Gerais, PNUMA, RAEE, reciclagem, recycling, resíduo eletrônico, residuos, televisions, televisões, UNEP, waste, WEEE
Subscribe to My Comments Feed
Leave a Reply