« Power Plants Run on Grass | Home | IDB's First Loan to a Private Sector Bioenergy Project / Primeiro financiamento do BID ao setor privado para bioenergia »
By Keith R | July 26, 2007
Topics: Packaging, Waste & Recycling | No Comments »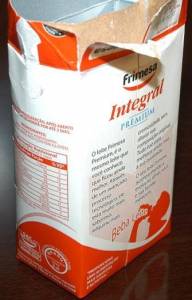 Synopsis in English: In May the environment officials of the southern Brazilian state of Paraná called in Tetra Pak officials and told them to come up with a proposal to solve the post-consumer waste problem in that state associated with their long-life (aseptic) packaging — or face drastic action by the government, such as banning the sale of such packaging within the state. According to a recent diagnostic, some 3.6% of waste entering the landfill serving the state capital, Curitiba, is aseptic packaging.
Well, the company decided to deal. Yesterday it was announced that an "unprecedented" two-year "plan of action" has been agreed whereby the company will promote recovery and recycling operations for 22 municipalities that represent 90% of the state's populations. The plan rests on four pillars: (1) the company providing incentives to recycling cooperatives (primarily waste pickers known as catadores in Brazil) to collect aseptic packaging; (2) regional initiatives for the purchasing of the collected packaging waste; (3) setting up new recycling enterprises devoted to recycling this particular packaging waste; (4) educational campaigns — films, educational materials, and sponsoring the creation of 1,000 solar water heaters made with aseptic packaging (and PET bottles). The action plan and its details will be formally presented to the public by Tetra Pak and state officials within the next two weeks.
The State Environment Secretary, Rasca Rodrigues, declared that the point of the deal was not to make Tetra Pak solely responsible for the waste created by its packaging, but instead to ensure that the company was fully involved in the state's efforts to realize its Zero Waste goal, particularly to design programs that feature "social inclusion" (code words for helping the catadores).
He also said — manufacturers and major packaging users take note! — that the state was seeking similar commitments from other major waste generators. The state Zero Waste Program head, Laerty Duda, said that his state was looking for "reverse logistic" (the Brazilian way of saying take back) deals with manufacturers and distributors of paper, plastic bags, tires, batteries, fluorescent lamps, glass, motor oil/lubricants, and civil construction materials.
______________________________________
From the Secretariat for the Environment and Water Resources (SEMA) of the State Paraná:
Paraná propõe plano de ação inédito para recolhimento das embalagens Tetra Pak

O secretário do Meio Ambiente e Recursos Hídricos, Rasca Rodrigues, e o presidente da Tetra Pak no Brasil, Paulo Nigro, apresentaram nesta quarta-feira (25) um Plano de Ação inédito no Paraná – que será realizado nos próximos dois anos, inicialmente em 22 municípios pólos e representam 90% da população paranaense – com o objetivo de garantir o escoamento sustentável para a reciclagem das embalagens longa vida no Estado.

"Neste momento estamos selando uma parceria voltada à geração de riquezas e a preservação do meio ambiente. O plano foi elaborado a quatro mãos, com o intuito de melhorar a eficiência no recolhimento e reciclagem das embalagens, que servirá de exemplo para outros estados. É como se passássemos de 'tiros de espingarda para tiros de canhão", demonstrou o presidente da Tetra Pak, Paulo Nigros.

Os municípios que farão parte da iniciativa são: Paranaguá, Curitiba, Rio Negro, Ponta Grossa, União da Vitória, Irati, Guarapuava, Pato Branco, Cornélio Procópio, Laranjeiras do Sul, Francisco Beltrão, Cascavel, Foz do Iguaçu, Toledo, Campo Mourão, Umuarama, Paranavaí, Maringá, Ivaiporã, Londrina, Jacarezinho e Telêmaco Borba.

A parceria aconteceu, após a iniciativa do governo de fazer a empresa cumprir a legislação federal, que atribui ao fabricante a responsabilidade pela destinação correta do resíduo por ele gerado. O coordenador das promotorias de Meio Ambiente do Ministério Público Estadual, Saint Clair Honorato dos Santos, e a promotora do Ministério Público Federal, Margareth Matos Menezes, também participaram da reunião.

Diagnóstico – O planejamento, feito em conjunto pela equipe de técnicos da Secretaria e da Tetra Pak, começou com um diagnóstico em que cinco municípios paranaenses (Curitiba, Maringá, Ponta Grossa, Foz do Iguaçu e Londrina) foram classificados conforme a estrutura existente para a coleta seletiva e destinação dos materiais recicláveis.

Segundo o diagnóstico, no município de Curitiba, por exemplo, das 2,2 mil toneladas de materiais reciclados recolhidos ao mês, 60 toneladas são embalagens longa vida.

Plano de ação – O plano possui dez ações ambientais, baseadas em quatro estratégias chaves: incentivo ao trabalho de cooperativas para aumentar a captação das embalagens, iniciativas regionais de comercialização das embalagens, desenvolvimento de novas empresas recicladoras com agregação de valor ao produto e educação ambiental.

Entre as atividades de educação ambiental que percorrerão os 22 municípios, inseridos no plano de ação estão a exibição de filmes em praças públicas, trilha educativa, ampliação do marketing estimulando a reciclagem nas embalagens e a construção de mil aquecedores solares – construídos com embalagens tetra pak – em um ano.

O secretário do Meio Ambiente, Rasca Rodrigues, disse que outras sugestões propostas ainda serão inseridas ao plano apresentado pela empresa. "O objetivo da ação não é responsabilizar unicamente a Tetra Pak, mas inseri-la em políticas de reciclagem já desenvolvidas no Paraná. Estamos trabalhando desta forma com os maiores geradores de resíduos do Estado e ao mesmo tempo, promovendo a inclusão social", declarou Rasca, ao referir-se a proposta de aumentar a participação dos catadores, organizados em cooperativas e acabar com a exploração feita pelos atravessadores – pessoas que compram os resíduos dos catadores por um preço inferior ao do mercado.

A cada ano são colocadas no mercado paranaense 500 milhões de embalagens e apenas 32% deste total são recolhidas e recicladas.

Dentro de 15 dias haverá uma nova reunião do grupo com o lançamento oficial do Plano "Paraná e Tetra Pak em Ação – Longa Vida para o Meio Ambiente".

Desperdício Zero – O plano foi elaborado em conjunto pela Coordenadoria de Resíduos Sólidos da Secretaria, responsável pelo Programa Desperdício Zero, que vem se reunindo com grandes geradores de resíduos visando reduzir em 30% o volume de lixo destinado aos aterros sanitários do Paraná através da reciclagem e reaproveitamento de materiais.

Das 20 mil toneladas diárias de lixo que chegam aos aterros paranaenses, o Programa detectou em maior quantidade as embalagens longa vida (Tetra Pak), pilhas e baterias, papel, construção civil, pneus, lâmpadas fluorescentes, metais, orgânicos, vidros, óleo lubrificante e sacolas plásticas.

"Com base neste diagnóstico, o Desperdício Zero vem trabalhando na chamada 'logística reversa', convocando fabricantes e distribuidores dos principais tipos de resíduos para aproximá-los das recicladoras – que utilizam o que é lixo para o fabricante como matéria-prima para criar outros produtos", finalizou o coordenador do Programa, Laerty Duda.
Tags: aquecedores solares, aseptic packaging, basura cero, baterias, batteries, Brasil, Brazil, Campo Mourão, Cascavel, catadores, Cornélio Procópio, Curitiba, desperdício zero, embalagem longa vida, empresas recicladoras, fluorescent lamps, Foz do Iguaçu, Francisco Beltrão, glass, Guarapuava, Irati, Ivaiporã, Jacarezinho, lâmpadas, lamparas, Laranjeiras do Sul, logística reversa, Londrina, Maringá, Ministério Público Federal, motor oil, óleo lubrificante, packaging waste, papel, paper, Paraná, Paranaguá, Paranavaí, Pato Branco, PET bottles, pilas, pilhas, plastic bags, pneus, Ponta Grossa, reciclagem, reciclaje, recycling, resíduos de embalagens, residuos de envase, reverse logistics, Rio Negro, sacolas plásticas, solar water heater, take-back, Telêmaco Borba, Tetra-Pak, tires, Toledo, tyres, Umuarama, União da Vitória, vidrio, vidro, zero waste
Subscribe to My Comments Feed
Leave a Reply