« Sustainable Agriculture as a Key to Protecting the Mesoamerican Reef | Home | Reforming Rio's Environmental Governing Machinery »
By Keith R | June 20, 2007
Topics: Waste & Recycling | No Comments »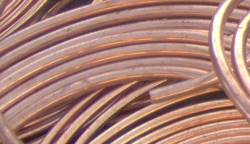 Not too long ago I noted how it's become a big business in Jamaica to take metal scrap — including robbing it from working stock — and exporting it to China and other Asian markets. I knew at the time that this was by no means unique to Jamaica, but couldn't point to any open sources about the issue for other Latin America and the Caribbean (LAC) nations.
In today's reporting out of the Dominican Republic, we find that much of the eastern half of the capital has been without water service because 10 of the Water and Sewer Corporation of Santo Domingo's (Corporación del Acueducto y Alcantarillado de Santo Domingo – CAASD) pump stations were vandalized to the tune of 15 million pesos worth of damage. What kind of vandalism? The copper cables were stripped from them.
This is not the first such incident in the DR of wire/cable theft. Evidently this problem has been growing steadily over the last couple of years.
Where is the stolen wire/cable going? Well, the DR does not have a copper recycler and does not produce copper domestically. It's possible someone is finding an alternate use for the cables domestically, but most Dominicans theorize that it is being exported. Last year nearly US$1 million in copper scrap was exported, with no accounting for where the scrap came from and the authorities apparently uninterested in checking…
What a contrast with Paraná, Brazil! The state news agency reports that yesterday (19 June) a special operations group of the police in the state capital, Curitiba, arrested a "scrap recycler" for accepting 2.5 metric tons of stolen copper wire/cable. The wire/cable was lifted from Brasil Telecom and the state electric company Procel. If convicted, the arrested recycler will serve 2-6 years jail time.
Obviously the demand for scrap copper is there. I keep wondering how the energies throughout LAC currently going into the robbery of working stock can somehow be channeled and converted into legitimate, safe, formal dis-assembly of waste electronic and electrical equipment (WEEE) and a perhaps a regional metal recycling pact (after all, why ship it all to China?). Any ideas?
Tags: Brasil Telecom, Brazil, CAASD, copper cables, Curitiba, Dominican Republic, metal scrap, Paraná, Procel, pump stations, water services
Subscribe to My Comments Feed
Leave a Reply