« Eliminating Vertical Transmission of HIV & Syphilis in the Caribbean by 2015 | Home | Argentina Lurches Toward an Obesity Law… »
By Keith R | August 9, 2008
Topics: Packaging, Waste & Recycling | No Comments »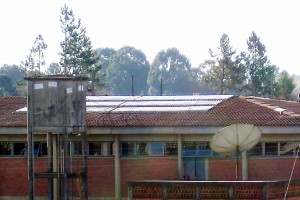 One of the most popular posts here on The Temas Blog was the one introducing the solar water heater made of used PET bottles and aseptic cartons (mostly Tetra-brik) promoted by Paraná's (PR) Zero Waste (Desperdício Zero) Program. Not far behind in popularity has been the follow-up post about how the Program is spreading the knowledge of how anyone can construct one — including a free how-to manual for download.
Always looking for a new way to promote the idea, the Program has been trying to build bigger and bigger models of the "ecological water heater" as they like to call it. The largest so far, built at an Army barracks in Palmas in the southern portion of PR state, involves no less than 1,800 PET bottles and 1,500 aseptic cartons. Officials proudly point out that this represents about 100 kilograms of plastic diverted from the waste stream.
Click on these pictures to see larger photos of what may be the world's largest solar water made of recycled packaging material — at least until SC tops it with a new one of their own!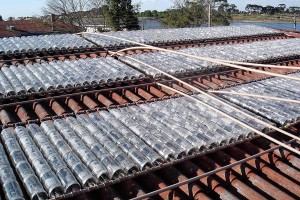 PR environment officials also are proud to point out that this latest construct tops the claim by neighboring state Santa Catarina (SC) to have built the largest solar water heater made of recycled materials. It seems that recently SC and PR have been engaging in a contest to see who can build the largest functioning "ecological" water heater. SC had previously held the record with one built with 1,700 PET bottles.
The solar water heaters made with used packaging reputedly warm water to about an average of 38º C (104º F) in the winter, 50º C (122º F) in the summer, with temps registered as high as 65º C (149º F).
________________________
Desde a Secretaria do Meio Ambiente e Recursos Hídricos do Paraná (SEMA):
Maior aquecedor solar ecológico do Brasil entra em atividade no PR

O maior aquecedor ecológico já construído no Brasil – com 3,3 mil embalagens: 1,8 mil garrafas PET e 1,5 mil embalagens longa vida – entrou em atividade nesta segunda-feira (21), em Palmas, na região Sul do Paraná. Confeccionado sob a coordenação da Secretaria do Meio Ambiente e Recursos Hídricos, o aquecedor foi instalado no alojamento da 15.ª Companhia de Engenharia de Combate do Exército Brasileiro, ocupado por 50 soldados.

"Com a montagem deste aquecedor, o Paraná se torna o autor do maior aquecedor solar já feito no país, ultrapassando Santa Catarina que possui um com 1,7 mil garrafas", destacou o secretário do Meio Ambiente e Recursos Hídricos, Rasca Rodrigues. Juntas, as 1,8 mil garrafas utilizadas na montagem do aquecedor paranaense representam o reaproveitamento de aproximadamente 100 quilos de plástico.

Para o criador do sistema de aquecimento, o catarinense José Alcino Alano, esta iniciativa reafirma o Paraná na vanguarda da área ambiental. "O Paraná é referência na preocupação com o meio ambiente e vem ajudando a escrever a história do aquecedor solar. É uma honra tê-lo como parceiro", afirmou.

Alano também agradeceu à Secretaria pela ajuda na divulgação desta alternativa ecológica e socialmente correta. Em 2004, ele passou a receber apoio do Programa Desperdício Zero – da Secretaria do Meio Ambiente – na divulgação de seu aquecedor ecologicamente correto, que foi registrado como um 'projeto-livre'. "É livre porque pode ser reproduzido sem finalidades comerciais, apenas para melhorar o meio ambiente e a qualidade de vida daqueles que precisam", explicou o inventor.

Desde então, mais de 6 mil aquecedores já foram construídos apenas no Paraná. "Mas esse número pode ser muito maior. Já não controlamos mais a quantidade, pois o projeto já caminha sozinho. O Estado está cheio de multiplicadores que, com o material oferecido pelo programa, promovem oficinas que ensinam a montagem", disse o coordenador do Desperdício Zero, Laerty Dudas.

AQUECIMENTO – O sistema é o mesmo dos aquecedores solares produzidos industrialmente, conhecidos tecnicamente de termo-sifão. A diferença está no material utilizado para montar o painel que aquece a água – garrafas PET, embalagens longa-vida e alguns metros de canos de PVC.

A construção começa com o recorte das garrafas e das caixas que irão formar o painel. "O próximo passo é pintar de preto os canos e as embalagens longa vida que irão absorver energia solar e a transformar em calor", explicou o técnico da Secretaria que coordenou a montagem, José Dionir 'Zeco' Paz.

As garrafas envolvem os canos por onde passa a água e mantêm o calor através de efeito estufa. "A água sai da caixa d'água em temperatura ambiente, passa pelo sistema, eleva a sua temperatura e volta para a caixa", explicou Zeco. Após seis horas, em média, nesse ciclo constante a água pode chegar a uma temperatura de até 38º no Inverno ou mais de 50º no Verão. "Em Maringá, Norte do Estado, já registramos temperaturas acima de 65º", acrescentou o técnico da Secretaria.

O uso de um aquecedor deste porte também pode reduzir em mais de 1,5 mil kilowatts (kW) o consumo de energia elétrica. "Construímos um aquecedor com mil garrafas que já comprovou esta economia, resultando em R$ 200 a mais no final do mês para a entidade beneficente onde foi instalado", concluiu o catarinense José Alano.
Tags: alternative energy, aquecedores solares, aseptic packaging, Brasil, Brazil, canos de PVC, desperdício zero, embalagem longa vida, Exército Brasileiro, packaging materials, packaging waste, Palmas, Paraná, PET bottles, reciclagem, recycling, resíduos de embalagens, Santa Catarina, SEMA, solar water heater, termo-sifão, Tetra-brik, zero waste
Subscribe to My Comments Feed
Leave a Reply