« Government Study Calls for Mexican Battery Regulation / Estudio recomenda normatividad sobre las pilas en México | Home | Public Ministry Can Investigate »
By Keith R | March 14, 2009
Topics: Hazardous Substances, Renewable Sources, Waste & Recycling | No Comments »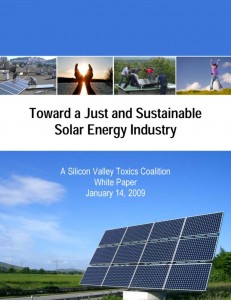 Photovoltaic (PV) technology usually is portrayed as a "win-win" solution that can harness "free" solar energy to address climate change, reduce dependence on fossil fuel imports and create "green jobs." Its greater use has often been advocated for many of the nations of Latin America and the Caribbean (LAC) (see here, here, here and here).  Heck, I have even wondered aloud here about why it is not given greater emphasis in LAC.
Often overlooked or ignored are the potential environmental and health costs. Recently the Silicon Valley Toxics Coalition (SVTC) released what it calls "a white paper" looking at those costs entitled Toward a Just and Sustainable Solar Energy Industry.  Since there are so few publications examining these issues regarding solar energy and they should be taken into account when assessing the possible role of solar in LAC energy strategies, I am adding this to the Energy section of the Temas Recommended Reading List.
The paper points out that the most widely used panels are based on materials and processes from the microelectronics industry, and as such that may lead at the end of their product lives 20-25 years from now to an e-waste wave.  While evolving PV technologies are increasing cell efficiency and lowering costs, many of these still use toxic materials or materials with as-yet unknown or poorly understood health and environmental risks (such as new nanomaterials).
SVTC argues that since the PV sector is still relatively young and evolving, there is still a window of opportunity to ensure that the industry is truly "clean and green" from cradle to grave and can serve as a model for how other innovative "green" industries address the life-cycle impacts of their products.
The report offers several recommendations to address the health and environment problems it identifies, including:
Reduce and eventually eliminate the use of toxic materials and develop environmentally sustainable practices;
Impose extended producer responsibility (EPR) on PV manufacturers;
Ensure proper testing of new and emerging materials and processes based on a precautionary approach;
Expand recycling technology and design products for easy recycling;
Promote high-quality "green jobs" that protect worker health and safety and provide a living wage throughout the global PV industry, including supply chains and end-of-life recycling.
Tags: e-desechos, e-lixo, e-waste, empleos verdes, energía renovable, energia renovável, energía solar, EPR, extended producer responsibility, green jobs, microelectronics, nanomaterials, paneles fotovoltaicos, photovoltaics, precautionary principle, reciclaje, recycling, renewable energy, solar energy, solar power, SVTC, toxics
Subscribe to My Comments Feed
Leave a Reply