« An E-Waste Bill for Santa Catarina / Projeto de Lei Sobre E-Lixo para Santa Catarina | Home | SAyDS quiere ley nacional sobre residuos eléctricos y electrónicos »
By Keith R | September 18, 2008
Topics: Biofuels, Waste & Recycling | No Comments »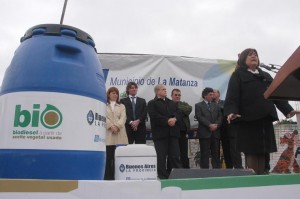 The Provincial Organism for Sustainable Development (OPDS), the environment authority of the Province of Buenos Aires (PBA) has launched a program to collect used vegetable (cooking) oil (aceites vegetales usados – AVU) and recycling it by converting it into biodiesel for export.
Used cooking oil has long been a waste disposal problem.  Many people — whether we're talking Latin America and the Caribbean (LAC) or North America — often toss used oil down the drain, which not only can create grease build-up and eventually clog house and building pipes, but reduces sewer system flows, attracts other debris in the system, may cause backups into streets and could contaminate waterways.  Most sanitary landfills don't accept large quantities.  The used oil cannot really be composted, because adding it to the compost pile can attract rodents and undesirable pests, displace water in the pile and thereby slow down the composting process.  It can't be burned in open air because of the black smoke, and burning it as fuel in a standard heating system might damage the system.
Used cooking oil can be recycled, though.  It can be used to soap, cosmetics, glues and animal feed.
It also can be used to produce biodiesel.  The idea is not original, not even in LAC.  A similar program has been underway in Rio de Janeiro state for about two years.
The PBA plan is starting on a pilot basis with just a few municipalities, including La Matanza, Mar del Plata, Miramar, Tigre and Tres de Febrero.  Community collection points (as seen in the photo) are being created in schools, libraries and community parks and gardens.  Collected used oil is put into 20 liter barrels and transferred to official collection centers in the city, from which they are sent to the factory manufacturing the biodiesel.
The PBA plan also includes a bill that will be sent to the provincial legislature designed to get all municipalities involved in recycling used vegetable oil.
_______________
Desde el Organismo Provincial para el Desarrollo Sostenible (OPDS):
LA PROVINCIA LANZO EL PLAN DE BIODIESEL A PARTIR DE ACEITES USADOS

La titular del Organismo Provincial para el Desarrollo Sostenible (OPDS), Lic. Ana Corbi junto al Secretario de medio Ambiente del municipio de La Matanza, Raúl Magario lanzaron hoy en el jardín de Infantes Winnie Pooh de Gregorio Laferrerre, el Proyecto Piloto de Generación de Biodisel a partir de aceites vegetales usados (AVU), para transformar un residuo contaminante en combustible.

Esto forma parte de un proceso de encontrar soluciones, como el gobernador Scioli siempre remarca, y es un paso muy importante que a su vez suma dos aspectos, el de la solidaridad y el del trabajo con redes, con el trabajo del cuidado del medio ambiente. Esta idea de transformar y reciclar es lo que queremos propiciar desde la Provincia" detalló Ana Corbi Titular del OPDS.

Este Plan, que será replicado en las localidades de Tigre, Tres de Febrero, Miramar, Mar del Plata y Pila, incluye también un proyecto de Ley sobre AVU que ampara el esquema técnico-financiero como un caso modelo, y alternativas de recolección para los municipios que se adhieran a la iniciativa planteada por la Provincia.

La falta de acciones respecto a la disposición final de los Aceites Vegetales Usados genera serios problemas ambientales. Su vuelco a la red cloacal contamina los cursos de agua, tapona las cañerías, e incluso, al ser reutilizado como aceites nuevos en la producción de alimentos, constituye un serio riesgo para la salud.

Este ambicioso Plan permitirá que en la Provincia de Buenos Aires se contemple el cuidado ambiental a través del uso de combustibles provenientes de fuentes renovables.

Los jardines comunitarios, bibliotecas y centros de alfabetización que posee la Federación de Entidades de Bien Público General Don José de San Martín, de La Matanza, son lo que recolectan el aceite usado, en tambores de 20 litros y que son llevados a los 10 centros de acopio (CAP), para luego ser enviado a la fábrica productora que producirá el Biodisel que será exportado al exterior y que pagara por esta materia prima a la red social.

Viviana Saldivar, Directora del Jardín Comunitario de Laferrere comentó que "se va a trabajar con los chicos, ellos saben que el medio ambiente se va contaminando, tratamos de contarles para que lleven esta propuesta a la casa, hablan con sus padres. La salita que trae más aceite en la semana, tienen sorpresas, nosotros lo juntamos y los pasamos en bidones, luego viene un vehículo y lo retira y lo lleva a la planta para su proceso".

La iniciativa del OPDS posibilitará disminuir la contaminación provocada por el vertido del Aceite Usado en la red cloacal, generar energías de fuentes renovables (biodisel), contribuir con la reducción de emisiones de gases de efecto invernadero (al sustituir combustibles fósiles por biocombustibles generados en procesos productivos con un balance de emisiones positivo) y estudiar la viabilidad de otros usos que se le pudiesen dar al AVU.

Este Proyecto se enmarca en el Programa "Generación 3R" a partir del cual, entre otras cosas, se fomenta el reciclado de aquellos productos que así lo permitan. Este tipo de acciones permiten un desarrollo sostenible que satisfaga las necesidades del presente, sin comprometer la capacidad de las generaciones futuras, además de propender al equilibrio entre el crecimiento económico, la preservación ambiental y la participación social como forma de garantizar la sostenibilidad de los recursos naturales en el tiempo.

Estuvieron presentes en el lanzamiento el Coordinador Ejecutivo para el Desarrollo Sostenible, Lic. Nicolás Scioli, Carlos Motto, Presidente de la Federación de Entidades de Bien Público General Don José de San Martín, docentes, padres y alumnos de varios jardines de la zona y demás autoridades provinciales y municipales.
Tags: aceites vegetales usados, Argentina, biocombustibles, biodiesel, biofuel, Buenos Aires, cañerías, La Matanza, Mar del Plata, Miramar, OPDS, reciclaje, recycling, red cloacal, residuos, sewer system, Tigre, Tres de Febrero, used cooking oil, used vegetable oil, waste
Subscribe to My Comments Feed
Leave a Reply