« Noteworthy Corporate Practices: Timberland in the DR | Home | Eco-certification for Tourism – The Role of Green Globe, Part I »
By Keith R | September 9, 2006
Topics: "Trash Photos" Series, Waste & Recycling | No Comments »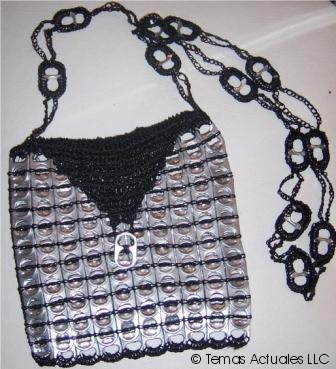 From tiny seeds mighty trees grow.
— Old Proverb
Here's some more in my series of photos about trash and recycling (see the prior post of the trash bin made from recycled Tetra-brik packaging).
Take a close look at the one on the right — it's a "disco purse" made of used drink can tabs liberated from the waste stream, plus thread and a thin chain, purchased this year on Copacabana beach in Rio de Janeiro from a modest vendor claiming to be from a Rio favela.  Pretty creative recycling of what otherwise go to the landfill, isn't it?
It's not just for show — it's fully functional, and made carefully enough and nicely enough that it's actually gotten use by the owner on dance nights!
Where the idea to create jewelry and accessories from used aluminum cans actually originated in Brazil, no one can say with absolute certainty.
Some, though, suggested it started with a guy popularly known as the Homem de Lata ["Can Man" or "Tin Man" (as in the character in "Wizard of Oz")], a colorful artisan from the northern state of Ceará who began doing it to survive (although he claims in interviews to also be doing it to spread an environmental message).  The next two photos are of the Homem de Lata during his stay in Rio (he travels the country) and some of his wares, originally published in 2003 in the Brazilian website about green activities in Rio's favelas, "Ecopop."  If you can read Portuguese, or care to run the webpage through the Google translator, check out the following link: http://www.ecopop.com.br/publique/cgi/cgilua.exe/sys/start.htm?from%5Finfo%5Findex=31&infoid=45&sid=5 It's an interesting (and entertaining) article, as are most of those I find on Ecopop.  I heartily recommend the site and subscribing to their newsletter.
The disco purse pictured above, however, was not purchased from the man in these pictures.  It appears that he now has apprentices, partners or imitators.
Has a cottage industry sprung up around his design ideas?  Is that so hard to believe?  Not to me.  With the right mix of creativity, artisanship and salesmanship, it might eventually go far… I half expect to hear someday in the not-so-distant future that some enterprising Brazilian entrepreneur, noting all the existing websites successfully selling "green" products and novelties to consumers, arranges for a group of favela artisans to make items like the disco purse that he/she sells not only on-site in tourism spots around Brazil, but also globally over the internet.  Probably just a question of who makes a successful business of it.
And there's no reason I can think of, offhand, that such an enterprise, whether micro-scale or larger, can't be launched anywhere else among LAC nations where there's a ready supply of end-of-life drink cans to work with.  After all, the Brazilians don't have a monopoly on creativity, artisanship and marketing savvy…
The disco purse and other products offered for sale by the Homem de Lata are not isolated cases.  I've seen other recycled products on offer by street venders in Brazil (more each year), some of which I plan to show here.  These products and the interest in them suggest that more and more Brazilians get the idea that there is still retained value in end-of-life products and their packaging, and they need not be wasted.  Better yet, it shows they realize that there are uses for EOL products and packaging beyond just selling it to recycling operators to be broken down into raw primary material inputs to manufacture other products.
That's a start!
Now, how best to build on it?
— Keith R
P.S. If you know of an interesting or ingenious product made of recovered materials offered by local craftsmen or businesses in LAC nations, let me know (with pictures, even better!).  No spam, please!
Tags: aluminum cans, Brasil, Brazil, cartera, Ceará, Copacabana, crafts, creativity, drink cans, Ecopop, favelas, Homen de Lata, latas, purse, reciclagem, reciclaje, recycling, Rio de Janeiro
Subscribe to My Comments Feed
Leave a Reply