« IFC Supports PET Recycling in Mexico / IFC respalda el reciclaje de PET en México | Home | BNDES Increases Support to Waste Picker Co-ops in 2009 »
By Keith R | April 26, 2009
Topics: "Trash Photos" Series | 1 Comment »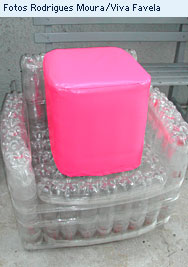 Back in January I posted about making furniture made from scrap tires that serves not only to "upcycle" (as my friend Leila insists I call it!) waste but also to help unemployed or low-income Brazilians earn income.  At the time I intended to post a week or two later about similar projects involving furniture made utilizing used PET bottles.
The Reciclagem e Cultura ("Recycling and Culture" – Recult) project was started years ago in the Vigário Geral favela in the northen zone of Rio de Janeiro, with the help of a nongovernmental organization Fundação Onda Azul ("Blue Wave Foundation").  The idea for the project is credited to Alfredo Sirkis, co-founder of Brazil's Green Party (PV).  He proposed a project that would encourage recycling, give favela residents honest work and products to sell to earn income, and teach skills to the favela's unemployed.
In part to get the waste collection going and get the raw materials they need, and in part to gain community acceptance for their Cooperativa Usina de Reciclagem, Onda Azul offered favela residents an exchange: bring in 75 to 250 empty two-liter PET bottles, and get a chair or pouffe (what some may call a tuffet, hassock or ottoman) made using PET bottles.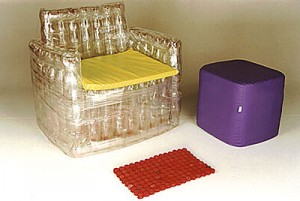 Initially the chairs or pouffes were a bit crude: columns of interlocked PET bottles boud together by clear adhesive tape, covered in clear plastic, sometimes with a thin vinyl-bound foam cushion thrown on the sitting surface.  Then they decided to wrap the bottles in a thin layer of foam and put a more attractive cover that obscures the bottles. At first fabric covers were used, until it became clear that these show wear quickly.  They switched to more durable vinyl. They also discovered that putting a layer of cardboard between the foam and the vinyl cover made the final product more comfortable.
The program proved so popular that they had to restrict the exchange to one pouffe per household.  Even so, nearly every house in that favela now has one of the so-called pufes ecológicos ("ecological pouffes").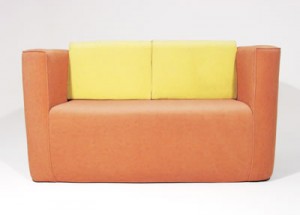 The project went beyond just recycling — er, (sorry Leila!) upcycling — to become a small business.  Locals were trained in making chairs, pouffes and later sofas with collected used PET bottles as their primary material, and the resulting furniture was sold to the public.  As the quality of their final product has improved (particularly with better coverings), some of the pouffes were even sold in store chains.  The project also gained a corporate sponsor: Petrobras.
In 2008 Onda Azul brought a similar project to a favela in the capital of the northeastern state of Bahia, Salvador.  The project in Bairro da Paz is appropriately known as Tudo se Transformando ("Everything is Transforming"), and it is primarily aimed at training youth.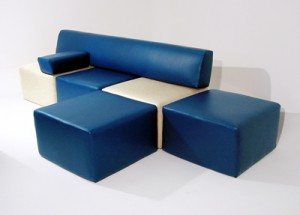 Meanwhile around 2005-06 the São Paulo-based Institute for Technological Research (Instituto de Pesquisas Tecnológicas – IPT) got into the act, analyzing and developing ways to (inexpensively) make beetter-quality furniture using the PET bottles, and then training wastepicker (catador) co-ops in several Brazilian cities to produce the furniture using the methods.
All this has captured the imagination of many in Brazil, so one now finds many student groups and youth groups (in at least one case, one Brazilian chapter of Junior Achievement) learning how to make the PET bottle-based furniture.  In addition, some individual craftsmen are making and offering for sale "ecological pouffes," some more creatively decorated and some craftsmen even offer to make customized versions.  To see some examples: http://www.flickr.com/photos/oxilart/sets/72157607560156604/
You can now also find a video showing you, step by step, how to make your own "ecological pouffe" with just 32 two-liter PET bottles, two roles of tape, one large piece of cardboard, a half-meter long piece of 5 cm foam, and one meter of covering:
Also cool is this video of many examples of furniture made with PET bottles in actual homes:
There is also a page at Brazil's Ecoteca instructing you, step by step with illustrations, on how to make your own basic chair with 200-250 two-liter PET bottles, a pair of scissors and a large roll of tape.
Tags: Bairro da Paz, Brasil, Brazil, cadeira, catadores, chairs, favelas, furniture, garrafas PET, hassocks, IPT, Junior Achievement, móveis, Onda Azul, ottomans, PET bottles, Petrobras, poltronas, pouffes, pufes, reciclagem, recycling, residuos, Rio de Janeiro, Salvador, sofas, Tudo se Transformando, tuffets, upcycling, Vigário Geral, waste
One Response to "Trash Photos XVI: Furniture Made with PET Bottles"
PET pouffes « everydaytrash Says:
September 2nd, 2009 at 10:27

[…] By Leila Darabi Keith R. over at The Temas Blog has been periodically updating a series of trash photos of amazing things made from garbage in […]
Leave a Reply