« São Paulo's Car Emissions Inspection Regime Unconstitutional? | Home | Uruguay Tightens the Screws on Tobacco »
By Keith R | June 15, 2009
Topics: "Trash Photos" Series | No Comments »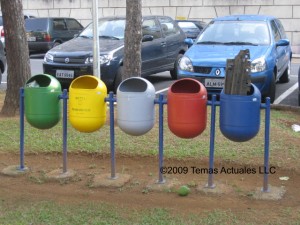 Today I interviewed someone in the University of São Paulo's (USP) Public Health Faculty (FSP) (the lead author in a study about catadores, as a matter of fact) and I spotted this in the mini-park in front of the building.
These days it's not hard to find color-coded collection bins in Brazil, particularly in the larger cities that have embraced coleta seletiva.  The question in my mind has always been: how well does the average citizen under what the colors mean?
How about you, dear reader?  Do you know which color represents metal, which one paper/board, which one for glass, which one for plastic, which one for items that are supposed to be put into ordinary trash?
One clue: the person who stuck the rubber car part in the blue bin chose the wrong bin.
I've always felt that, part from regular citizen education about proper waste sorting, bins such as these should be clearly marked as to which materials for which they are intended — whether this means putting the material name on it, or a readily-recognized symbol (such as a can for metals), or both.  But even then that does not always work — I routinely peek into color-coded bins wherever I travel (yes, my interest in trash/recycling issues is that strong!), and often find trash in bins for recyclables and vice-versa, metal in the glass bin, paper in the plastics bin, etc.  And that is as much true in Rome or New York City as it is in São Paulo…
Tags: Brasil, Brazil, coleta seletiva, reciclagem, recycling, residuos, São Paulo, selective collection, waste
Subscribe to My Comments Feed
Leave a Reply