« Coral Reef Protection Postscript: Best Practices / Posdata, Protección de los Arrecifes de Coral: Mejores Prácticas | Home | Recycling Coconuts I: More Than Just a Vessel for Agua de Coco »
By Keith R | October 26, 2006
Topics: "Trash Photos" Series, Waste & Recycling | 4 Comments »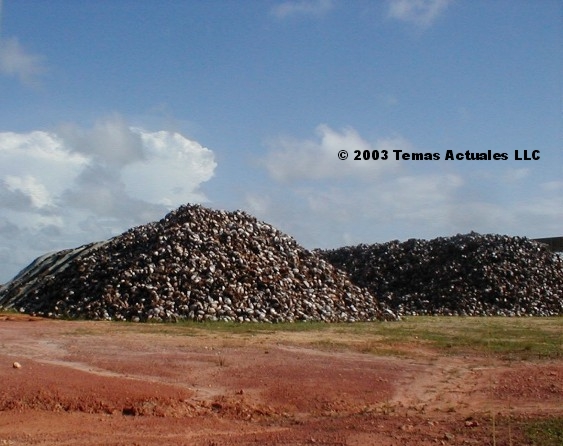 I took the above picture in July 2003 while traveling by car on the North Coast of the Dominican Republic with my family. When I saw this fenced lot stacked high with this waste and realized what they were, I pulled over, got out and walked up to the chain-link fence. The lot's watchman came to check me out, so I struck up a conversation with him.
"Why are all these coconut husks piled here?" I asked.
"They wait here for export," he answered.
"Export?" I echoed, mildly surprised, and turned to glance again at the piles. "Where to? Why would they be worth the expense of exporting and shipping abroad?"
"I hear that they go to Italy and that they are used in making seat cushions for cars."
I knew that Daimler-Benz was experimenting with coir fill for vehicle seats and headrests in their Brazilian manufacturing operations, but I had not heard that FIAT was doing likewise in its European plants and couldn't picture Ferrari doing so. [Coir is the fiber that can be extracted from the coconut husk.] I felt it far more likely those coconuts were going to end up in European gardening shops as a substitute for peat. But I had lived long enough in the DR to know that watchmen usually just repeated whatever rumors they heard, so I didn't contest his explanation.
I chatted with him for a couple of minutes and then asked his permission to take a photo through the links of the fence. He consented. The result you see above.
As we left I made a mental note to myself to make some inquiries about that site and the end-consumer and end-use of those coconut husks, as well as what sort of products could be made from the parts of the coconut one doesn't eat or drink.
I never could confirm anything about those particular piles I spotted on the DR's North Coast — let's just say that I still doubt those husks were destined for car seat stuffing and that they were bound for Italy, at least as their final destination.
However, in the process of looking into it I did find out quite a bit about coconuts, their byproducts and wastes and what we can do with them. More on that next in a two-part article sharing some of what I learned.
— Keith R
Tags: coconut husks, Dominican Republic, República Dominicana, residuos, wastes
4 Responses to "Trash Photos VI: Husk Mountains"
Leave a Reply