« Still Possible to Challenge Projects on Environmental Grounds in Trinidad | Home | $22 Mil. Loan to Help Guatemala's Protected Areas / Prestamo de US$22 milliones para fortalecer las áreas protegidas de Guatemala »
By Keith R | June 18, 2009
Topics: "Trash Photos" Series, Electronic/Electrical Equipment, Waste & Recycling | No Comments »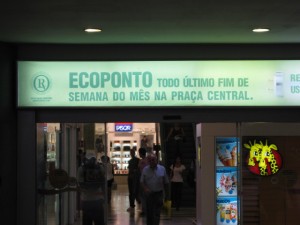 I'm in Brasilia now, and had some time between meetings, so I wandered through Patio Brasil, one of the shopping centers here.  If times allows, I like to wander through shopping centers in the cities that I visit.  I do it not so much for actual shopping or even window-shopping in the usual sense, but rather to use such gathering places as sociocultural indicators — to see what sells and what marketers stress as important, and to people watch, to see how they dress and conduct themselves, to listen to what they talk about.
As I entered Patio Brasil, I saw the sign over the entrance pictured at right announcing that there is an "Eco-point (here) every last weekend of the month in the main plaza" and urging people to return their end-of-life (EOL) fluorescent lamps here.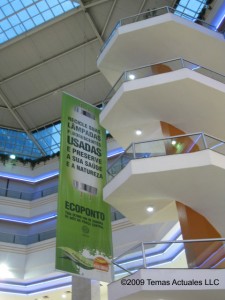 This catches my interest.  In all the years I have been coming to Brazil I have seen a few collection efforts for EOL fluorescents before, but usually one-off events or obscure bins in some government building or public space.  I've never seen one in a high-traffic shopping center, much less one that operates on an established, periodic basis.  So of course I wondered whether this one is high profile and long-term.
x
x
When I walk into the main courtyard of Patio Brasil, it quickly becomes evident how high-profile this effort is.  Not only huge, colorful banners heralding the campaign…
x
x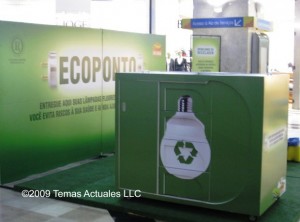 … but there in the center of the main courtyard, next to a nice display of children's art about environmental issues, is a very large and attractive green platform where the collections occur every month.  You can't miss it.
x
x
Just as important, they had a (pretty) girl there handing out leaflets explaining the risks posed by improper collection and disposal of fluorescent lamps, what happens to the lamps collected by this ecoponto,  and informing people about the dates of collection and which lamps they accept.  The girl also answers questions about the effort, and surprisingly enough, was well-briefed on the issue (sometimes when I strike up conversations about issues with people handing out pamphlets, their knowledge proves shallow or they are disinterested in talking about it).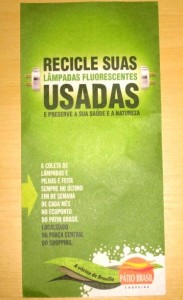 I have to say it: I was favorably impressed.  I wonder how many other shopping centers across Brazil are hosting such efforts?  Something to look into, I think.
Tags: Brasilia, DF, ecoponto, end-of-life products, fluorescent lamps, lâmpadas fluorescentes, Patio Brasil, residuos, shopping centers, shopping malls, waste
Subscribe to My Comments Feed
Leave a Reply