« New Cigarette Health Warnings/Images in Chile | Home | US$300 Mil. to Help Mexico Improve Environmental Management in Key Sectors / US$300 para apoyar a México mejorar manejo ambiental en sectores claves »
By Keith R | October 2, 2008
Topics: Waste & Recycling | No Comments »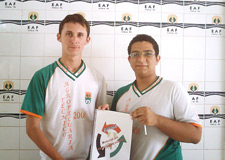 The young Brazilian men pictured at right, Leandro Aguiar and Alexsandro Pereira, remind me strongly of a trio of Córdoba, Argentine students I wrote about early on this blog for a reason: they looked at a local waste problem and figured out a way not only to reduce or eliminate the waste, but turn it into a profitable product or products.  And as with the young Argentine ladies, Leandro and Alexsandro just won an award for their efforts, in their case the Technical Entrepreneur Award cosponsored by Ministry of Education (MEC), Agriculture Ministry (MAPA) and the Brazilian Service for Small and Medium-Sized Enterprises (Sebrae).
Leandro and Alexsandro are from Limoeiro, a city in the so-called "Flour Corridor" of the northeastern state of Pernambuco.  This is a region famous for producing much of the manioc (cassava) flour that Brazilians use in many of their meals (often in the form of farofa).  Manioc flour production is also environmentally problematic, since it produces a wastewater (known as manipueira, which is toxic due to the presence of Lynamarin, a cyanogenic glycoside, that kills fish if released into waterways and harms beneficial microorganisms in soils if released there.  Because of manipuera, manioc flour producers are frequently in trouble with local environmental authorities.
Leandro and Alexsandro found a way to turn manipuera into insecticide, adubo (a type of fertilizer/soil conditioner) and even feed for cattle and pigs.  The process involves turning the wastewater into a paste or powder utilizing a dehydration machine provided by a company from Ceará.  They're not releasing full details of the process, though, because they and the professor that inspired them, Ralini de Melo, are talking to companies and universities for seed money to turn the idea into into widely adopted practice.  As Ralini puts it, "The project is self-sustaining, but it needs an incubator."
_______________
Desde a Agência Sebrae de Notícias:
Projeto de alunos propõe tratamento de resíduo da mandioca

A Recicladora de Água Residuária da Industrialização da Mandioca (Rarima) evita a contaminação do meio ambiente e transforma dejetos em produtos com destinação agrícola.

Resíduo da produção da farinha de mandioca, a manipueira é um líquido que oferece grande risco ambiental, com a contaminação de rios e do solo. Porém, se tratada, passa a oferecer soluções para a agricultura.

Pensando nisso, os jovens pernambucanos Leandro Aguiar e Alexsandro Pereira, sob orientação da professora Ralini de Melo, desenvolveram a Recicladora de Água Residuária da Industrialização da Mandioca (Rarima). O projeto venceu o Prêmio Técnico Empreendedor 2008 na categoria Técnico Livre.

O Prêmio é parceria entre o Sebrae, o Ministério da Educação (MEC) e o Ministério da Agricultura, Pecuária e Abastecimento (Mapa). A cerimônia de premiação aconteceu nesta terça-feira (30) em Brasília.

Leandro Aguiar e o colega Alexsandro vivem no município de Limoeiro. A cidade faz parte do chamado Corredor da Farinha, região econômica de Pernambuco em que os municípios se destacam pela produção da farinha da mandioca.

Segundo Leandro, a manipueira gera um grande problema local. "Essa substância altamente tóxica é despejada em rios, onde provoca a morte de peixes, e em terrenos baldios. A manipueira destrói microorganismos benéficos ao solo", observa o estudante. Aguiar diz que a dificuldade em lidar com esse tipo de resíduo leva as casas de farinha a terem problemas com as autoridades sanitárias com pagamento de multas e fechamento dos estabelecimentos.

Leandro lembra que a idéia do projeto nasceu nas aulas de Gestão Ambiental da professora Ralini de Melo, na Escola Agrotécnica Federal Vitória de Santo Antão. "Na minha aula, o destino dos resíduos é um dos temas que abordo bastante", informa Ralini de Melo, mestra em Gestão Ambiental.

Ele conta que com a reciclagem e o tratamento adequado consegue-se dar uma série de destinos à manipueira como o de inseticida, de adubo e até de alimento para o gado e para os porcos. Leandro revela que para essas finalidades deve-se transformar a substância do estado líquido para o pastoso ou para o formato em pó. Para isso, os componentes do projeto discutem uma parceria com uma empresa cearense que criou uma "máquina desidratadora".

Leandro, Alexsandro e sua professora também conversam com empresas e universidades para tentar um suporte para pôr sua idéia em prática. "Trata-se de um projeto auto-sustentável, mas que precisa de uma incubadora", afirma Ralini.

Tanto a professora quanto Leandro revelam grande satisfação pelo fato de o projeto ter sido escolhido como vencedor do Técnico Empreendedor. "Esse Prêmio tem grande importância, pois incentiva o aluno a ser empreendedor e técnico e a solucionar questões da sociedade onde vive", elogia Leandro.

"Os meninos estão em uma empolgação enorme para tocar o projeto e nunca vão esquecer esse Prêmio. É um marco e abriu os olhos deles para o papel da pesquisa", afirma Ralini.
Tags: adubo, aguas residuales, animal feed, Brasil, Brazil, cassava, Ceará, cyanogenic glycoside, farinha, farofa, gado, insecticides, inseticida, Limoeiro, mandioca, manioc, manipueira, MAPA, MEC, Pernambuco, porcos, prêmio, Rarima, reciclagem, recycling, residuos, Sebrae, soil conditioner, waste, wastewater
Subscribe to My Comments Feed
Leave a Reply