« WHO, IAEA Cooperate to Combat Cancer in Developing Countries | Home | A New Green Globe Regime for Central America and the Caribbean »
By Keith R | May 26, 2009
Topics: Waste & Recycling | No Comments »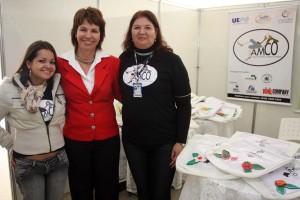 Ortigueira is a small municipality (about 24,000) in the rural interior of the southern Brazilian state of Paraná (PR), about 200 kilometers from the state capital.  Until recently it was perhaps best known as the city with lowest human development index (HDI)* ranking for the state.
Now it's becoming known as a center of an innovative project to take a waste product from local agricultural production and turn it into an attractive consumer product.  Or as my friend Leila likes to call it, "upcycling."
The "University Without Frontiers" technological extension service of the State Secretariat for Science, Technology and Higher Education (SETI) wanted to improve local economic prospects.  Working with two professors from the State University of Ponta Grossa (UEPG), they noticed two things: the town had several women who had taken sewing classes; local agricultural production, the primary economic activity of the area, generated a lot of fertilizer and animal feed sacks made from raffia (a fiber made from palm fronds) that were being discarded as waste.  Unfortunately, raffia sacks can take up to 300 years to decompose.
From that the idea was born to marry the two — that is to say, get rid of a waste problem while generating income and gainful employment for the women.  The town government has provided facilities, and SETI is funding the purchase of equipment.  A project team of four grad students and recent graduates is helping the women design attractive products, train them in quality production of the items and helping them market the products (Paraná already has a history of success in such projects — see here and here).  And law professors from the university are helping the women get legal status as an official "Association of Seamtresses of Ortigueira" (that's the AMCO on the banner and ladies' shirts in the picture above).
Their first products, reusable carry bags (shopping bags) made from converted raffia sacks (see picture above), are already selling well and the women are excited and moviated by the venture, already exploring new products, such as aprons for butchers and bakers.  One of the teachers involved with the project says that there should be a big potential for the aprons and other products under development, because with proper treatment, raffia-fiber products can compete well with plastic aprons because they are soft but durable and washable.
There's a nice side effect of the project noted by the project team: the women involved now seem to have fewer health problems and many are studying to become "more professional."
_________
* HDI is a measurement used by the UN Development Programme (UNDP) to measure a country's (or that of its subsets, such as states and municipalities) degree of development in terms of how it improves human lives through greater opportunities for health, education, employment, etc.  Inputs to calculating the HDI include life expectancy at birth, adult literarcy rate, education enrollment rates, and an algorithm that figures GDP per capita at purchasing power parity.
________________
Desde a Secretaria da Ciência, Tecnologia e Ensino Superior (SETI):
Produtos feitos com sacos de ráfia geram renda e melhoram saúde em Ortigueira

Sacolas recicláveis feitas com materiais descartados já geram renda para moradoras de Ortigueira, nos Campos Gerais, e melhoraram a saúde e disposição das, agora, trabalhadoras. A cidade apresenta o com menor Índice e Desenvolvimento Humano (IDH) do Estado. A associação que dará sustentação ao projeto ainda nem foi criada, mas os resultados animam os envolvidos, com a possibilidade de criação de emprego e renda.

"Antes de definir a área que iríamos atuar, fizemos o caminho inverso, ouvimos as necessidades dos sindicatos e dos empresários", explica a professora da Universidade Estadual de Ponta Grossa (UEPG) Cleise Tupich Hilgemberg, que coordena o projeto juntamente com Emerson Martins Hilgemberg, também professor do Departamento de Economia.

Assim que souberam do programa de extensão tecnológica Universidade Sem Fronteiras, da Secretaria da Ciência, Tecnologia e Ensino Superior, os professores pesquisaram as necessidade e possibilidades da região. Eles encontraram um grupo de mulheres do município que tinha recebido aulas de costura.

PERFIL – A principal atividade econômica de Ortigueira é agricultura. Lá existia uma grande quantidade de sacos de adubos e ração confeccionados com ráfia, que eram descartados e não podiam ser deixados no meio ambiente pelos produtores rurais, pois levam mais de 300 anos para se decompor.

Hoje, as mulheres estão instaladas em duas salas cedidas pela Prefeitura, parceira na iniciativa, e aguardam os equipamentos comprados com recursos da Secretaria. Com ajuda de professores do curso de Direito da universidade, os coordenadores estão formalizando a Associação das Mulheres Costureiras de Ortigueira, e, com a equipe do projeto, formada por quatro bolsistas de graduação e dois egressos de universidades, incluindo uma estilista, finalizam a instalação da nova estrutura e dão continuidade a atividade de treinamento.

SAÚDE – "O entusiasmo das mulheres é visível", comemora Cleise, comentando que as consultas médicas diminuíram e que muitas mulheres, inclusive idosas, voltaram a estudar, entendendo a importância de buscar o aperfeiçoamento profissional. As costureiras começaram a fazer sacolas, a primeira encomenda foi entregue na semana passada, mas outras idéias estão surgindo. Avental para açougueiros e padeiros são outros produto que devem ser confeccionado porque, de acordo com a professora, a ráfia, com um tratamento adequado tem qualidades superiores ao plástico, é maleável, lavável e resistente.
Tags: agricultura, aprons, bakers, Brasil, Brazil, butchers, carry bags, durable, HDI, human development index, IDH, idosas, lavável, maleável, Ortigueira, Paraná, plastic, plástico, raffia, ráfia, reciclagem, recycling, sacks, sacolas recicláveis, SETI, shopping bags, UEPG, UNDP, Universidade Sem Fronteiras, upcycling, washable
Subscribe to My Comments Feed
Leave a Reply