« INSP: México consume demasiado de las grasas dañinas | Home | Vehicle Pollution in São Paulo Quadruples Risk of Death »
By Keith R | March 6, 2009
Topics: Green Purchasing, Waste & Recycling | No Comments »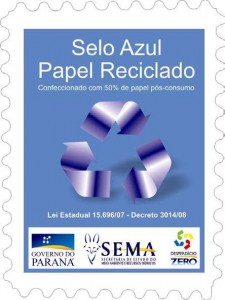 Parana's public entities will finally get their recycled paper products.
A few months ago I posted about the problems the southern Brazilian state was experiencing in its pioneering efforts to stimulate recycling by requiring all state agencies, entities and offices to buy only paper products with high recycled post-consumer fiber content (50%).
A November 2007 law said that the recycled content rule must apply to all paper products — envelopes, cards, forms, blocks, drafts, bills, receipts, letterhead, publications, proceedings, newsletters, even packaging.  The July 2008 implementing decree called for 30% of public purchases of paper products during the July-December 2008 period to meet the recycled content rule, 50% January-June 2009, and 100% by July 2009.  It also required that the public entities only purchase paper products certified by the state Environment Secretariat (SEMA) as meeting the legal requirements.  Products so certified would bear a special "Blue Seal" (Selo Azul).
Until now, no suppliers could meet the tough criteria set by SEMA for receiving the Selo Azul.  Two firms — Incoplastic from neighboring Santa Catarina state and Novakraft from São Paulo state — have just been awarded the seal after going through the laborious certification process.  State Environment Secretary Rasca Rodrigues declared the move as "the end of white paper in state public service."  Incoplastic director Altamir Silva hailed the Selo Azul program as a model for the rest of the country to emulate.
____________________
Desde a Secretaria do Meio Ambiente e Recursos Hídricos (SEMA):
Meio Ambiente certifica as primeiras empresas que cumpriram as exigências do "Selo Azul"

Após seis meses do lançamento do "Selo Azul – Papel Reciclável", a Secretaria do Meio Ambiente e Recursos Hídricos certificou as duas primeiras empresas que possuem em sua composição 100% de papel reciclado. A partir de agora, a empresa catarinense Incoplastic e a paulista Novakraft estão aptas a fornecer papel para todas as instituições da administração pública estadual.

O Selo Azul é uma certificação necessária para que os fabricantes de papel reciclado possam vender seus produtos ao governo do Estado. A resolução número 040/08, assinada pelo secretario do Meio Ambiente e Recursos Hídricos, Rasca Rodrigues, apresenta os critérios para a obtenção do Selo.

De acordo com a Lei 15.696, sancionada no início do mês pelo governador Roberto Requião, todas as instituições devem utilizar pelo menos 30% dos materiais de expediente confeccionado em papel reciclado. "As empresas devem ser credenciadas pela Secretaria do Meio Ambiente, através do Selo, que irá comprovar a confecção do papel com, no mínimo, 50% de matéria-prima reaproveitada, e deverá constar em todas as embalagens dos produtos", destacou o secretário.

Rasca Rodrigues afirma que a iniciativa traz benefícios ao meio ambiente e também às empresas, que poderão comprovar que são ambientalmente corretas. "É o fim do papel branco no serviço público do Estado", disse.

Pioneirismo – Para os diretores das empresas, essa iniciativa é um exemplo para outros estados, já que o Paraná é pioneiro na cobrança da utilização do papel reciclável nos órgãos públicos. "O Paraná é um modelo nacional no uso do papel pós-consumo, e o Selo Azul é uma carta de confiança que comprova a procedência do material exigida pelo Estado", afirmou o diretor da empresa Incoplastic, Altamir Silva.

Já o representante da empresa Novakraft, Roberto Lauermann, disse que, além do reconhecimento concedido, o Selo Azul faz com que haja uma coleta de papel mais eficiente. "Vamos atender à expectativa do Governo do Paraná e à confiança que nos foi depositada com o Selo da Secretaria. A nossa meta principal é aumentar a eficiência e qualidade do papel que iremos fornecer", explicou o diretor Roberto Lauermann.

O Selo – Para a obtenção do Selo Azul, as empresas devem estar devidamente regularizadas, apresentar certidão negativa e contrato social. Além desta documentação, também deverá ser anexada cópia de licença de operação do empreendimento e laudo técnico da composição do papel emitido por laboratórios credenciados na Secretaria, que comprovem a porcentagem de fibras provenientes de papel pós-consumo.

Após apresentar a documentação solicitada pela Secretaria, o fabricante terá o símbolo do Selo Azul impresso em seus produtos e poderá vendê-los para órgãos públicos.
Tags: boletins, Brasil, Brazil, cards, certificação, certification, embalagens, envelopes, environment, forms, green purchasing, Incoplastic, laudo técnico, letterhead, meio ambiente, newsletters, Novakraft, packaging, papel pós-consumo, papel reciclado, Paraná, publications, Rasca Rodrigues, receipts, Santa Catarina, São Paulo, Selo Azul
Subscribe to My Comments Feed
Leave a Reply