« R$14.2 mn. to Clean Up Organochloride Contamination in Santo André / R$14,2 milhões para a remediação de poluição de produtos organoclorados em Santo André | Home | PROCON: Firms Still Not Obeying Customer Service Rules »
By Keith R | March 9, 2009
Topics: Eye on Ads, Packaging, Waste & Recycling | No Comments »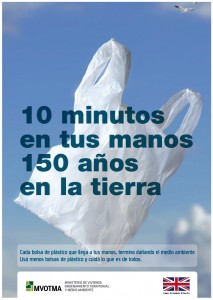 It's beginning to look like Uruguay will be the next Latin American jurisdiction to take aim at plastic bags.  Uruguay's Minister of Housing, Zoning and Environment Carlos Colacce, with the British Ambassador at his side, announced today the launch of a media campaign on the responsible use of plastic bags to be known as "Sacá la bolsa del medio" (roughly translated — without the double entendre — as "Take the bag from the environment").  Why was the UK Ambassador there?  Because the UK is underwriting the campaign (the better question perhaps is, what is their interest in funding it?).
The campaign will include radio spots, billboards and ads in the printed press.  One poster to be used (see at right) pictures a white plastic bag floating in the air (a not uncommon sight in Latin America and the Caribbean, unfortunately), probably to end up as litter on the ground or hanging from bushes and trees, which says "10 minutes in your hands, 150 years on Earth", making the point that the average plastic bag does not degrade for decades.  Another poster (see below) has a white plastic bag floating in water (also, unfortunately, not uncommon in LAC), using the campaign's slogan (but in this case "medio" probably means "medium" (water) more than environment).
Minister Colacce said that Uruguay consumes an estimated 70 million plastic bags each month, 850 million per year.  He acknowledged existing efforts on this issue by the government of the department of Montevideo, several supermarket chains and the chief retailing association, the Center of Retailers, Baristas, Self-Service and Related Stores (Centro de Almaceneros Minoristas, Baristas, Autoservicistas y Afines del Uruguay – Cambadu), but said that his Ministry's National Environment Directorate (DINAMA) should lead the charge and complement their efforts.
____________________
Desde la Dirección Nacional de Medio Ambiente (DINAMA):
Sacá la bolsa del medio

El Ministro de Vivienda, Ordenamiento Territorial y Medio Ambiente, Ing Carlos Colacce, y el Embajador Británico, Patrick Mullee, presentaron el 9 de marzo una campaña de comunicación por el uso responsable de las bolsas de plástico, denominada:"Sacá la bolsa del medio".

La campaña tiene como objetivo reducir el consumo de bolsas de plástico. Se realizarán simultáneamente intervenciones en radio, vía pública y prensa alentando a los consumidores a utilizar menos bolsas de plástico. Los mensajes "10 minutos en tu mano, 150 años en la tierra" y "Sacá la bolsa del medio" invitan a la reflexión y a la acción.

El Embajador Británico manifestó que: "este proyecto es simple pero ambicioso, es una campaña de publicidad contra el uso exagerado de la bolsa de plástico, de la bolsa de nylon. Este proyecto es muy importante para el medio ambiente. En este proyecto hay un elemento personal para mi, realmente no me gusta el impacto negativo de la bolsa de plástico, yo no quiero dejar un mundo sucio y contaminado a mis hijas ni a ningún niño".

El Ministro de Medio Ambiente, Carlos Colacce, explicó que "el uso abusivo de las bolsas de plástico que hemos estado sufriendo en los últimos años, nos ha mostrado que tenemos que revertir o, por lo menos, hacer un uso muy controlado de las mismas, cosa que no está sucediendo en nuestro país. Estamos hablando de 10 toneladas por día. Cada bolsa de plástico se estima que está sobre la tierra 150 años, cuando en nuestras manos está solo 10 minutos. Se estima que se utilizan 70 millones de bolsas de plástico por mes, 850 millones al año".

Para ilustrar aún más el problema que esto significa, "si tenemos en cuenta el consumo de energía y de agua que insume la fabricación de las mismas, llegamos a datos asombrosos. En un año 4.000 autos, todos los autos de Florida por ejemplo, estarían dando la vuelta al mundo; y el agua de consumo de estas mismas bolsas es prácticamente el 80% de todo el lago de Paso Severino. Debemos tener en cuenta que es un consumo de energía proveniente del petróleo", afirmó Colacce.

En nuestro país ha habido iniciativas públicas y privadas en este tema. El Ministro mencionó los emprendimientos realizados por la Intendencia Municipal de Montevideo, las grandes superficies y Cambadu. "Nosotros identificamos varias acciones y creemos que la DINAMA debe liderarlas y hacer que todas sean complementarias", declaró el jerarca.

Los principales impactos ambientales que ocasionan las bolsas plásticas son: contaminación de los cursos de agua, peligro para la vida de las especies marinas y contaminación visual.

Una vez que un envase plástico es desechado, permanecerá en el ambiente durante muchos años debido a que está compuesto por material inerte, resistente a los procesos de oxidación provocados por la humedad y el oxígeno del ambiente, así como también al ataque de productos químicos y microorganismos.
Tags: bolsas de plástico, Cambadu, Carlos Colacce, DINAMA, envases plásticos, environment, medio ambiente, Montevideo, MVOTMA, packaging, plastic bags, residuos, UK, Uruguay, waste
Subscribe to My Comments Feed
Leave a Reply