« EU Grants Caribbean US$2.5 Mn. to Support Renewable Energy | Home | Mexico's Environmental Audit Program »
By Keith R | June 9, 2008
Topics: Sustainable Agriculture, Waste & Recycling | No Comments »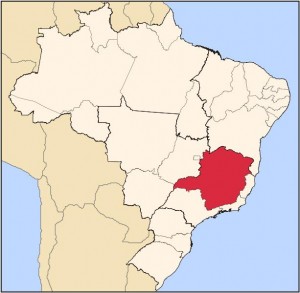 Synopsis in English: The Environmental Policy Council (Copam) of the state with the bulk of Brazil's iron and steel manufacturing capacity, Minas Gerais, recently ruled [via what they call a binding "Normative Deliberation" (Deliberação Normativa- DN)] that certain iron and steel making wastes can be utilized as fertilizer in eucalyptus plantations in that state. Certain fine dust from air pollution control equipment in steel mills — known in Brazil as "pó de balão" — is authorized to be used on eucalyptus plantations for now, perhaps other agricultural applications later.
The decision was taken on the basis of a study conducted by the Federal University of Viçosa (UFV) and the Minas chapter of the Iron Industry Association (Sindifer) that found that, because of its chemical composition, pó de balão could serve as a good fertilizer for use in the low-nutrient soils of the Brazilian cerrado. A further analysis done by the State Environment Foundation (FEAM), State Forestry Institute (IEF) and Minas Water Management Institute (Igam) found that the levels of the principal constituents in pó de balão are within the parameters that can be found naturally in cerrado soil, so they agreed to its use in eucalyptus plantations. [Temas note: This same dust is exempted by the US Environmental Protection Agency (EPA) from normal heavy metal limits placed on fertilizers made from wastes, on the basis of a 1988 study finding that it constituents are similar to those in other fertilizers and are not usually toxic.]
________________________
Desde a Fundação Estadual do Meio Ambiente (FEAM):
Copam aprova uso de resíduos siderúrgicos na agricultura

Com objetivo de promover alternativa sustentável para o reaproveitamento de resíduos da siderurgia, o Conselho Estadual de Política Ambiental (Copam), por meio da Câmara Normativa e Recursal (CNR), aprovou a Deliberação Normativa (DN) nº 115, que regulamenta a aplicação do resíduo siderúrgico "pó de balão" na agricultura. A técnica irá promover a melhoria do desenvolvimento agronômico de florestas homogêneas de eucalyptus sp. A DN foi publicada no jornal Minas Gerais do dia 23 de abril.

O pó de balão consiste no material particulado fino carreado do alto-forno siderúrgico e que é retido em sistemas de limpeza de gases. Pesquisas desenvolvidas por técnicos vinculados à Universidade Federal de Viçosa, em parceria com o Sindicato da Indústria do Ferro no Estado de Minas Gerais (Sindifer/MG), demonstraram que, devido às suas características químicas, esse material pode se constituir em fonte de matéria orgânica para o plantio de florestas homogêneas em solos de cerrado que reconhecidamente apresentam baixa fertilidade natural.

Após analisar os resultados das pesquisas, a Fundação Estadual do Meio Ambiente (Feam) emitiu parecer técnico considerando que os principais constituintes do pó de balão estão dentro dos níveis encontrados, normalmente, nos solos do cerrado brasileiro. O parecer aponta a viabilidade da aplicação do resíduo industrial em áreas de plantio de eucalipto. O documento subsidiou a elaboração, por profissionais da Feam, do Instituto Estadual de Florestas (IEF), do Instituto Mineiro de Gestão das Águas (Igam) e do setor produtivo, da Minuta da DN aprovada na Câmara de Atividades Industriais (CID) em novembro de 2007 e ratificada em abril na CNR.

"A discussão e elaboração de alternativas para a disposição de resíduos enquadra-se no princípio básico de reutilização de materiais com foco na sustentabilidade. O subsídio para proposição desse tipo de norma está alinhado com os atuais eixos de atuação da Feam", declara a diretora de Qualidade e Gestão Ambiental da Feam, Zuleika Torquetti.

Aplicação será supervisionada

De acordo com o texto da DN, a aplicação agrícola do "pó de balão" não será objeto de licenciamento ambiental específico, sendo que os aspectos técnicos serão avaliados no contexto do licenciamento e fiscalização ambiental da silvicultura. A Deliberação também estabelece que a taxa máxima, por operação, de aplicação agrícola do resíduo deverá ser de 50 toneladas por hectare, e que o período para reaplicação nas áreas selecionadas deverá corresponder ao ciclo de exportação de nutrientes, ou seja, a cada 7 anos.

O início da aplicação do resíduo nas áreas selecionadas será autorizado a partir da emissão de parecer técnico favorável do IEF, sendo sua continuidade condicionada à execução pelo empreendedor responsável pela unidade industrial do Programa de Monitoramento da Aplicação, dos Solos, Águas Superficiais e Subterrâneas "A DN proporciona à indústria siderúrgica um ganho no desempenho ambiental, já que o material deixará de ser armazenado, promovendo a qualidade ambiental", finaliza Zuleika Torquetti.
Tags: Brasil, Brazil, cerrado brasileiro, COPAM, Deliberação Normativa, EPA, eucalipto, eucalyptus, FEAM, forno siderúrgico, heavy metals, IEF, IGAM, metais pesados, Minas Gerais, pó de balão, resíduo industrial, resíduos siderúrgicos, Sindifer, steel waste
Subscribe to My Comments Feed
Leave a Reply