« Update: Colombian Government Finally Gets Its Eco-Teeth | Home | Another Momentum Indicator on Used Motor Oil Packaging in Brazil? »
By Keith R | July 24, 2009
Topics: Water Issues | No Comments »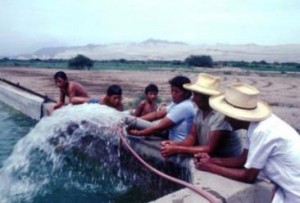 From the Inter-American Development Bank (IDB):
Peru will protect three critical watersheds with IDB financing

$10 million loan will finance integrated strategies for reducing water waste and conserving ecosystems in the Chira-Piura, Santa and Tacna watersheds

Peru will implement an integrated approach to protecting water resources and related ecosystems in three critical watersheds with a $10 million loan approved by the Inter-American Development Bank today.

The project will support the Peruvian government's strategy of encouraging the efficient use of water resources and related ecosystems by adopting a participatory approach based on sustainability and equity.

Peru faces serious constraints on water supply along its Pacific drainage basin. This arid region has only 1.8 percent of the country's total water resources, yet is home to 70 percent of the population and produces 80.4 percent of the country's GDP.

The Chira-Piura, Santa, and Tacna watersheds face pressures typical of the Pacific drainage basin. These include water scarcity, droughts, floods and landslides in northern areas, water quality degradation due to the discharge of untreated wastewater, and a failure to recover the costs of operating and maintaining water infrastructure.

This project will address these problems by adopting an Integrated Water Resource Management approach for these watershed, implementing planning and management instruments in accordance with Peru's Water Resources Act and creating bodies to manage water access disputes; promoting a "culture of water" that ensures its rational use and conservation through consistent fees for water use; improving water quality and monitoring and control mechanisms; and creating resilience to the impact of climate change.

The IDB has previously supported Peru's water management efforts through a series of policy-based loans. The total cost of this project is $19,579,000; the Peruvian government will be providing $9,579,000 in counterpart funds.

The US$10 million IDB loan is for 25 years, with a 5 year grace period and an interest rate based on LIBOR.
_________________
Desde el Banco Interamericano de Desarrollo (BID):
Perú protegerá tres cuencas hidrográficas críticas con financiamiento del BID

Préstamo de US$10 millones financiará estrategias integradas para el uso racional del agua y la conservación de ecosistemas en las cuencas de Chira-Piura, Santa y Tacna

Perú implementará en tres cuencas hidrográficas críticas el uso de un enfoque integrado para proteger los recursos hídricos y sus ecosistemas conexos, mediante un préstamo de US$10 millones aprobado hoy por el Banco Interamericano de Desarrollo.

El proyecto apoyará la estrategia del gobierno peruano de estimular el uso eficiente de los recursos hídricos y ecosistemas conexos, adoptando un enfoque participativo de sostenibilidad y de equidad. Perú enfrenta serias restricciones de abastecimiento de agua en su zona occidental, donde las cuencas desembocan en el Pacífico. Esta región árida cuenta con apenas el 1,8 por ciento de los recursos hídricos totales del país, pero alberga el 70 por ciento de la población humana y produce el 80,4 por ciento del PIB.

Las cuencas de Chira-Piura, Santa y Tacna enfrentan presiones típicas de esta región. Entre los problemas más frecuentes se encuentran la escasez de agua, las sequías, inundaciones y deslizamientos (huaycos) en el piedemonte norteño; degradación de la calidad de agua debido a las descargas de aguas servidas sin tratamiento; y la incapacidad para recuperar los costos de operación y mantenimiento de la infraestructura hidráulica.

Este proyecto enfrentará estos problemas adoptando en estas cuencas un enfoque de Gestión Integrada de Recursos Hídricos. Se implementarán instrumentos de planificación y gestión de acuerdo con la Ley de Recursos Hídricos de Perú y mediante la creación de entidades destinadas a la administración de disputas por el acceso al agua. También se promoverá una "cultura del agua" que asegure su uso racional y conservación a través de tarifas consistentes; se mejorará la calidad del agua y los mecanismos de monitoreo y control; y se fomentará la adaptación al impacto del cambio climático.

El BID ha apoyado previamente los esfuerzos de gestión hídrica de Perú a través de una serie de préstamos programáticos. El costo total del nuevo proyecto es de US$19.579 millones. El gobierno peruano desembolsará US$9.579 millones en fondos de contrapartida.

El préstamo de US$10 millones del BID tiene un plazo de 25 años, con un período de gracia de cinco años y una tasa de interés basada en el tipo de interés interbancario del mercado de Londres (Libor).
Tags: BID, Chira-Piura, IDB, integrated water management, Peru, recursos hídricos, Rio Santa, Tacna, wastewater, water resources, water scarcity, watershed management
Subscribe to My Comments Feed
Leave a Reply