« In 2009 6% of Uruguay's Electricity will be from Renewable Sources | Home | The Ecoclubs Movement in Latin America and the Caribbean »
By Keith R | January 1, 2009
Topics: Water Issues | No Comments »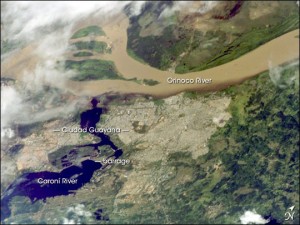 Venezuela and the IDB have signed a $14 million loan for a program to sustainably manage the Caroní River watershed.
Venezuela's environment ministry will carry out the project, which will focus on strengthening institutions charged with managing the Caroní River watershed, protecting land rights and improving living conditions for local communities, including indigenous ones in the area and promoting appropriate land use practices.
The long-term objective of the program is to the enhance hydroelectric potential of the watershed by creating conditions that encourage sustainable and integrated management of local resources.
_______________
Venezuela y el BID firmaron un préstamo de US$14 millones para un programa de sostenibilidad en el manejo de la cuenca del río Caroní.
El Ministerio del Poder Popular para el Ambiente será la entidad encargada de ejecutar el programa, que se focalizará en el fortalecimiento de las instituciones encargadas de manejar la cuenca del río Caroní, protegiendo el derecho a la tierra y mejorando las condiciones de vida de las comunidades locales —incluyendo los grupos indígenas del área—, así como promoviendo prácticas de uso apropiado de la tierra.
El objetivo a largo plazo del programa es fortalecer el potencial hidroeléctrico de la cuenca, creando condiciones que estimulen el manejo sostenible e integrado de los recursos locales.
Tags: BID, Caroní River, Ciudad Guayana, IDB, río Caroní, Venezuela, watershed management
Subscribe to My Comments Feed
Leave a Reply