« Latin America's First Hydrogen Bus | Home | Financing Peru's Integrated Water Resources Management Reforms / Financiar reformas de la gestión integrada de recursos hídricos en Perú »
By Keith R | July 2, 2009
Topics: Sanitation, Water Issues | No Comments »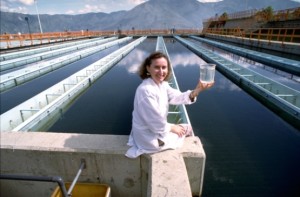 From the Inter-American Development Bank (IDB):
Colombia will improve its water and sanitation services with assistance from the IDB

Program will help to reduce costs and expand service in poor areas

The Inter-American Development Bank will support Colombian government efforts to improve water and sanitation services, reduce costs and rates, and expanding coverage, particularly to poor, underserved districts.

These activities will be financed with part of a US$250 million programmatic policy-based loan (PBL) approved by the IDB Board of Executive Directors for Colombia on June 30. The PBL is a fast-disbursing instrument that will give the Colombian Treasury resources to finance its priority programs.

This funding, the second in a series of three IDB loans to support water and sanitation, will shore up Colombia's efforts to carry out financial and institutional reforms in this sector.

The IDB's initial operation was focused on helping Colombia to develop the legal and policy foundations of the reform program, and a third phase will help develop instruments for implementation of the new framework and strengthening of the involved institutions.

Activities under this second loan will help improve the allocation of public resources in water and sanitation; develop strategies to monitor resource use by local entities; establish regional companies to deliver services; adopt a system for planning and executing investments in regional water and sanitation plans; and provide training for personnel.

Expected results include reduced costs, which will translate into lower rates and better services for users, as well as an increase in urban water coverage from 94.5 percent to 97.8 percent in 2011, and sanitation coverage from 90.1 percent to 93.2 percent. These services are expected to reach an additional 3.2 million and 3 million people respectively.

Development of legal, regulatory, and institutional instruments will also help municipalities improve access to technical assistance, target transfers from the national government to the poorest districts with least coverage, and boost access to credit.

The IDB's loan is for a 20 year term with a five-year grace period, and carries a variable interest rate based on Libor.
__________________
Desde el Banco Interamerican de Desarrollo (BID):
Colombia mejorará sus servicios de agua potable y saneamiento con apoyo del BID

El programa ayudará a reducir los costos y expandir los servicios en áreas pobres

El Banco Interamericano de Desarrollo apoyará los esfuerzos del gobierno colombiano por mejorar los servicios de agua potable y saneamiento, reducir costos y tarifas y expandir la cobertura, en particular en los distritos más pobres y desatendidos.

Estas actividades serán financiadas con parte de un préstamo de apoyo a reformas de política de tipo programático (PBP) de US$250 millones para Colombia aprobado el 30 de junio por el Directorio Ejecutivo del BID. El PBP es un instrumento de desembolso rápido que aportará al gobierno colombiano recursos para financiar sus programas prioritarios.

El financiamiento, segundo de una serie de tres préstamos del BID para el sector de agua potable y saneamiento, respaldará los esfuerzos de Colombia encaminados a la reforma financiera e institucional del sector.

La operación inicial del BID se concentró en ayudar a Colombia a desarrollar las bases legales y políticas para el programa de reformas, en tanto que una tercera etapa contribuirá al desarrollo de instrumentos para la implementación del nuevo marco y la consolidación de las instituciones involucradas.

Las actividades financiadas por este segundo préstamo ayudarán a mejorar la asignación de recursos públicos para agua potable y saneamiento; desarrollar estrategias de supervisión de la utilización de recursos por parte de entidades locales; establecer compañías regionales proveedoras de servicios; adoptar un sistema de planeamiento y ejecución de inversiones en planes regionales de agua potable y saneamiento; y proveer entrenamiento al personal.

Entre los resultados esperados se incluye una reducción de costos, lo que resultará en tarifas más bajas y mejores servicios para los usuarios, como también un incremento en la cobertura del agua potable en zonas urbanas, del 94,5 por ciento al 97,8 por ciento en 2011, y de la cobertura de saneamiento, del 90,1 por ciento al 93,2 por ciento. Se espera que estos servicios beneficien a 3,2 millones y 3 millones de nuevos usuarios respectivamente.

El desarrollo de instrumentos legales, normativos e institucionales también ayudará a los municipios a mejorar el acceso a la asistencia técnica, canalizar las transferencias del gobierno nacional a los distritos más pobres y con menor cobertura, y aumentar el acceso al crédito.

El préstamo del BID es a 20 años de plazo, con un período de gracia de cinco años, y a una tasa de interés variable basada en la Libor.
Tags: agua potable, BID, Colombia, IDB, potable water, saneamiento, Sanitation
Subscribe to My Comments Feed
Leave a Reply