« A Cempre for Colombia | Home | LAC Consumer Groups Target "Junk Food" »
By Keith R | December 24, 2008
Topics: Sanitation, Water Issues | No Comments »
Last month a branch of the Oswaldo Cruz Foundation ("Fiocruz"), the Institute of Communication and Scientific and Technological Information in Health (Instituto de Comunicação e Informação Científica e Tecnológica em Saúde – Icict), in partnership with the Health Ministry's (MS) General Coordination for Environmental Health Surveillance (Coordenação Geral de Vigilância em Saúde Ambiental – CGVAM), launched an online digital "atlas" on the environmental health aspects of water and sanitation in Brazil.
The website allows everyone to access, download and visualize (through bar graphs and thematic maps) to a range of indicators, such as
municipal districts with sewage networks (represented in the map provided below);
districts served by septic tank systems;
households with toilets;
districts with treated water supply;
districts with sewage treatment;
proportion of municipalities that participate in the national water quality monitoring program;
proportion of water samples that show E coli, coliforms or turbidity;
districts with water rationing;
local incidence, hospitalization and mortality rates for cholera, dengue, hepatitis A, typhoid, leptospirosis and shistosomiasis (all diseases connected to water quality)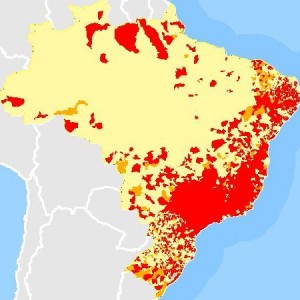 The selection of indicators and their form of presentation of maps and tables were set by a working group coordinated by the Health Information Laboratory (Laboratório de Informações em Saúde – LIS), with participation of the Federal University of Bahia (UFBa), Fiocruz's Ageu Magalhães Research Center (CPQAM), the Secretary of Health Surveillance (SVS), the Cities Ministry (MC), the National Water Agency (ANA), and the state and municipal health secretariats of Rio de Janeiro and São Paulo.  The data required to calculate the indicators were obtained via the population census of 2000, the National Sanitation Survey of the same year, certain information systems (such as Sisagua – the Information System for Monitoring the Quality of Water for Consumption Human), and ANA.
There are shortcomings to some of the data, of course.  Some states, such as Rio Grande do Sul, do extensive testing of their water quality and report it faithfully.  Many others — notably the Municipality of São Paulo — do test, but don't report all the results to the national information systems.  Some don't test often or for enough quality indicators.  In fact, part of the reason for putting this information online and accessible to all is to try to prompt states and municipalities to be more forthcoming with their data and regular in their testing.
Beyond helping local diagnoses of water quality issues, an avowed purpose of creating the online database is to spark public discussion about the state of water and sanitation services in the country, to get citizens involved in water policymaking and in demanding better water quality and more accountability for it.
I applaud such transparency steps, which I am know even many OECD nations have not yet undertaken (but should).  I hope that other Latin American and Caribbean (LAC) nations will be inspired by the example and follow suit.
Tags: ANA, atlas, Brasil, Brazil, CGVAM, cholera, cólera, coliformes, coliforms, CPQAM, dengue, E. coli, esgotamento sanitário, esquistossomose, febre tifóide, Fiocruz, Fundação Oswaldo Cruz, Health Ministry, hepatite A, hepatitis A, Icict, leptospirose, leptospirosis, Ministerio de Salud, mortality rate, qualidade de agua, Rio de Janeiro, Rio Grande do Sul, saneamento, Sanitation, São Paulo, septic tanks, sewage treatment, shistosomiasis, Sisagua, SVS, toilets, tratamento de esgoto, turbidity, typhoid, UFBA, water quality
Subscribe to My Comments Feed
Leave a Reply