« Building on the Legacy of Chico Mendes in the Brazilian Amazon / Ampliar o Legado de Chico Mendes na Amazônia | Home | A Poor Report Card for the Mesoamerican Reef »
By Keith R | December 22, 2008
Topics: Water Issues | No Comments »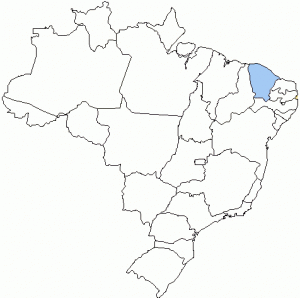 From the World Bank:
Loan to Expand Successful Water Security Initiatives in Brazil's Semi-Arid Region

Project focuses on safe access to water for the poor in drought-prone Ceará State

The World Bank approved yesterday a US$103 million additional finance loan for the Ceará Integrated Water Resource Management Project (Progerirh).  The loan will allow the semi-arid northeastern Brazilian state of Ceará to continue improving the management of water resources and to expand rural and urban access to drinking water, even during periods of drought.

"Since its beginnings in 2000, Progerirh has helped transform the water sector in Ceará," said Cid Gomes, Governor of Ceará. "It enabled the State to dramatically improve management of both demand and supply of water, and contributed to expand reliable access to safe water for the poor in Fortaleza and other urban areas, as well as the countryside."

The additional financing will continue to support the implementation of actions that promote the original objectives. It would consolidate the State water resources management system and its instruments while continuing to support the increase in water supply for multiple uses.

"Like other states of the poor Northeast of Brazil, water scarcity limits Ceará's economic and social development. For twenty years the Bank has been a close partner to the State, in improving both its water infrastructure and water institutions. Over this period the State has made major advances, and has become an acknowledged leader in water management in the country. This new loan will provide continued support which is vital both for management of Ceará's own water and for the water it will receive from the inter-basin transfer from the São Francisco River," said John Briscoe, World Bank Director for Brazil.

The Brazilian Northeast experiences critical problems related to water scarcity, with periodical, long and severe droughts and the associated deep economic and social problems. The State of Ceará, which has ninety-three percent of its territory in the semi-arid area, without any perennial rivers, is especially penalized by these climatic adversities.

"We would like to compliment the Government for their strong commitment to keeping water security a high priority for Ceará even in between droughts," said Manuel Contijoch, Project Manager for the World Bank. "The Bank looks forward to continuing to work closely with the State Government on the project's implementation, in order to expand the project's many positive impacts and benefit all of Ceará's population, but especially the poorest."

This US$103 million additional financing from the International Bank for Reconstruction and Development (IBRD) to the State of Ceará is guaranteed by the Government of Brazil. The loan period is 21 years, including a six-year grace period. The original Progerirh loan, totaling US$136 million, was signed on February 10, 2000. Since 1976, the World Bank has invested almost US$1.5 billion in Ceará, mainly for rural poverty reduction and water sector management.
________________________
Desde o Banco Mundial:
Empréstimo Apóia Expansão de Projeto Hídrico de Sucesso no Ceará

Projeto enfoca acesso seguro à água principalmente para a população pobre do Estado

O Banco Mundial aprovou ontem um crédito adicional de US$ 103 milhões para Estado do Ceará, destinado ao Projeto de Gerenciamento Integrado de Recursos Hídricos do Estado do Ceará (Progerirh). O empréstimo permitirá que o Ceará continue a melhorar a gestão dos recursos hídricos e a expansão do acesso à água potável nas áreas urbanas e rurais, mesmo durante períodos de seca.

"Desde seu início em 2000, o Progerirh tem ajudado a transformar o setor hídrico no Ceará," disse o Governador Cid Gomes. "O Projeto possibilitou que o Estado melhorasse de forma dramática a gestão da demanda e da oferta de água, e contribuiu para expandir o acesso seguro à água potável para a população de Fortaleza e de outras áreas urbanas e do campo, sempre com um enfoque especial sobre os mais pobres."

O financiamento adicional vai continuar a apoiar a implementação de ações que promovem os objetivos iniciais do projeto. Ele visa consolidar o sistema de gestão de recursos hídricos do Estado e seus instrumentos, ao mesmo tempo em que continuará a apoiar o aumento do abastecimento de água para usos múltiplos.

"À semelhança de outros estados pobres do Nordeste do Brasil, a escassez da água no Ceará limita o desenvolvimento econômico e social do Estado. O Banco tem sido um parceiro próximo do Estado há vinte anos, ajudando-o a melhorar a sua infra-estrutura e instituições hídricas. Ao longo deste período, o Estado fez grandes avanços, e tornou-se um líder reconhecido na gestão das águas no País. Este novo empréstimo irá prestar um apoio continuado, vital tanto para a gestão hídrica da águas do Ceará quanto das águas que o Estado receberá da transferência inter-bacias do Rio São Francisco," disse John Briscoe, diretor do Banco Mundial para o Brasil.

O Nordeste brasileiro tem problemas críticos relacionados com a escassez da água, experimentando secas longas, severas e periódicas, e os profundos problemas econômicos e sociais associados. O Estado do Ceará, que tem noventa e três por cento do seu território na região semi-árida, sem rios perenes, é especialmente penalizado por essas adversidades climáticas.

"Nós gostaríamos de cumprimentar o Governo por seu forte compromisso em manter a segurança hídrica como uma alta prioridade para o Ceará, mesmo nos períodos entre as secas," disse Manuel Contijoch, gerente do projeto pelo Banco Mundial. "Será uma honra continuar a colaborar estreitamente com o Governo Estadual na implementação do projeto, a fim de expandir os seus muitos impactos positivos e beneficiar toda a população do Ceará, especialmente os mais pobres."

Este crédito adicional de US$ 103 milhões do Banco Internacional para a Reconstrução e o Desenvolvimento (BIRD) concedido ao Estado do Ceará é garantido pelo Governo do Brasil, e será amortizado em 21 anos incluindo seis anos de carência.  O empréstimo original ao Progerirh, de US$ 136 milhões, foi assinado em 10 de fevereiro de 2000. Desde 1976, o Banco Mundial já investiu quase US$ 1,5 bilhão no Ceará, principalmente para a redução da pobreza rural e gestão do sector da água.
Tags: agua potável, Banco Mundial, Brasil, Brazil, Ceará, drought, Fortaleza, período de seca, potable water, Progerirh, Rio São Francisco, segurança hídrica, water security, World Bank
Subscribe to My Comments Feed
Leave a Reply