« A Loan to Improve Colombia's Water and Sanitation Services | Home | Brazil Begins Awarding Building Efficiency Labels »
By Keith R | July 2, 2009
Topics: Water Issues | No Comments »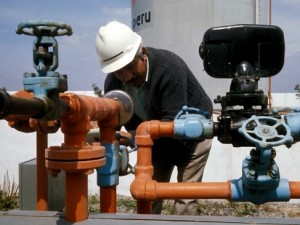 From the Inter-American Development Bank (IDB):
Peru embraces integrated water resources management with help from IDB

IDB loan will support a set of reforms in the water sector

Peru seeks to increase the efficiency, equity and sustainability of water use by implementing a water resources management reform program with help from a $10 million loan from the Inter-American Development Bank.

Over the past 30 years the growing demand for water to cover the consumption needs of the Peruvian population and production requirements, as well as compliance with environmental standards, has resulted in a diminishing water supply and a use-driven deterioration in its quality.

This loan will finance a program to establish and adopt the necessary policy, institutional, regulatory, and structural reforms that will help to conserve water resources, use them more efficiently and improve their quality and sustainability.

The loan approved today is the second in a programmatic series of three loans, the first of which—for $200 million—was approved in June 2007.

The reforms that will be financed with the loan have five components. The first seeks to ensure that the macroeconomic environment is consistent with the program objectives and sector policy guidelines.

The second component consists of implementing a National Water Resources Policy that will produce a consensus-based, multisector perspective on integrated water resources management in line with the program objectives.

An institutional framework component will support the implementation of a multisector, participatory institutional framework, allowing for integrated water resources management, using watersheds as the unit of management.

The objective of the policy framework component is to establish the technical, economic, financial, environmental and social measures needed for efficient integrated water resource management. The program will seek to support reforms for the establishment of water rights, the financing of water resource management and water quality.

Finally, a decentralization component seeks to jump-start reforms intended to create and strengthen water management capacities in watersheds through the transfer of functions and areas of authority to regional governments.

During the IDB´s first programmatic loan for this sector, Peru made progress on transferring eight special productive infrastructure projects under the responsibility of the National Development Institute to the regional governments. This second programmatic operation will support a plan for building capacities in water resources management for regional governments. It will also identify two watersheds for the preparation and implementation of water resources management plans.

This 20-year loan, including a five-year grace period, will be executed by Peru's Ministry of Economic Affairs and Finance.
________________
Desde el Banco Interamericano de Desarrollo (BID):
Perú profundiza la gestión integrada de los recursos hídricos con apoyo del BID

Préstamo del BID apoyará un conjunto de reformas en el sector hídrico

Perú mejorará la eficiencia, equidad y sostenibilidad del uso del agua, implementando un programa de reformas de la gestión integrada de recursos hídricos con la ayuda de un préstamo de US$10 millones del Banco Interamericano de Desarrollo.

Durante los últimos 30 años la creciente demanda de agua para cubrir las necesidades de consumo de la población y de las actividades productivas ha provocado una disminución preocupante de los recursos hídricos y un fuerte deterioro en la calidad del agua disponible.

Este crédito financiará un programa para establecer y adoptar un conjunto de reformas políticas, institucionales, normativas y estructurales que ayudarán a conservar los recursos hídricos, a usarlos de forma más eficiente y a mejorar su calidad y sostenibilidad.

El préstamo es el segundo de una serie programática de tres, el primero de los cuales —por US$200 millones— fue aprobado en junio de 2007.

Las reformas que se financiarán con el nuevo préstamo tienen cinco componentes. El primero busca asegurar un contexto macroeconómico congruente con los objetivos del programa. El segundo contempla la implantación de una Política Nacional de Recursos Hídricos que generará una visión concertada y multisectorial para la gestión integral del recurso hídrico consistente con los objetivos del programa.

Un componente de marco institucional apoyará medidas para la implementación de un marco institucional multisectorial y participativo que permita la gestión integrada de recursos hídricos, tomando la cuenca hidrográfica como la unidad de gestión.

El cuarto componente buscará crear un marco normativo que establezca medidas de orden técnico, económico, financiero, ambiental y social necesarias para lograr una gestión eficiente e integrada de los recursos hídricos. Para ello, el programa apoyará reformas para el establecimiento de derechos de agua, el financiamiento de la gestión y la protección de la calidad del agua.

Por último, el programa impulsará un componente de descentralización con el objetivo de iniciar las reformas que ayudarán a crear y fortalecer las capacidades de gestión del agua en cuencas hidrográficas a través de la transferencia de funciones y competencias a los gobiernos regionales.

Durante el primer préstamo programático se avanzó con la transferencia de ocho proyectos especiales de infraestructura productiva que estaban a cargo del Instituto Nacional de Desarrollo a los gobiernos regionales. En esta segunda operación programática, se apoyará un plan de generación de capacidades de gestión de recursos hídricos para los gobiernos regionales. Asimismo, se identificarán dos cuencas para la preparación e implementación de planes de gestión de recursos hídricos.

El préstamo tiene un plazo de 20 años, con un período de gracia de cinco años, y será ejecutado por el Ministerio de Economía y Finanzas de Perú.
Tags: BID, calidad del agua, IDB, IWRM, Peru, recursos hídricos, water management, water quality, water resources, water rights
Subscribe to My Comments Feed
Leave a Reply