« Parque Nacional do Iguaçu será o primeiro do mundo a receber o ISO 14001 | Home | IDB Creates Clean Energy Markets Cluster / BID crea conglomerado de actividades para promover mercados de energía limpia »
By Keith R | January 18, 2007
Topics: Sanitation, Water Issues | No Comments »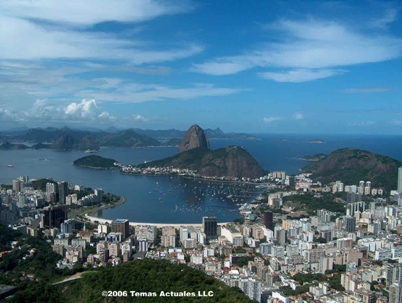 From the Inter-American Development Bank (IDB):
IDB Technical Cooperation will Support Program to Improve Efficiency of Rio de Janeiro State Water and Sewerage Company

US$960,000 grant from the Japanese Trust Fund for Consultancy Services

The Inter-American Development Bank announced today the approval of a US$960,000 grant to Rio de Janeiro's State Water and Sewerage Company (CEDAE in Portuguese) to prepare a program to improve its commercial management and operational efficiency.

This technical cooperation operation, with resources from the Japanese Trust Fund for Consultancy Services at the IDB, will help improve living conditions for the population in metropolitan Rio de Janeiro by raising the quality of sanitation services and social and environmental conditions.

"The program will assist the government of the State of Rio in identifying and designing actions to provide a better water service at a more equitable price and to promote the sustainable development of the water sector in the state," said IDB Team Leader Hugo de Oliveira. "Moreover, the program will integrate other natural resources management initiatives in the region and help coordinate the decision-making process at the state and local government levels."

The institutional, operational, economic and financial modernization of CEDAE will enable the company to improve the quality of sanitation services as well as to implement a second phase of the Guanabara Bay Pollution Abatement Program initiated in 1994.

CEDAE, a state-owned public utility, covers 62 of the 91 municipalities of the state of Rio de Janeiro, with a population of 14,7 million. The majority of customers are concentrated in the Greater Rio region comprised by the city and nine other municipalities.

The Japanese Trust Fund for Consultancy Service (JCF) was established at the IDB in 1995 by the Japanese Government. It provides non-reimbursable resources for technical services to prepare and implement IDB-supported projects in all sectors and in all the Bank's borrowing member countries. Projects supported by the fund have used Japanese expertise in environmental conservation, natural disaster prevention and mitigation, infrastructure, health, business and finance.

Local counterpart funds for the project will total US$240,000.
——————————————
Desde o Banco Interamericano de Desenvolvimento (BID):
Cooperação técnica do BID apoiará programa para melhorar a eficiência da Companhia Estadual de Águas e Esgotos do Rio de Janeiro

Subsídio de US$960.000 do Fundo Japonês para Serviços de Consultoria

O Banco Interamericano de Desenvolvimento anunciou hoje a aprovação de uma cooperação técnica não reembolsável de US$960.000 à Companhia Estadual de Águas e Esgotos (CEDAE) do Rio de Janeiro para preparar um programa para melhorar a gestão comercial e a eficiência operacional da empresa.

Essa operação de cooperação técnica, com recursos do Fundo Japonês para Serviços de Consultoria do BID, ajudará a melhorar as condições de vida da população metropolitana do Rio de Janeiro mediante a elevação da qualidade dos serviços de saneamento e das condições sociais e ambientais.

"O programa dará assistência ao governo do estado do Rio na identificação e no desenho de ações para proporcionar um melhor serviço de água a um preço mais justo e promover o desenvolvimento sustentável do setor no estado", disse o chefe da equipe de projeto do BID, Hugo de Oliveira. "Além disso, o programa integrará outras iniciativas de gestão de recursos naturais na região e ajudará a coordenar o processo de tomada de decisões no âmbito dos governos estadual e municipal."

A modernização institucional, operacional, econômica e financeira da CEDAE permitirá que a companhia melhore a qualidade dos serviços de saneamento e implemente a segunda fase do Programa de Despoluição da Baía da Guanabara, iniciado em 1994.

A CEDAE, empresa estatal de utilidade pública, abastece 62 dos 91 municípios do estado do Rio, com uma população de 14,7 milhões. A maioria dos usuários está concentrada na região do Grande Rio, composta pela cidade e por outros nove municípios.

O Fundo Japonês para Serviços de Consultoria (JCF) foi estabelecido no BID em 1995 pelo governo do Japão. Proporciona recursos não reembolsáveis para serviços técnicos de preparação e implementação de projetos apoiados pelo BID em todos os setores e em todos os países membros do BID. Os projetos apoiados pelo fundo têm aproveitado a experiência japonesa em conservação ambiental, prevenção e mitigação de desastres naturais, infra-estrutura, saúde, negócios e finanças.

Os fundos de contrapartida para o projeto totalizarão US$240.000.
—————————————–
Desde el Banco Interamericano de Desarrollo (BID):
Cooperación Técnica del BID apoyará programa para mejorar eficiencia de Compañía de Agua y Alcantarillado del Estado de Río de Janeiro

Donación de US$960.000 del Fondo Fiduciario Japonés para Servicios de Consultoría

El Banco Interamericano de Desarrollo anunció hoy la aprobación de una donación de 960.000 dólares a la Compañía de Agua y Alcantarillado del Estado de Río de Janeiro (CEDAE) para un programa dirigido a mejorar su eficiencia comercial y operativa.

Esta operación de cooperación técnica, con recursos del Fondo Fiduciario Japonés para Servicios de Consultoría en el BID, ayudará a elevar el nivel de vida de la población en el área metropolitana de Río de Janeiro al mejorar la calidad de sus servicios de saneamiento y sus condiciones socio-ambientales.

"El programa ayudará al gobierno del estado a identificar y diseñar actividades dirigidas a brindar mejor servicio de agua con tarifas más equitativas, así como a promover el desarrollo sostenible del sector de agua", dijo el jefe del equipo del BID Hugo de Oliveira. "El programa también integrará otras iniciativas de gestión de recursos naturales en la región y ayudará a coordinar el proceso de toma de decisiones en los niveles de gobierno municipal y estatal".

La modernización institucional, operativa, económica y financiera de CEDAE permitirá que la empresa mejore la calidad de los servicios de saneamiento y que implemente la segunda fase del Programa de Descontaminación de la Bahía de Guanabara, que comenzó en 1994.

CEDAE es una empresa estatal de servicios públicos que presta servicios de agua y alcantarillado en 62 de los 91 municipios del estado de Río de Janeiro. Sirve a una población de 14,7 millones de habitantes, cuya mayoría se concentra en la región metropolitana del estado, que comprende a la ciudad de Río de Janeiro y a otros nueve municipios.

El Fondo Fiduciario Japonés para Servicios de Consultoría fue creado en 1995 por el gobierno japonés para otorgar recursos no reembolsables para servicios técnicos necesarios para preparar e implementar proyectos financiados por el BID en todos los sectores y en todos los países miembros prestatarios del Banco. Los proyectos apoyados por el fondo han aprovechado la experiencia de Japón en áreas tales como preservación ambiental, prevención y mitigación de desastres naturales, infraestructura, salud, comercio y finanzas.

Los fondos de contraparte local para el proyecto totalizan 240.000 dólares.
Tags: alcantarillado, Bahía de Guanabara, Baia de Guanabara, BID, CEDAE, descontaminación, despoluição, esgotamento sanitário, Guanabara Bay, IDB, JCF, Rio de Janeiro, saneamento, saneamiento, Sanitation, servicio de agua, serviço de água, water services
Subscribe to My Comments Feed
Leave a Reply