« IBAMA Sets Record for Environmental Licensing | Home | Some Eye-Opening Graphics on GHG Emissions & Carbon Credits »
By Keith R | January 3, 2009
Topics: Sanitation, Water Issues | No Comments »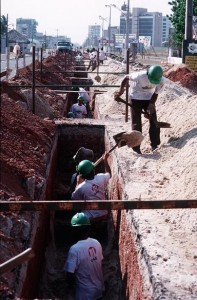 According to Mexico's Environment Secretariat, SEMARNAT, at the end of 2008 Mexico finally reached a 90% rate for providing potable water to its population (it has been hovering at 89% for several years), representing 92.73 million inhabitants.
Additions in sewage connections have raised Mexico's sanitation service coverage nationally to 86.1%.
In 2008 49 sewage treatment plants were added to the 176 existing plants, adding 5.1 cubic meters per second to installed capacity in service to 1.5 million more inhabitants, raising national coverage to 38.9% (up from 36.1% in 2006).  The Environment Minister, Elvira Quesada, says that by the end of President Calderón's six-year term, the government plans to have that coverage up to 60%.
Mexico invested 30.9 billion pesos in potable water, sewage system and sewage treatment projects in 2008.
Elvira Quesada also said that in the past two years Mexico has realized significant water savings by upgrading ("technifying") water delivery systems in the agricultural sector.
____________________
Desde la Secretaria de Medio Ambiente y Recursos Naturales (SEMARNAT):
En 2008, se apoyó la incorporación de 49 plantas de tratamiento de aguas residuales

En los dos primeros años de la presente Administración se realizaron obras importantes en materia de saneamiento y alcantarillado: Elvira Quesada

Como parte de los logros alcanzados durante la administración del Presidente Felipe Calderón en materia de agua, el Secretario de Medio Ambiente y Recursos Naturales, Ing. Juan Rafael Elvira Quesada, informó que al cierre de este año, se alcanzó una cobertura de agua potable del 90 por ciento, lo que benefició a 92.73 millones de habitantes y redujo los índices de mortalidad en niños menores de cinco años.

En lo que se refiere a obras de alcantarillado y saneamiento en zonas rurales, urbanas y municipios de alta marginación, la Semarnat invirtió 389 millones de pesos, con lo que se favoreció a 89 millones de personas.

Dijo que en 2007 se incorporó a 900 mil habitantes al servicio de agua potable, lo que permitió alcanzar el 89.9 de cobertura; mientras que 800 mil personas se vieron beneficiadas por obras de alcantarillado, lo que representó una cobertura de 86.1 por ciento.

Se trabaja, precisó, para garantizar la distribución del líquido en zonas rurales y urbanas, por lo que en los últimos dos años se han logrado importantes ahorros en el sector agrícola, al modernizar el sistema de riego en 150 mil hectáreas del país, acción que, puntualizó, se seguirá extendiendo.

Al referirse a los logros obtenidos por la dependencia durante estos dos años, Elvira Quesada especificó que se añadieron 219 mil 711 hectáreas como superficie de riego tecnificada, cifra superior en 21.5 por ciento, respecto a 2007.

En cuanto al tratamiento de aguas residuales, destacó que en 2008 se incorporaron 49 plantas, a las 176 ya existentes, lo que representa una capacidad adicional de 5.1 metros cúbicos por segundo, en apoyo de 1.5 millones de habitantes, lo que significó un alcance de 38.9 por ciento.

Se espera, añadió, que al término del sexenio se logre el 60 por ciento de este servicio, lo que representaría un incremento de caudal tratado de seis mil 187.1 litros.

Informó que las plantas de tratamiento aumentaron su cobertura de saneamiento, al pasar de 36.1 en 2006, a 38.3 por ciento en 2007.

Elvira Quesada reiteró que el Gobierno Federal seguirá impulsando mecanismos para garantizar el abasto hídrico a todos los mexicanos, a través de apoyos a los gobiernos estatales y municipales.
Tags: abasto hídrico, agua potable, aguas negras, aguas residuales, alcantarillado, Mexico, potable water, saneamiento, Sanitation, SEMARNAT, sewage treatment, water treatment
Subscribe to My Comments Feed
Leave a Reply