« SEAM Proposes Supermarket Role in Changing Waste Management | Home | Wal-Mart Mexico to Promote "Green" Products / Wal-Mart de México promoverá productos "verdes" »
By Keith R | April 14, 2009
Topics: Sanitation, Water Issues | No Comments »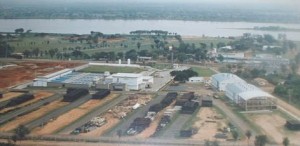 From the World Bank:
Paraguay: WB Approves US$64 Million to Improve Water, Sanitation for Most Vulnerable

The World Bank's Board of Executive Directors today approved a US$64 million loan to increase the efficiency, coverage and sustainability of water and sanitation services in Paraguay. The project will directly benefit almost 17 percent of Paraguayans, especially the most vulnerable and underserved groups.

"The World Bank has supported Paraguay in improving water and sanitation services since the 1970s, and today we continue to support its efforts to expand services to the entire population," said Pedro Alba, World Bank Director for Paraguay, Argentina, Chile and Uruguay.

The Water and Sanitation Sector Modernization Project seeks to:

Improve sector governance;
Improve water services and increase access to sanitation in Metropolitan Asunción; and
Increase access to sustainable water and sanitation services in rural areas.

"As seldom in the past years in Paraguay, this modernization program will significantly help to increase water and sanitation coverage and enhance supply efficiency," said Minister of Public Works and Communications Efraim Alegre, adding that this investment "will benefit a major sector of our population, especially the most vulnerable groups."

The project is estimated to benefit about one million people who live in the Metropolitan area of Asunción by increasing sewage coverage, treating water effluents, and improving the quality of the supplied drinking water.

In rural areas, the project will benefit nearly 24,500 people with the construction of about 70 water supply systems, to provide the infrastructure to process and obtain drinking water. Additionally, the project seeks to build and/or expand approximately 30 water systems to support more than 6,000 indigenous peoples in rural areas.

Paraguay has limited access to water networks. In rural areas, only 49 percent of the population has access. While nearly 80 percent of Paraguay's urban residents have access to water, only 15 percent have access to sanitation networks, an issue that has turned critical in Asunción and its Metropolitan Area, where only 33 percent of the population is connected to the sanitation network.

"It is very important for us to be part of the Government of Paraguay's efforts to strengthen sector institutions and thereby provide sustainable water and sanitation services for the population," said María Angélica Sotomayor, World Bank Project Manager.

The project also will increase coverage for indigenous populations and implement health education campaigns in rural communities.

The fixed-rate US$64 million loan from the International Bank for Reconstruction and Development (IBRD) has a 27-year maturity and an eight-year grace period.
_______________
Desde el Banco Mundial:
Paraguay: Banco Mundial aprueba US$64 millones para mejorar servicios de agua y

El Directorio Ejecutivo del Banco Mundial aprobó hoy un préstamo de US$64 millones para incrementar la eficiencia, la cobertura y la sostenibilidad de los servicios de agua y saneamiento en Paraguay. La iniciativa beneficiará directamente a casi el 17% de la población paraguaya especialmente a los sectores más humildes de la población sin acceso a dichos servicios.

"El Banco Mundial viene apoyando al país en el mejoramiento de la prestación de los servicios de agua y saneamiento desde la década del 70 y hoy es un aliado natural del Paraguay en sus esfuerzos por ampliar los servicios a todos los paraguayos", dijo Pedro Alba, director del Banco Mundial para Paraguay, Argentina, Chile y Uruguay.

El Proyecto modernización del sector agua y saneamiento tiene como objetivos:

Mejorar la gobernabilidad del sector
Mejorar los servicios de agua y aumentar el acceso a servicios de alcantarillado en el área metropolitana de Asunción.
Incrementar el acceso a servicios sostenibles de agua y saneamiento en zonas rurales.

El ministro de Obras Públicas y Comunicaciones, Efraim Alegre, expresó que "como pocas veces en los últimos años en Paraguay, este programa de modernización contribuirá notablemente al incremento en las coberturas de los servicios de agua y saneamiento y al mejoramiento de la eficiencia prestacional". El titular de la cartera ministerial destacó además que con esta inversión "se beneficiará a un sector importante de nuestra población y en especial a aquellos más desprotegidos".

Se estima que el proyecto beneficiará aproximadamente a 1.000.000 de personas que viven en el área metropolitana de Asunción, a través del aumento de la cobertura de alcantarillado, el tratamiento de efluentes y mejoras en la calidad de los servicios de agua potable provistos.

En las zonas rurales el proyecto beneficiará a unas 24.500 personas con la construcción de alrededor de 70 sistemas de provisión de agua que implica toda la infraestructura para procesar y obtener agua potable. Cabe destacar que se prevé la construcción y/o ampliación de alrededor de 30 sistemas de agua para brindar cobertura a más de 6.000 indígenas en áreas rurales.

Paraguay cuenta con un acceso limitado a servicios de agua por red. En las zonas rurales sólo un 49% de la población cuenta con acceso, cifra que llega a más del 80% para quienes viven en las ciudades. Por otro lado, sólo el 15% de los residentes urbanos tienen acceso a una red de alcantarillado, problema que se torna crítico en la ciudad de Asunción y el área metropolitana, donde sólo el 33% de la población está conectado al sistema de alcantarillado.

"Para nosotros es muy importante ser parte de este esfuerzo del gobierno paraguayo para fortalecer las instituciones del sector y poder así ofrecer servicios sostenibles de agua y saneamiento para su población", señaló María Angélica Sotomayor, gerente del proyecto por parte del Banco Mundial.

El proyecto incluye también el aumento de la cobertura para las comunidades indígenas y la realización de campañas de educación sobre higiene en comunidades rurales.

El préstamo a tasa fija del Banco Internacional de Reconstrucción y Fomento (BIRF) de US$64 millones tiene madurez de 27 años y un período de gracia de 8 años.
Tags: agua potable, alcantarillado, Asunción, Banco Mundial, comunidades indígenas, drinking water, indigenous populations, Paraguay, saneamiento, Sanitation, tratamiento de efluentes, World Bank
Subscribe to My Comments Feed
Leave a Reply