« FAO: Agriculture Should be in New Climate Agreement / El nuevo acuerdo sobre el cambio climático debe incluir la agricultura | Home | A New Way to Fund Life-Saving Vaccines »
By Keith R | April 2, 2009
Topics: Sanitation, Water Issues | No Comments »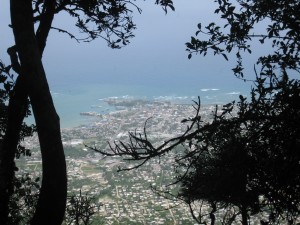 From the World Bank:
US$27.5 Million for Water and Sanitation in Tourist Areas

The World Bank's Board of Directors approved today a US$27.5 million loan to improve the potable water and sanitation supply in the tourist area of Puerto Plata, located in the North of the Dominican Republic.

The Water and Sanitation in Tourist Areas Project will benefit 128,000 Dominicans in poor parts of the region. In addition, it will offer an extra boost to the Dominican government by creating a policy framework and a national strategy for the water sector.

This initiative will be implemented by a coordination unit of the Ministry of Economy, Planning and Development (SEEPYD) and by the Aqueducts and Sewerage Corporation of Puerto Plata (CORAAPLATA).

"This project will allow more poor families in these tourist areas to have access to quality potable water, while the wastewater treatment and disposal services are carried out in an environmentally adequate manner, avoiding water contamination," said Roby Senderowitsch, World Bank Country Manager for the Dominican Republic.

This new initiative is consistent with the Country Assistance Strategy (CAS) 2005-2009 between the World Bank and the Dominican Republic, which aims to achieve sustained and equitable economic growth to reduce poverty. Towards this end, the supply of basic services to all Dominicans is a priority.

The project goals include:

Consolidating the water and sanitation sector in the Dominican Republic to create a national strategy for the sector,
Improving and expanding access to sanitation and wastewater treatment and disposal services in the Puerto Plata region,
Improving the financial and operational performance of CORAAPLATA; and,
Enhancing operational and commercial performance of the regional water and sanitation corporations (CORA) and preparing them to participate in the second phase of the program.

This project will develop a technical assistance component for the sector at the national level, another one to rehabilitate and expand sanitation services in the towns of Playa Dorada, Sosúa, Montellano, Cabarete, La Unión y La Bombita, and a third one for the administrative management of the project.

Besides this new loan, in 2006 the World Bank completed a US$5 million Project for Wastewater Disposal in Tourism Centers, installing small-diameter submarine outfalls and a series of low-cost wastewater disposal technologies in Puerto Plata.

The World Bank fixed-margin loan for US$27.5 million is based on a LIBOR rate and has a 30-year repayment period with a five-year grace period.

____________________
Desde el Banco Mundial:
US$27,5 millones para agua y saneamiento en zonas turísticas

El Directorio Ejecutivo del Banco Mundial aprobó hoy un préstamo por US$27,5 millones destinado a mejorar la provisión de agua potable y saneamiento en la zona turística de Puerto Plata, ubicada al norte de la República Dominicana.

El Proyecto de agua y saneamiento en zonas turísticas beneficiará así a 128, 000 dominicanos de zonas humildes en dicha área turística. A su vez brindará un impulso adicional al gobierno en la creación de un marco regulatorio y una estrategia nacional para el sector hídrico.

La iniciativa será ejecutada por una unidad coordinadora en la Secretaría de Estado de Economía, Planificación y Desarrollo (SEEPYD) y por la Corporación de Acueductos y Alcantarillado de Puerto Plata (CORAAPLATA).

"Este proyecto contribuirá a que más familias pobres en estas zonas turísticas tengan acceso al servicio de agua potable de calidad, mientras que la recolección y posterior eliminación de las aguas residuales se hace de una manera ambientalmente adecuada evitando así la contaminación de las aguas", expresó Roby Senderowitsch, representante residente del Banco Mundial en la República Dominicana.

Este nuevo emprendimiento forma parte de la Estrategia de Asistencia al País (EAP) 2005-2009 entre el Banco Mundial y la República Dominicana, la cual aspira a lograr un crecimiento económico sostenido con equidad, que reduzca la pobreza. En este contexto la provisión de servicios básicos a todos los dominicanos es una prioridad.

El proyecto busca además:

Consolidar el marco regulatorio del sector de agua y saneamiento en la República Dominicana para la creación de la Estrategia Nacional del sector.
Mejorar y expandir el acceso al saneamiento y los servicios de recolección de aguas residuales en la región de Puerto Plata.
Mejorar el desempeño financiero y operacional de CORAAPLATA.
Ampliar el desempeño operacional y comercial de las corporaciones de agua y saneamiento (CORA) que tiene un ámbito regional a fin de prepararlos para participar en la segunda fase del proyecto.

El proyecto desarrolla específicamente un componente de asistencia técnica al sector a nivel nacional, uno de rehabilitación y expansión de los servicios sanitarios en Playa Dorada, Sosúa, Montellano, Cabarete, La Unión y La Bombita y finalmente un componente para el manejo administrativo del proyecto.

Aparte del nuevo préstamo, el Banco Mundial concluyó en el 2006 el Proyecto de tratamiento de aguas residuales en centros turísticos por un monto de US$5 millones para la instalación del emisario submarino de pequeño diámetro, y toda una serie de redes colectoras y de impulsión de aguas residuales en Puerto Plata.

El nuevo préstamo de margen fijo, basado en la tasa LIBOR por US$27,5 millones del Banco Mundial tiene una contrapartida del gobierno de US$6,5 millones, con un período de amortización de 30 años, incluido un período de gracia de cinco años.
Tags: agua potable, CORAAPLATA, Dominican Republic, potable water, Puerto Plata, República Dominicana, saneamiento, Sanitation, SEEPYD, tourism, turismo, wastewater, wastewater treatment
Subscribe to My Comments Feed
Leave a Reply