« McDonald's Claims First "Ecological Restaurant" in Latin America | Home | Brazil to Recycle Auto Glass »
By Keith R | December 17, 2008
Topics: Sanitation, Water Issues | No Comments »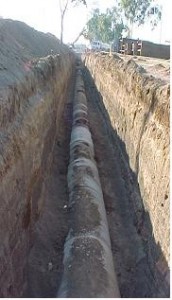 From the World Bank:
US$40 Million to Improve Water and Sanitation Services

Project benefits low-income population in Managua

The World Bank's Board of Directors approved yesterday a US$20 million grant and a US$20 million credit to the Nicaraguan government. The funds will be used to increase access to reliable water and sanitation services for the population living in the Greater Managua region, which is defined as the Metropolitan area of Managua and adjacent municipalities, including the satellite cities of Tipitapa and Ciudad Sandino.

The project will provide access to reliable water supply to an additional 150,000 people and access to improved sanitation services to an additional 120,000 people. The vast majority of beneficiaries live in very poor neighborhoods in the area of Greater Managua.

"This operation will increase the availability of water by investing in wells to be located in the south-east sectors of Managua, and also will be used to rehabilitate water networks and domestic connections that were constructed by the community, at times without adequate technical assistance -a situation that over the years has resulted in considerable water loss through leakages," said Ruth Selma Herrera, Executive President of the Nicaraguan Company of Aqueducts and Sewage Systems (ENACAL).

The government official added that "At the same time, the project will provide access to water to neighborhoods which have not had access to this important public service given that they were built in areas where there were no wells.  Priority will be given to neighborhoods or spontaneous settlements where there are good levels of community organization as well as a commitment to the environment and also to the financial sustainability of ENACAL itself."

"This project will improve the quality of life of the people, facilitating access to reliable water supply and sewage while contributing to a more efficient management of services by the Government of Nicaragua," said Laura Frigenti, World Bank Director for Central America.

The Greater Managua Water and Sanitation Project (PRASMA, for its name in Spanish), will finance:

Water and sanitation coverage extension in low-income neighborhoods.
Improvements in water supply and efficiency in selected areas.
Institutional strengthening activities as well as project's management, monitoring and evaluation.
____________________
Desde el Banco Mundial:
US$40 millones para mejorar servicios de agua y saneamiento

Se beneficia a población de bajos ingresos de Managua

El Directorio Ejecutivo del Banco Mundial aprobó en la víspera un crédito de US$20 millones y una donación de US$20 millones, para mejorar el acceso a los servicios de agua y saneamiento en la región capitalina de Managua, que abarca el área metropolitana y los municipios adyacentes, incluyendo las ciudades satélite de Tipitapa y Ciudad Sandino.

La iniciativa está dirigida a brindar un acceso seguro al abastecimiento de agua a unas 150.000 personas y a mejores servicios de saneamiento 120.000 personas. Los beneficiarios se encuentran en barrios muy humildes del área metropolitana de la capital.

"Con esta inversión será posible por una parte, incrementar la oferta de agua desarrollando algunos pozos en los macro sectores geográficos de la zona Sur Oriental de Managua, y por otra, rehacer las redes y conexiones domiciliares construidas hace muchos años por cuenta de los pobladores sin los criterios técnicos adecuados, por lo que causan muchas fugas de agua", explicó Ruth Selma Herrera, presidenta ejecutiva de la Empresa Nicaragüense de Acueductos y Alcantarillados (ENACAL).

La funcionaria gubernamental agregó que"Asimismo se proveerá de tuberías a barrios que no cuentan con este vital servicio, ya que surgieron en áreas donde no hay campos de pozos. Este proyecto se ejecutará dando prioridad a los asentamientos o barrios con mejor nivel de organización comunitaria, compromiso ambiental y de sostenibilidad financiera con ENACAL".

Por su parte la directora del Banco Mundial para Centroamérica, Laura Frigenti, subrayó que "Este proyecto mejorará la calidad de vida de la población, facilitando el acceso a servicios confiables de abastecimiento de agua y alcantarillado al tiempo que contribuirá a una gestión más eficiente de los servicios por parte del Gobierno de Nicaragua".

El Proyecto agua y saneamiento para la región de Managua (PRASMA) financiará:

Ampliación de cobertura y el mejoramiento del abastecimiento de agua y saneamiento en barrios de bajos ingresos.
Mejoras en la eficiencia en la prestación del servicio de agua.
Acciones de apoyo al fortalecimiento institucional, a la gestión del proyecto y a la evaluación de resultados obtenidos.
Tags: abastecimiento de agua, área metropolitana, Banco Mundial, Ciudad Sandino, ENACAL, Greater Managua, Managua, Nicaragua, PRASMA, saneamiento, Sanitation, servicio de agua, Tipitapa, water services, water supply, World Bank
Subscribe to My Comments Feed
Leave a Reply