« Jamaican Voices for Climate Change | Home | Brazil Launches Unparalled Study of Cardiovascular Disease and Diabetes »
By Keith R | August 20, 2009
Topics: Sanitation, Water Issues | No Comments »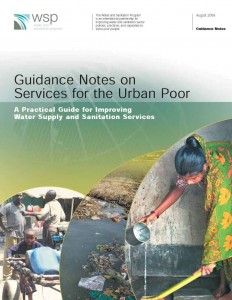 I've discussed in the past here on The Temas Blog some of the challenges Latin America and the Caribbean (LAC) faces in meeting the Millennium Development Goals (MDGs) for water supply and sanitation (here, here, here and here), particularly in providing these services to the region's poor.
The Water and Sanitation Programme (WSP), a multi-donor partnership started in 1979 by the UN Development Programme (UNDP) and the World Bank but now administered just by the Bank, recently released a set of useful "Guidance Notes" based on the WSP's experience that identies several institutional, legal, financial, and technical barriers common to providing adequate services to the urban poor in developing countries, and proposes practical solutions based on the experience of a number of relevant cases (some of them from LAC nations).
Given the relevance of these "Guidance Notes" to LAC work in this field, I am summarizing some of these tips below and adding this publication to the Temas Recommended Reading List section on Water and Sanitation.
Give the Poor a Voice
The voice of the poor too often is not heard, and mis-perceptions about the poor persist.
Project designers and service providers often assume they know what type of services the poor want and are willing to pay for. Mistaken assumptions can result in costly and unsustainable supply-driven public programs to provide services.
Giving the poor the opportunity to participate in planning and design can make the difference between success and failure. But this is only possible the preparatory process allows for adequate time and resources for meaningful consultations.
The poor often are unaware of policies and their attitudes and behavior may impede their access to services. Projects need to include educational programs that promote constructive attitudes and behaviors and give the poor a voice.
Many well-documented cases demonstrate the willingness and ability of the poor to create and/or manage their own services. Community-based organizations (CBOs) and federations of CBOs can help the poor take action on their own behalf.
Neutralize Vested Interests Water vendors, organized crime, public officials, and utility staff may have a vested interest in preventing better services for the poor.
Sometimes confrontations can be avoided by giving informal service providers and other vested interests new roles or incentives that bring them into the formal system.
Eliminate Administrative and Legal Barriers
Land ownership and tenure issues often create barriers to the provision of services to the poor.
Until legal reform arrives to enable the poor to gain secure tenure, adequate housing, and services,  innovative strategies can be used that get around land tenure requirements to get services, such as allowing alternative documentation. For instance, Bangalore Water Supply and Sewerage Board agreed to permit residents to present lease documents and other 'proof of occupancy' documents such as ration cards, identity cards, election cards or electricity bills instead of land titles and tax receipts.
The poor may be unaware of administrative and legal requirements, or find it difficult to understand and comply with them.
Simplified, client-friendly procedures for connection, billing, and collection help the poor to gain and retain access to services.
Creating a dedicated unit within the utility and/or engaging nongovernmental organizations (NGOs) to communicate with poor communities and facilitate access to services has been effective.
Strengthen Capacity, Autonomy, and Accountability of Service Providers and Provide Incentives to Serve the Poor
Public service providers sometimes lack the autonomy, financial and human resources, and incentives to provide services to the urban poor.
When water supply and sanitation (WSS) services perform poorly, the cause(s) often can be traced back to an inappropriate institutional framework, lack of regulatory mechanisms, an absence of appropriate attitudes and skills, and a lack of explicit directives and incentives to serve the poor. How to address these problems?  Some governments restructure the sector by separating and clarifying the roles of policymakers, regulators, and service providers and adopting accountability mechanisms. Others convert the largest service providers into autonomous public or private companies. In a few, more attention is focused on improving the performance and sustainability of services in the smaller towns.
Restructuring usually entails much more than a change in legal status.  Creating a sustainable service provider can require substantial internal restructuring, including management reforms and performance incentives for staff.
Municipalities and utilities are not held accountable for the provision of satisfactory water supply and sanitation services.
Training must focus on improving service quality, access and sustainability—rather than on engineering solutions.
Effective accountability and performance monitoring systems need to be put in place.
Pro-poor regulatory approaches should be adopted to ensure the availability, affordability, and sustainability of services for the poor.
The services provided by small private service providers (SPSPs) are not recognized, encouraged, and regulated.
Taking advantage of the services of SPSPs can be an essential component of strategies to expand and improve services to the urban poor.  Working with SPSPs may require finding innovative ways of linking them with formal utilities, providing small amounts of investment finance, introducing appropriate regulatory mechanisms, and adopting strategies for eliminating illegal and abusive SPSP activities (if they exist) without driving SPSPs out of business.
Adopt Appropriate Financial Policies
– Tariffs do not cover the full cost of efficient services.
– Poor households find it difficult to pay upfront connection fees.
– Poor households find it difficult to pay monthly bills.
– Increasing block tariffs penalizes households that share a single connection.
– Small-scale service providers lack adequate finance to extend networks into peri-urban informal settlements and small towns.
Realistic targets for cost recovery and charging methods that take the constraints faced by the poor into account can lead to financial viability as well as improved access for the poor.
Cost recovery can be improved by reducing costs through increased efficiency, improving commercial performance, and charging an average tariff that reflects all costs.
If a large tariff increase (in real terms) is required, even after taking into account the effects of efficiency improvements and increased connections, the increase should be phased over a period of time and accompanied by perceivable improvements in service.
Prices affect consumption behavior, so tariff structure and cross subsidies must be designed carefully to minimize economic distortions or changes in consumption patterns that would undermine the financial performance of the utility.
Expanding services to the poor may raise the average cost. This creates a dilemma that needs to be acknowledged and dealt with realistically:

Practices that reduce the cost of serving poor neighborhoods, such as community management of billing and collection, may be needed.
While individual household connections for water and sewerage are often the preferred options, when many households are served through a single water connection, water consumption per connection may be higher than the utility's average and make up for some of the higher costs in poor communities. Likewise, block toilets increase economies of scale.
In general, subsidies should be targeted at the poor and should be limited and temporary. Subsidizing investments and/or connections in poor neighborhoods is preferable to subsidizing monthly consumption because the former is both targeted and limited in scope, and is generally sufficient to ensure that the poor will be connected and stay connected.
If the very poor have difficulty accumulating cash to pay monthly fees, it may be possible to increase the frequency of collection by organizing daily or weekly collection by community representatives.
Rising block tariffs are generally intended to provide a low lifeline tariff for basic essential household consumption and to discourage excessive use by those who consume more than a basic volume of water. However, such tariffs may penalize the poor when several households use one connection. Administrative or regulatory actions may be required to eliminate these distortions.

Overcome Physical and Technical Barriers

– The over-exploitation and degradation of water resources affect the poor disproportionately.

– Physical and technical challenges and the high investment cost of conventional technologies make extending formal piped water supply and sewerage networks into informal and unplanned settlements more difficult.

Most countries have adopted the Dublin Principles, but have yet to fully implement the principles and most are still operating in the reactive mode—responding to near disasters. Public authorities and utilities should adopt comprehensive forward-looking strategies for reducing water losses and encouraging the adoption of water saving technologies and low-cost sanitation at the household and community level.
Low-cost and physically adaptive alternative technologies that can help poor and marginal communities include pour-flush latrines, condominial sewerage systems, low-cost sewage treatment technology adapted to local conditions, rainwater collection systems, bulk water and sewerage connections at the boundary of poor communities, street or block metering arrangements whereby individual households are billed for water on the basis of average consumption.
Modular planning — designing system components with limited initial excess capacity, but capable of being readily expanded or upgraded when needed and revenues become available — may reduce initial investment costs in water supply and sanitation infrastructure.
Tags: agua potable, Banco Mundial, block metering, block toilets, bulk water connections, community-based organizations, Dublin Principles, land tenure, MDGs, potable water, pour-flush latrines, rainwater collection, saneamiento, sanitation services, sewage treatment, subsidies, urban poor, water services, World Bank, WSP
Subscribe to My Comments Feed
Leave a Reply