« Eco-Shopping for Cars in Mexico | Home | Climate Change Country Profiles for 17 LAC Nations »
By Keith R | November 23, 2008
Topics: Water Issues | No Comments »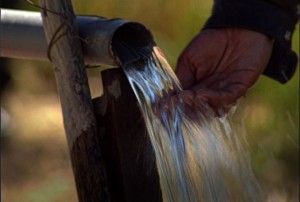 Temas Note: While the idea of a center focussed on water and sanitation issues in the Latin America and Caribbean (LAC) region generally appeals to me, I have to ask why in this form, in this locale, and with these sponsors?  Doesn't the Pan American Health Organization (PAHO) already have a Pan American Center for Sanitary Engineering and Environmental Sciences (CEPIS) in Lima, Peru, with years of technical work and field experience in these fields? Why not build on that (or rebuild it, since CEPIS has been less active in recent years), rather than creating a totally new entity far away?
Why utilize the Technological Institute of Monterrey (ITESM) as the base for the Center? Nothing wrong with the institution, but I'm just wondering why it is considered the most appropriate site? Is it simply a matter that the Institute volunteered its help? (Somehow I suspect many other research and higher learning institutes also would have been interested.) Or does it have something to do with the fact that FEMSA, the other major start-up funder of the Center, started in Monterrey and has ties to ITESM?
I also find it interesting what the IDB press release doesn't say about FEMSA. FEMSA isn't just any beverage company — it's THE largest bottler in Latin America. It bottles most of the Coca-Cola brands sold in the region, including the Ciel brand of bottled water.  It also bottles a number of well-known beer brands, such as Carta Blanca, Tecate, Dos XX, Sol and Bohemia in Mexico, and Kaiser, Xingu and Baravia in Brazil. As such, FEMSA is one of the largest corporate users of water in the region.  Will this have influence over the Center's work?
________________________
From the Inter-American Development Bank (IDB):
IDB, FEMSA and Instituto Tecnológico de Monterrey announce creation of the Latin American and Caribbean Water Center

The Inter-American Development Bank (IDB), Fundación FEMSA and the Tecnológico de Monterrey today signed an agreement to create the Latin American and Caribbean Water Center, with an initial investment of $11 million.

Fundación FEMSA, founded by the beverage company FEMSA, is beginning its operations with this project. The foundation plans to develop projects in cooperation with institutions committed to community welfare around the world.

The Water Center will be operated by the Tecnológico de Monterrey and will jump-start programs and projects that support initiatives related to the use, management and conservation of water resources in Latin America and the Caribbean.

The IDB considers the proper management and distribution of water resources to be a key prerequisite to health and economic growth in the region's countries.

The memorandum of understanding (MOU) that created the center was signed by IDB president Luis Alberto Moreno, FEMSA chairman and CEO José Antonio Fernández Carbajal, and Tecnológico de Monterrey rector Rafael Rangel Sostmann.

"Some 85 million people in Latin America and the Caribbean still do not have access to potable water, and more than 115 million do not have access to sanitation services," President Moreno said. "This Center is a call to think big and to seek ambitious, definitive solutions to these problems."

The Center will offer training, research and information management for the conservation and sustainable use of water, promote strategic alliances, and offer world-class technical expertise and innovative approaches to the sector's problems, all based on a broad understanding of the major issues affecting the countries in the region, Moreno explained.

The Center's programs will target professionals in national and regional government agencies, and in companies involved in managing and using regional water resources.

"Every country in Latin America and the Caribbean urgently needs trained professionals, and launching the Center is a very important step in that direction, Moreno added. "The Center will be an invaluable platform for developing the abilities and knowledge that will move us toward better management and use of the region's water resources."

The water and sanitation sector is a priority for the IDB. In May 2007, the Bank approved the Water and Sanitation Initiative, whose main objective is to help Latin American and Caribbean countries achieve sustainable, reliable and quality access to water and sanitation services.

As part of this initiative, the IDB set a goal of completing water and sanitation projects in 100 cities and 3,000 rural communities during the next four years. The Bank is already working in 44 cities and more than 700 rural communities, and it intends to lend at least a billion dollars a year for this sector.

In addition, the IDB recently created AquaFund, a fast-disbursing fund designed to finance project preparation in support of the Water and Sanitation Initiative. The Water Center is the first IDB project financed with AquaFund resources.

Finally, the IDB has been invited by Spain to collaborate in identifying, coordinating and supervising projects to be financed by the Water and Sanitation Cooperation Fund announced by the Spanish government during the 18th Latin American Summit held in El Salvador in late October. This fund will provide up to $1.5 million in grants for the region over the next four years.
___________________________
Desde el Banco Interamericano de Desarrollo (BID):
BID, FEMSA y el Tecnológico de Monterrey anuncian Centro del Agua para América Latina y el Caribe

El Banco Interamericano de Desarrollo (BID), la Fundación FEMSA y el Tecnológico de Monterrey firmaron hoy un acuerdo para crear un Centro del Agua para América Latina y el Caribe, con una inversión inicial de US$11 millones.

La Fundación FEMSA, constituida por la empresa de bebidas FEMSA, comienza sus operaciones con este primer proyecto. El trabajo de la fundación consistirá en impulsar proyectos bajo esquemas de cooperación con instituciones comprometidas con el bienestar de las comunidades a nivel global.

El Centro del Agua será operado por el Tecnológico de Monterrey e impulsará programas y proyectos que brinden apoyo a iniciativas relacionadas con el uso, manejo y conservación de los recursos hídricos en América Latina y el Caribe.

El BID considera el manejo y distribución de agua como un activo fundamental en el crecimiento de los países y el bienestar de las poblaciones.

El memorando de entendimiento (MOU) para la creación del centro fue firmado por el Presidente del BID, Luis Alberto Moreno, el Presidente y Director General de FEMSA, José Antonio Fernández Carbajal, y el Rector del Sistema Tecnológico de Monterrey, Rafael Rangel Sostmann.

"Alrededor de 85 millones de personas aún no cuentan con acceso a agua potable en América Latina y el Caribe, y más de 115 millones no tienen acceso a servicios de saneamiento", dijo el Presidente Moreno. "El Centro es una convocatoria a pensar en grande, a buscar soluciones ambiciosas y definitivas a estos problemas".

El Centro ofrecerá capacitación, investigación y manejo de información para el uso sustentable y conservación del agua. Facilitará la realización de alianzas estratégicas y ofrecerá una reconocida capacidad técnica con enfoques innovadores a los problemas del sector, a partir de un amplio conocimiento de la problemática de los países de la región, explicó Moreno.

Los destinatarios de los programas del Centro serán profesionales de entidades gubernamentales de nivel nacional y subnacional, y empresas involucradas en el manejo y uso de los recursos hídricos en la región.

"Todos los países de América Latina y el Caribe necesitan imperiosamente profesionales capacitados, y el lanzamiento del Centro es un paso muy importante en esta dirección", añadió Moreno. "El Centro será una invaluable plataforma de desarrollo de capacidades y conocimientos que nos llevará a un mejor manejo y utilización de los recursos hídricos en la región".

En mayo del 2007 el Banco aprobó la Iniciativa de Agua y Saneamiento, cuyo objetivo principal es ayudar a los países de América Latina y el Caribe a lograr acceso sostenible, confiable y de calidad a servicios.

Como parte de esta iniciativa, el BID se fijó la meta de concretar proyectos de agua y saneamiento en 100 ciudades y 3000 comunidades rurales durante los próximos cuatro años. Ya el banco está trabajando en 44 ciudades y en más de 700 comunidades rurales. El objetivo es facilitar también, por lo menos, mil millones de dólares por año en préstamos para este sector.

Adicionalmente, el BID creó recientemente el AquaFund, un fondo de desembolso rápido orientado a financiar una variedad de intervenciones que respalden la implementación de la Iniciativa del Agua y Saneamiento. El Centro del Agua constituye el primer proyecto del BID financiado con recursos del AquaFund.

Por último, el BID ha sido invitado por España para colaborar en la identificación, coordinación y supervisión de proyectos que financie el Fondo de Cooperación para Agua y Saneamiento anunciado por  ese gobierno durante la XVIII Cumbre Iberoamericana celebrada a finales de octubre en El Salvador. Este fondo permitirá a la región contar  con US$1.500 millones en donaciones durante los próximos cuatro años.
Tags: agua potable, América Latina, Aquafund, BID, Caribbean, Caribe, CEPIS, Coca-Cola, conservación del agua, Fundación FEMSA, IDB, Instituto Tecnológico de Monterrey, Latin America, Lima, Mexico, potable water, recursos hídricos, saneamiento, Sanitation, water conservation, water resources
Subscribe to My Comments Feed
Leave a Reply