« GEF Grant to Tackle Brazil's Barriers to Energy Efficiency | Home | Which Live Earth Concert Will Have Free Admission? »
By Keith R | June 28, 2007
Topics: Sanitation, Water Issues | No Comments »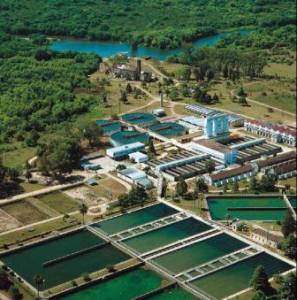 From the World Bank:
Uruguay: World Bank Approves US$50 Million to Expand and Upgrade Water and Sanitation Services

The World Bank today approved a US$50 million loan to help Uruguay expand water and sanitation services to reach more residents in the country's smaller towns and cities as well as improve the efficiency and sustainability of water and sanitation services.

"This project supports Uruguay's efforts to support universal access to water and sanitation services," said Carlos Velez, World Bank task manager for the project. "It will do so by helping Obras Sanitarias del Estado increase its efficiency through the introduction of new management practices, decentralization of some services, and development of more effective water delivery strategies across the country," he added.

The new financing supports the Second Phase of the OSE Modernization & Systems Rehabilitation Program, which seeks to improve the efficiency of Uruguay's state-owned water utility, Obras Sanitarias del Estado (OSE). The program will set performance targets, increase competition, and upgrade and rehabilitate existing water and sewage treatment plants by financing the following activities:

Supporting OSE's strategy to improve the national utility's transparency, accountability, client responsiveness and efficiency. This component will help instill a culture of consumer orientation, quality and efficiency, as well as optimize organizational processes to cut costs, time and improve productivity and coordination.
Testing a series of innovative initiatives in selected cities, including Montevideo, to help align commercial and engineering incentives to tackle unaccounted-for water. The performance of these initiatives will be carefully monitored to enable the distinction between physical and commercial water losses.
Completing the sewerage expansion works in at least five cities, including Treinta y Tres, Colonia, Mercedes, Rio Branco and Melo. This component will also seek to stimulate demand for more households to connect to the existing network.

The first phase of the program – originally supported by a US$27 million loan approved by the Board in June 2000 – has been essential in laying the groundwork for the current project. OSE successfully implemented and disseminated an internal benchmarking system, comparing the utility's performance across 21 cities based on eight service quality indicators. In addition, the first phase helped improve sewerage coverage in secondary cities through the demand-driven expansion of sewerage networks in 12 interior cities. Finally, three new sewerage treatment plants were built in Minas, Treinta y Tres, and Durazno, with the overall capacity to serve around 60,000 people.

The US$50 million loan from the International Bank for Reconstruction and Development (IBRD) reaches maturity by 2022, including a grace period of five years.
Desde el Banco Mundial:
Uruguay: Banco Mundial aprueba US$50 millones para ampliar y mejorar servicios de agua y saneamiento

El Banco Mundial aprobó hoy un préstamo por US$50 millones para la ampliación de servicios de agua y saneamiento en Uruguay, y así beneficiar a más residentes en los pueblos y ciudades más pequeñas del país, además de mejorar la eficiencia y la sostenibilidad de los servicios de agua y saneamiento.

"Este proyecto respalda los esfuerzos realizados por Uruguay para mejorar el acceso universal a servicios de agua y saneamiento", señaló Carlos Vélez, gerente del proyecto por el Banco Mundial. "Con esta nueva financiación se apoyará a Obras Sanitarias del Estado para aumentar la eficiencia a través de la introducción de nuevas prácticas de gestión, la descentralización de algunos servicios y el desarrollo de estrategias más eficaces de suministro de agua en todo el país", añadió.

El nuevo financiamiento constituye la Segunda fase del programa de modernización y rehabilitación de los sistemas de OSE con el cual se busca mejorar la efectividad de la empresa estatal de servicio público de agua de Uruguay, Obras Sanitarias del Estado (OSE). El programa establecerá metas en base a desempeño, aumentará la competencia, y mejorará y rehabilitará las plantas de tratamiento de aguas y de alcantarillado mediante el financiamiento de las siguientes actividades:

Apoyar la estrategia de OSE para mejorar la transparencia, la responsabilidad, la atención al cliente y la eficiencia de la empresa de servicio público nacional. Este componente servirá para infundir una cultura de orientación hacia el cliente, calidad y eficiencia, además de optimizar los procesos de organización para reducir costos y tiempo y mejorar la productividad y la coordinación.
Probar una serie de iniciativas innovadoras en ciudades seleccionadas, incluida Montevideo, a fin de ayudar a alinear los incentivos comerciales y de ingeniería, y poder hacer frente al uso de agua no contabilizada. Se hará un seguimiento atento del desempeño de estas iniciativas a fin de facilitar la distinción entre pérdidas de agua físicas y comerciales.
Llevar a cabo obras de ampliación de alcantarillado en al menos cinco ciudades: Treinta y Tres, Colonia, Mercedes, Río Branco y Melo. Este componente también intentará estimular la conexión de más hogares a la red disponible.

La primera fase del programa, contó con el apoyo de un préstamo por US$27 millones aprobado por el Directorio del Banco Mundial en junio de 2000, y fue fundamental para sentar las bases del proyecto actual. OSE logró implementar y difundir con éxito un sistema de referencia interna que compara el desempeño de la empresa en 21 ciudades en base a ocho indicadores de calidad del servicio. Además, la primera fase ayudó a mejorar la cobertura del alcantarillado en otras 12 ciudades del interior a través de la ampliación, según la demanda, de las redes de alcantarillado. Finalmente, se construyeron tres plantas de tratamiento de alcantarillado nuevas en Minas, Treinta y Tres y Durazno, con una capacidad total para atender a unas 60.000 personas.

El nuevo préstamo por US$50 millones del Banco Internacional de Reconstrucción y Fomento (BIRF) vence en el año 2022 e incluye un período de gracia de cinco años.
Tags: accountability, alcantarillado, Banco Mundial, Colonia, Durazno, Melo, Mercedes, Minas, Montevideo, OSE, Rio Branco, saneamento, saneamiento, Sanitation, transparencia, transparency, Treinta y Tres, Uruguai, Uruguay, water services, World Bank
Subscribe to My Comments Feed
Leave a Reply