« IDB Finances Venezuelan Hydroelectric Project | Home | UNDP to Help Fortify Venezuela's National Park System »
By Keith R | July 31, 2009
Topics: Sanitation, Water Issues | No Comments »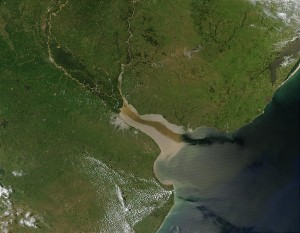 Argentina's Supreme Court, in a case initiated in 2003 by the Municipality of Berazategui against Aguas Argentinas SA (now known as Aguas y Saneamientos Argentinos SA – AySA) and the national government, has annulled an injunction issued by the Federal Appeals Court of La Plata ordering the construction — within eighteen months — of a sewage treatment plant and the extension of existing sewer outfall (a sewage discharge pipe) from 2,500 to 8,000 meters into territorial waters.
In essence, the Supreme Court found that constructing the plant and extending the outfall should be integrated with a broader, comprehensive solution to the pollution of the Rio de la Plata, rather than rushed ahead with just this one project.   A more comprehensive plan had already been negotiated between federal authorities and Berazategui and ratified in Decree 1885/04.  Considering that the national government had begun unilaterally to implement the measures for carrying out the works envisaged in that instrument, the Court set aside the injunction and ordered national authorities to proceed with those works.  Further, the Court noted the connection with the measures being taken in the Matanza-Riachuelo Basin by the Basin Authority (ACUMAR) as a result of the 2008 "Mendoza" judgment, the Supreme Court ordered the two to be formally linked and remitted to the Federal Court of First Instance in Quilmes.
______________
Desde el Centro de Información Judicial (CIJ):
Contaminación: la Corte ordenó cumplir un plan integral de saneamiento del Río de la Plata

Fue en una causa iniciada por el Municipio de Berazategui contra el Estado nacional en demanda de la construcción de una planta depuradora y la prolongación de un emisario cloacal. El Máximo Tribunal exigió culminar las obras acordadas.

La Corte Suprema de Justicia de la Nación, en una causa iniciada por la Municipalidad de Berazategui contra Aguas Argentinas S.A. y el Estado Nacional, hizo lugar a los recursos interpuestos por las demandadas y, en consecuencia, dejó sin efecto la medida cautelar dictada por la Cámara Federal de Apelaciones de La Plata, mediante la cual se había ordenado la construcción -en el plazo de dieciocho meses- de una planta depuradora de líquidos cloacales y la prolongación del emisario cloacal existente en dicha localidad.

Para así decidir, consideró que la medida dictada constituía un anticipo de jurisdicción respecto de aquello que era el objeto de la presente acción, esto es, la realización de las obras necesarias para el cese de la contaminación de las aguas del Río de la Plata y que, además, podía ocasionar a las demandadas perjuicios de difícil reparación ulterior.

Asimismo, señaló que la complejidad técnica de las obras encomendadas requerían, a fin de lograr una solución integral del problema de contaminación del río, ser examinadas en un ámbito de mayor debate y prueba que las que ofrece el proceso cautelar.

No obstante ello, con posterioridad a la audiencia celebrada ante el Tribunal, las partes llegaron a un acuerdo -ratificado por el decreto 1885/04- mediante el cual convinieron la realización de diversas acciones y estudios en los terrenos de la planta y de la traza del emisario cloacal y decidieron la construcción de instalaciones destinadas al pretratamiento en la localidad de Berazategui (a construirse por etapas mediante módulos vinculados a cada una de las tres cloacas máximas que llegan al predio previsto para ella).

En ese sentido, y en atención a que el Estado Nacional había comenzado unilateralmente a implementar lo conducente para llevar a cabo las obras que en dicho instrumento se preveían, la Corte sustituyó la medida dispuesta por la Cámara y ordenó al Estado Nacional que culmine las obras descriptas precedentemente.

A tal efecto, tuvo en cuenta que dichas obras formaban parte de un plan mediante el cual se pretendía dar una solución integral al problema de la contaminación existente en las aguas del Río de la Plata, por lo que resultaba necesario que efectivamente se implementen medidas para el tratamiento de los líquidos cloacales vertidos en la zona costera de Berazategui.

Por tal razón, y ante las largas postergaciones sufridas en la realización de estas obras, correspondía adoptar medidas eficaces para atender el problema y así lograr una tutela efectiva del medio ambiente.

Por otra parte, en atención a la vinculación de las medidas dispuestas en este pleito con las contempladas en el proyecto de saneamiento de la cuenta Matanza – Riachuelo examinadas por esta Corte en la causa "Mendoza", en la cual se impuso a la Autoridad de Cuenca el deber de informar detallada y públicamente sobre el particular (pronunciamiento del 8 de julio de 2008), se ordenó la acumulación de la presente a aquella y su remisión al Juzgado Federal de Primera Instancia de Quilmes.
Tags: ACUMAR, Aguas Argentinas S.A., Argentina, Berazategui, Cámara Federal de Apelaciones, CIJ, Corte Suprema, líquidos cloacales, Matanza-Riachuelo Basin, Rio de la Plata, saneamiento, Supreme Court, wastewater treatment
Subscribe to My Comments Feed
Leave a Reply