« EPA to Study Virgin Islands Coral Reefs | Home | EPA Forces San Juan to Educate Other Cities on Proper Management of Used Oil and Fluorescents »
By Keith R | February 24, 2009
Topics: Sanitation, Water Issues | No Comments »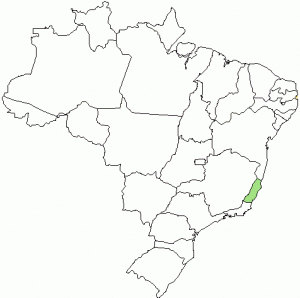 From the World Bank:
World Bank Approves US$71.5 Million Additional Finance for Water and Coastal Pollution Management

The World Bank today approved an additional finance of US$71.5 million to the State of Espírito Santo, in Southeastern Brazil, to carry out activities under the Espírito Santo Water and Coastal Pollution Management Project, which aims to provide improved water quality and expanded access to supply and sewerage services to the Metropolitan Vitória population.

"This funding adds itself to the major efforts already being undertaken by the State, which aim to achieve universal sewage collection and treatment and ensure the continued provision of quality water supply," said Paulo Hartung, Governor of the State of Espírito Santo. "Sanitation has been a high government priority since 2003, and we have implemented actions that positively changed the state's scenario in this sector. The 'Clean Water Project', which has World Bank partnership, is a central part of this."

"Espírito Santo has proven its commitment and is achieving important results in water and sanitation, both in terms of direct services to its population, especially the poorest, but also as environmental and health benefits," added Makhtar Diop, World Bank Director for Brazil. "The Bank's longstanding and integrated support for the sector, which also includes GEF funding for the 'Florestas para Vida' project, has been an essential part of the new water and sanitation framework achieved by the State. This is at the center of Espírito Santo's successful efforts to articulate policies in the urban, poverty and health sectors in a sustainable manner."

The new financing complements a US$36 million loan approved in 2004. Specifically, the project will:

Fund the completion of sewage collection and treatment facilities and expand the sewage treatment system of Greater Vitória. It will also help prepare a sanitation master plan for the metropolitan region, and expand capacity for raw water intakes and water treatment plants.
Improve the efficiency of the water supply and sewage systems of the State water utility (CESAN) by supporting its efforts to operate on a commercial basis with financial self-sufficiency and holding CESAN accountable to its customers in terms of performance.
Increase the coverage level of CESAN's water supply and basic sanitation services (sewage collection, treatment and disposal) in the urban areas of the Vitória Metropolitan Region and other towns located mainly in the Santa Maria and Jucu river basins.
Provide appropriate water and sanitation infrastructure in low-income urban areas of Vitória and Guarapari.
Strengthen the State's environmental management capacity.

"The approval of this additional credit represents an important milestone in the management of water supply and sanitation in the State," said Carlos E. Velez, World Bank project manager. "Espírito Santo is taking a major step towards its goal of universal coverage and treatment, further contributing to the environment and the health of the population. We would like to congratulate the State Government for the excellent work, especially the inter-sectoral coordination that was achieved."

Since 1972, the World Bank has invested more than US$330 million in Espírito Santo, mostly for water and sanitation.
_______________________
Desde o Banco Mundial:
Banco Mundial aprova crédito adicional de US$ 71,5 milhões para combate à poluição da água

O Banco Mundial aprovou hoje financiamento adicional de US$ 71,5 milhões para o Estado do Espírito Santo, destinado às atividades do Projeto de Combate à Poluição Costeira e de Águas do Espírito Santo – Projeto Águas Limpas, que tem como objetivo melhorar a qualidade da água e expandir o acesso da população metropolitana de Vitória aos serviços de abastecimento hídrico e de esgoto.

"Esse financiamento soma-se aos grandes esforços já empreendidos pelo Estado, que visam atingir a universalização da coleta e tratamento de esgotos e garantir o fornecimento de água de qualidade à população", disse Paulo Hartung, Governador do Estado do Espírito Santo. "O saneamento tem sido uma prioridade do Governo desde 2003 e temos implementado ações positivas que mudaram o cenário do Estado neste setor. O 'Projeto Águas Limpas', que tem parceria do Banco Mundial, é uma parte central dessas ações."

"O Espírito Santo demonstrou o seu compromisso e está apresentando importantes resultados nos setores de água e saneamento, tanto em termos de serviços diretos à sua população, especialmente os mais pobres, como também sob a forma de benefícios ambientais e de saúde", acrescentou Makhtar Diop, Diretor do Banco Mundial para o Brasil. "O contínuo apoio integrado do Banco ao setor, que também inclui recursos do Fundo para o Meio Ambiente Global (GEF) destinados ao projeto Florestas para Vida, é uma parte essencial da nova infra-estrutura de água e saneamento desenvolvida pelo Estado. Essa iniciativa constitui o centro dos esforços bem-sucedidos do Espírito Santo para articular políticas sustentáveis nos setores urbano, de pobreza e de saúde."

Os novos recursos complementam empréstimo aprovado em 2004, de US$ 36 milhões. Especificamente, o projeto tem como objetivo:

Financiar a conclusão das instalações de coleta e tratamento de esgoto, a expansão do sistema de tratamento de esgoto da Grande Vitória e a elaboração do plano diretor de saneamento para a região metropolitana, bem como ampliar a capacidade de captação de água e das usinas de tratamento;
Aumentar a eficiência do abastecimento de água e das redes de esgoto da Companhia Espírito Santense de Saneamento (CESAN), apoiando os seus esforços para operar em bases comerciais com auto-suficiência financeira e responsabilizando a CESAN pelo seu desempenho junto aos usuários;
Expandir o nível de cobertura dos serviços de água e saneamento básico (coleta, tratamento e disposição de esgoto) da CESAN, nas áreas urbanas da Região Metropolitana de Vitória e em outras cidades localizadas principalmente nas bacias dos rios Santa Maria e Jucu;
Fornecer infra-estrutura adequada de água e saneamento nas áreas urbanas de baixa renda de Vitória e Guarapari; e
Fortalecer a capacidade de gestão ambiental do Estado.

"A aprovação deste crédito adicional representa um marco importante na administração estadual de água e saneamento", afirmou Carlos E. Velez, gerente do projeto no Banco Mundial. "O Espírito Santo está dando um grande passo em direção ao seu objetivo de cobertura e tratamento universais, contribuindo também para a conservação do meio ambiente e a saúde da população. Gostaríamos de parabenizar o Governo do Estado pelo excelente trabalho, especialmente quanto à coordenação intersetorial alcançada."

Desde 1972, o Banco Mundial já investiu mais de US$330 milhões no Espírito Santo, principalmente na área de água e saneamento.
Tags: Banco Mundial, Brasil, Brazil, CESAN, coastal pollution, environment, Espírito Santo, Jucu, meio ambiente, saneamento, Sanitation, sewage treatment, Vitória, water quality, World Bank
Subscribe to My Comments Feed
Leave a Reply