« Member States Ask CAN to Take the Lead on Climate Change | Home | World No-Tobacco Day in LAC: Bolivia to Introduce Control Bill »
By Keith R | June 6, 2007
Topics: Conservation, Corporate Social Responsibility, Environmental Protection, Sanitation, Water Issues | No Comments »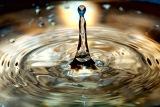 On the face of it, this is good news for a couple of reasons.
First off, I applaud that a huge water user (176 billion liters worldwide in 2006) and consumer such as Coca-Cola has decided to increase their water use efficiency, recycle the water they use in manufacturing whenever and wherever possible, and to treat their wastewater to standards high enough for agriculture and aquatic life. [This is not the highest possible water quality standard, but in some places in Latin America and the Caribbean (LAC) it will be higher than the locally mandated standard, better than the quality of the water Coca-Cola must draw from for their manufacturing, and probably much better than the quality of wastewater discharges from many manufacturers operating in LAC.]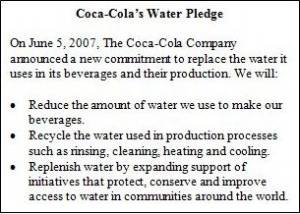 I just hope that Coca-Cola works 110% to make certain its bottlers in LAC, particularly the giant FEMSA (covering four Central American countries, four South American and parts of Mexico), toe the line on this commitment. Please, Coca-Cola, do not come back a couple of years down the line and say that the franchise holders did not cooperate and that there was little Atlanta could do to persuade to change their minds (and behavior).
I also hope that WWF and Coca-Cola are committed to challenging other large industrial water users across LAC — perhaps starting with the beverage industry (Danone, PepsiCo, Nestle, AmBev, etc.), but by no means limited to it — to match or better the Coke commitments on water efficiency, reuse and treatment.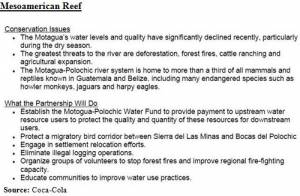 Second, two of the seven watersheds covered by Coca-Cola's multi-year, US$20 million commitment to WWF involve LAC: (1) the Rio Grande/Rio Bravo (involving Mexico); (2) the basins linked to the Mesoamerican Caribbean Reef. While both already have programs underway to help them involving other parties, both need all the help they can get. [This reminds me of the piece on the Mesoamerican in the backlog queue since the beginning of the year that I need to finally post.] The specific commitments for each are summarized in the boxes provided here (click each to enlarge).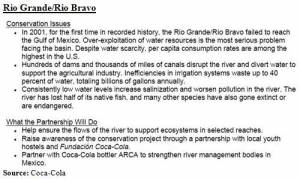 Oh, I'm fully aware of the irony in having a company (in)famous for taking tap water, purifying and seasoning it and selling it for much more as bottled Dasani try to champion globally the cause of water conservation and efficiency and watershed management. To an environmentally aware person North America and much of Europe, the whole bottled water business seems like a crazy and wasteful luxury, especially those brands that are nothing more than purified tap (rather than drawn from a mineral spring). I very rarely purchase prepackaged water here in the US.
However, if you have lived or traveled in LAC for any length of time (as I have), you probably realize that in many of the LAC countries most people do not trust the local tap water (often for good reason) and buying bottled purified water (usually in a five-gallon botellones) is considered a necessity, not a lifestyle choice. If you are in the street or at a restaurant, the bottled drinks, including bottled waters, are much safer to consume than that glass of tap water you might be handed. So until the local water and sanitation authorities rectify the problems with the local drinking water quality, is it so crazy for Coca-Cola (or anyone else) to sell bottles of purified water?
Meanwhile, let's welcome the positive steps as a good start and push for Coca-Cola's help in getting their competitors and industry peers to do likewise.
From WWF:
WWF and Coca Cola announce partnership to conserve freshwater resources

The Coca-Cola Company has launched a multi-year partnership with WWF to conserve and protect freshwater resources, including seven of the world's most important freshwater river basins.

"We are focusing on water because this is where The Coca-Cola Company can have a real and positive impact," E. Neville Isdell, Chairman and CEO of The Coca-Cola Company, told WWF's annual meeting in Beijing.

"Our goal is to replace every drop of water we use in our beverages and their production. For us that means reducing the amount of water used to produce our beverages, recycling water used for manufacturing processes so it can be returned safely to the environment, and replenishing water in communities and nature through locally relevant projects."

In 2006, The Coca-Cola Company and its franchised bottlers used approximately 290 billion litres of water for beverage production, an amount equivalent to roughly one-half the annual water use in the metropolitan area of the company's headquarters, Atlanta, Georgia. Of that amount, approximately 114 billion litres were contained in the company's broad portfolio of beverages sold in markets around the world, and another 176 billion litres were used in beverage manufacturing processes such as rinsing, cleaning, heating and cooling.

As part of its US$20 million pledge, Coca-Cola will support more efficient water management in its operations and global supply chain, and reduce the company's carbon footprint.

"The Coca-Cola Company is answering the call to help solve the global freshwater crisis through this bold partnership," said James Leape, Director General of WWF International. "The company is stepping into new and uncharted territory, and we look forward to working together to meet the bold commitments they have made to water stewardship."

Reduce, recycle, replenish

As part of its commitment, Coca-Cola will set specific water efficiency targets for global operations by 2008 to achieve best in class performance among peer companies. These targets will build on improvements already made by the company and its bottlers in water-use efficiency over the past five years, a period where total water use has decreased by 5.6% while sales volume has increased by 14.6%. In that same period, water efficiency improved 18.6%.

The company will also align its entire global system in returning all water that it uses for manufacturing processes to the environment at a level that supports aquatic life and agriculture by the end of 2010. While water is treated currently to comply with local regulations and standards, Coca-Cola has written wastewater treatment standards that are more stringent than applicable standards in some parts of the world.

And Coca-Cola will expand support of healthy watersheds and sustainable communities to balance the water used in its finished beverages. Engagement will include a wide range of locally relevant initiatives, such as watershed protection, community water access, rain water harvesting, reforestation and agricultural water use efficiency.

Numerous projects are already underway. Currently, Coca-Cola has community and watershed programmes in 40 countries focused on education and awareness, productive water use, watershed management and water supply, sanitation and hygiene. The company also has some 300 rainwater harvesting structures throughout its global operations.

"Society is just beginning to understand the world's water challenges," continued Coca-Cola Chairman and CEO Isdell.

"No single company or organization has all of the answers or holds ultimate responsibility, but we all can do our part to conserve and protect water resources. Our company will need time and cooperation from our bottlers, our suppliers and our conservation partners to accomplish the goal of replacing the water we use. We will be open about our progress and engage others to better understand what it takes."

END NOTES:

• WWF and the Coca-Cola Company have been working together for several years on a number of pilot projects to conserve water, address water efficiency in the company's operations and protect species.

• The partnership will focus on measurably conserving seven of the world's most critical freshwater river basins: China's Yangtze; South-east Asia's Mekong; the Rio Grande/Rio Bravo of South-west United States and Mexico; the rivers and streams of the South-eastern United States; the water basins of the Mesoamerican Caribbean Reef; the East Africa basin of Lake Malawi; and Europe's Danube River. These river basins (also know as watersheds) span more than 20 countries in North America, Europe, Africa and Asia and were chosen because of their biological distinctiveness, opportunity for meaningful conservation gains, and potential to advance issues of resource protection.
Tags: Arrecife Mesoamericano, Belize, Bocas del Polochic, botellones, bottled drinks, bottled water, bottlers, Coca-Cola, conservación del agua, Dasani, FEMSA, Guatemala, Mesoamerican Reef, Mexico, Motagua-Polochic, Rio Bravo, Rio Grande, Sierra de las Minas, wastewater treatment, water conservation, watershed management, WWF
Subscribe to My Comments Feed
Leave a Reply